Ways with asparagus
Angela Clutton's June 2021 recipe for members of the Borough Market Cookbook Club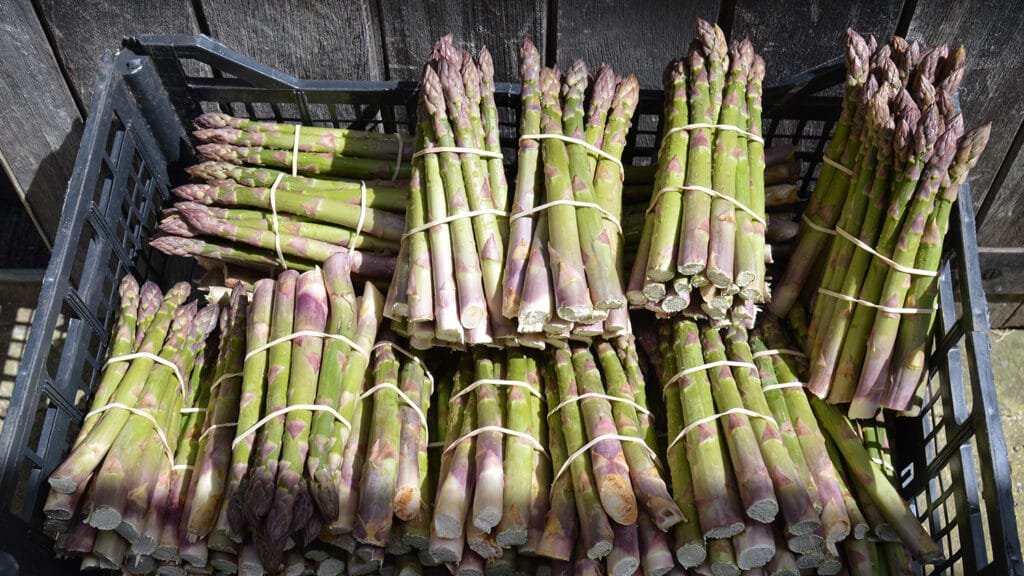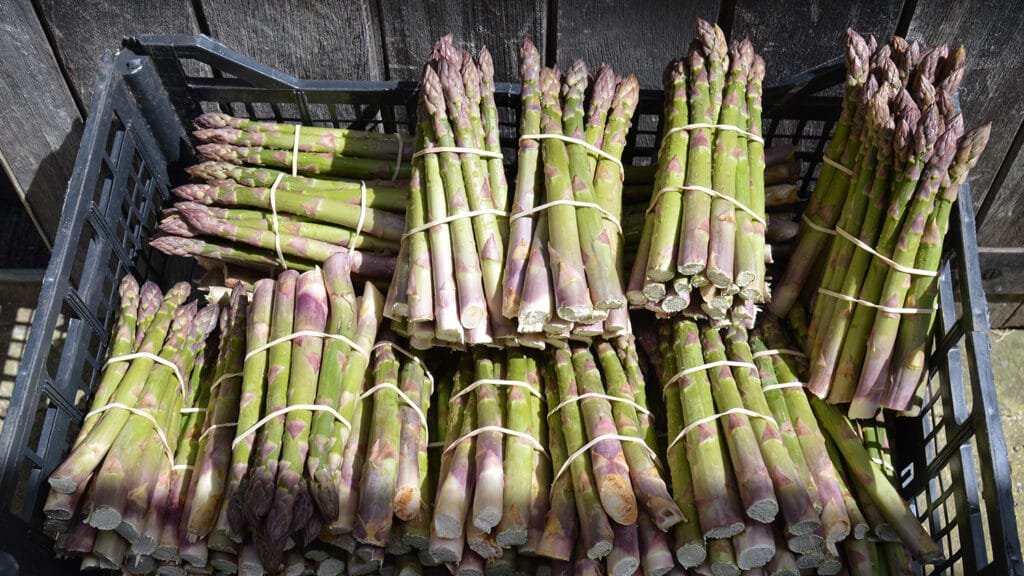 "MY FAVOURITE IS SPEARS DOUSED IN OLIVE OIL AND LOTS OF SALT, ROASTED IN A SUPER-HOT OVEN FOR 10 MINUTES"
There are barely weeks left of asparagus season, and while you might (like me) be slightly waning in your enthusiasm by now, once it's gone it's a mighty long time until it comes round again. So this month I give you ideas, rather than an actual recipe. I hope you will find among them something to perk your interest up for the last asparagus-push.
— Butter or really anything in the buttery, fatty line of things works well. Even if just dipping your spears in melted butter to serve with toast.
— Eggs all kinds of ways – especially if the yolk is a little runny and able to act as a sort-of impromptu sauce. Use asparagus spears as an alternative-soldier to dunk into a soft-boiled egg. Dunk spears into proper, home-made mayonnaise; or go with eggs and butter by serving warm asparagus and hollandaise sauce – that's a classic for good reason.
— Think about asparagus with spring's young goat or sheep cheeses – in a salad together or the cheese as the base for a puff-pastry tart, with asparagus spears on top.
— Thin slivers of really any hard cheese work in an asparagus salad, and then there's parmesan too. Try steaming the asparagus and then laying the spears in a buttered shallow ovenproof dish with the layers top-to-tail so the spears facing opposite ways. Sprinkle grated parmesan amongst them as you go, put a few knobs of butter on top and then grill for a couple of minutes.
— Asparagus soufflé might sound retro. It might even look retro. But asparagus's affinity for cheese makes it definitely worth a go. And just imagine the sense of achievement at nailing a soufflé. Even if it's green.
— All kinds of nuts but especially almonds or hazelnuts are good. For each handful of asparagus, pan-fry a large tablespoon of flaked almonds or halved hazelnuts in a big piece of butter for barely a minute, add a squeeze of lemon and some salt and pour over the cooked spears.
— By this point in the season the asparagus stems are going to be thick and woody. As you trim them off, give at least half a thought to saving for use in soups or stocks. They are packed with flavour.
— Look for the first wet garlic bulbs to roast and then scoop out the tender flesh for spooning over roasted asparagus.
— Early-summer courgettes make a lovely ribboned salad with late-season asparagus.
—  And finally, my favourite, which I will never tire of: roast spears doused in olive oil and with lots of salt in a super-hot oven for 10 mins, then as soon as you take them out of the oven give a hefty squeeze of lemon or orange and lots of black pepper.
Enjoy more of Angela's recipes