Lateral drinking: garnishes
Food writer and Cookbook Club host Angela Clutton shares her tips on making creative drinks with Market produce. This time: garnishes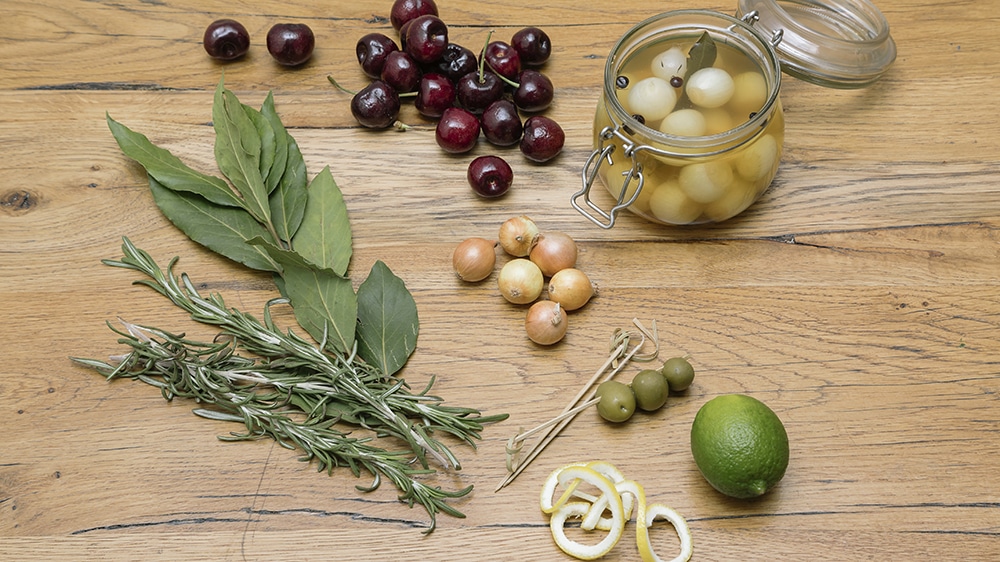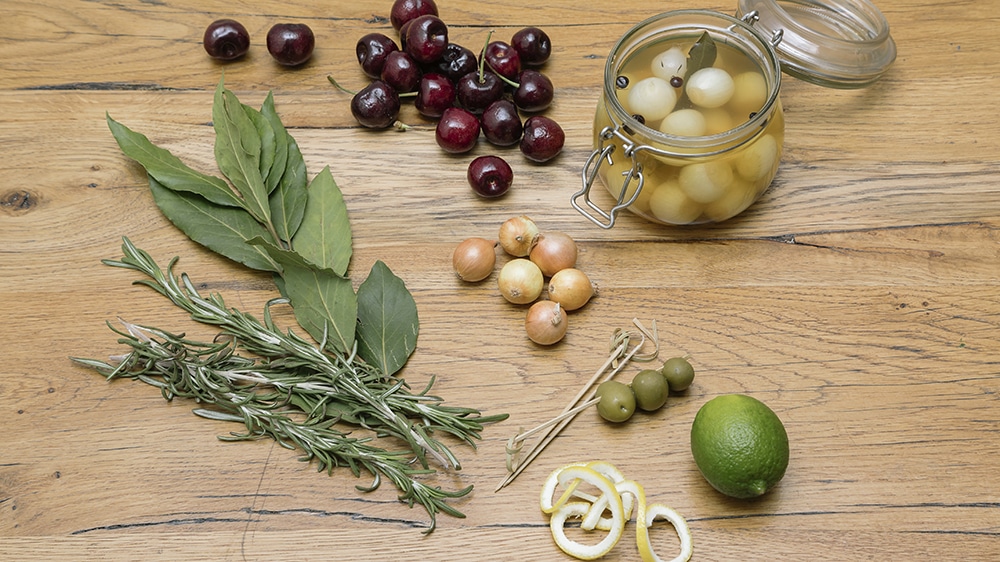 "FRESH HERBS WITH THEIR GENTLE FLAVOUR AND DYNAMIC BEAUTY ARE AMONG THE VERY SIMPLEST AND MOST EFFECTIVE GARNISHES"
Image: Orlando Gili
A slice of lime in a gin and tonic? Yes, please. Can't imagine it without it. Sending a drink to your lips without its finishing touch of a garnish can be like sending a dish to the table under-seasoned. That final lift of flavour is what can make all the difference – and happily, lots of ingredients we rely on for doing that in the kitchen are also just as handy for finishing drinks.
Take that slice of lime. We love it and its citrus siblings for the acidic sharpness they offer up. A slice is good, sure, but sometimes a thinly peeled piece of zest can do the trick even better, as you twist it over the glass and its oils spray onto the top layer of the drink. Or maybe a spiral of a citrus peel curl, sitting nonchalantly half-in / half-out of the glass. Make those by cutting the end off a lemon, lime or orange and then slicing through the skin along the length of the fruit. Gently prise the peel off in one piece, roll it up, and slice into spirals that can be held together with cocktail sticks until needed.
The flavour balancing benefits of an acidic hit make me think of vinegars and pickles, and then particularly of cocktail onions. The tiny pearl onions you will see on fruit and veg stalls can be made into the very best cocktail onions by pickling them yourself with spices and some dry vermouth. They become both the ingredient and the garnish for a gibson cocktail (and in my world of kitchen-to-cocktail-cabinet cross-pollination, are also very useful for adding into casseroles).
From pickles, to salts – and the beauty of encrusting the rim of a glass with salt crystals, be they white, pink, black or even smoked. Nothing better if you are contemplating a tequila-based drink. Pestle and mortar the crystals if they are a little big, then tip them into a saucer, run a slice of citrus around the rim of the glass, and gently rub the moistened rim in the salt.
The same technique applies with sugar. Although if a garnish of sweetness is what's needed, think about keeping in stock some cherries macerated in maraschino, brandy and spices: put 150g cherries, with stalks and stones removed, into a clean jar. Gently heat 125ml maraschino liqueur with 50ml brandy, three bruised cardamom pods, two cloves and a star anise, then pour the lot over the cherries to cover. Seal and store. One of those in a manhattan or an old fashioned and you are all set. I'd probably also add a bay leaf that has been gently scrumpled in my hands to get its oils going.
Fresh herbs with their gentle flavour and dynamic beauty are among the very simplest and most effective ways of garnishing of a drink. Try a sprig of feathery dill laid across the top of a martini made with celery bitters. Think about sprigs of rosemary in lemonade, or maybe alongside that lime in your gin.
The herbs, as with all these fresh produce garnishes, will look just lovely – for the aesthetic flourish of a garnish (which is, after all, probably what most of us think of a garnish being for) is certainly worth valuing. We feast and drink with all our senses, so our eyes absolutely should get something exciting or exotic or simply beautiful to devour too. It's just that a garnish can be so much more than only that. It can – and should – be what lifts a soft drink or a boozy one into something very fabulous indeed.
Read Angela's recipe for a gibson martini.