On the sauce: fruit & herbs
Angela Clutton navigates her way through the myriad iterations and uses of sauces. This time: fruit and herb sauces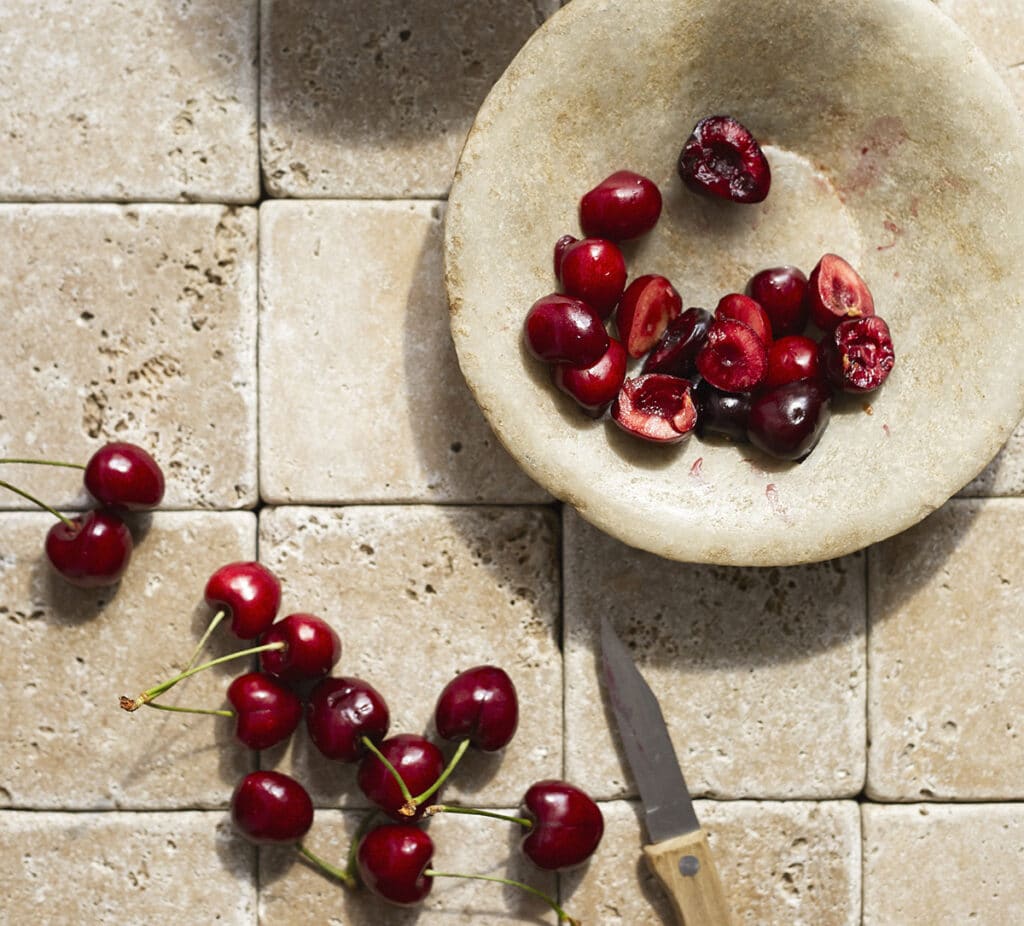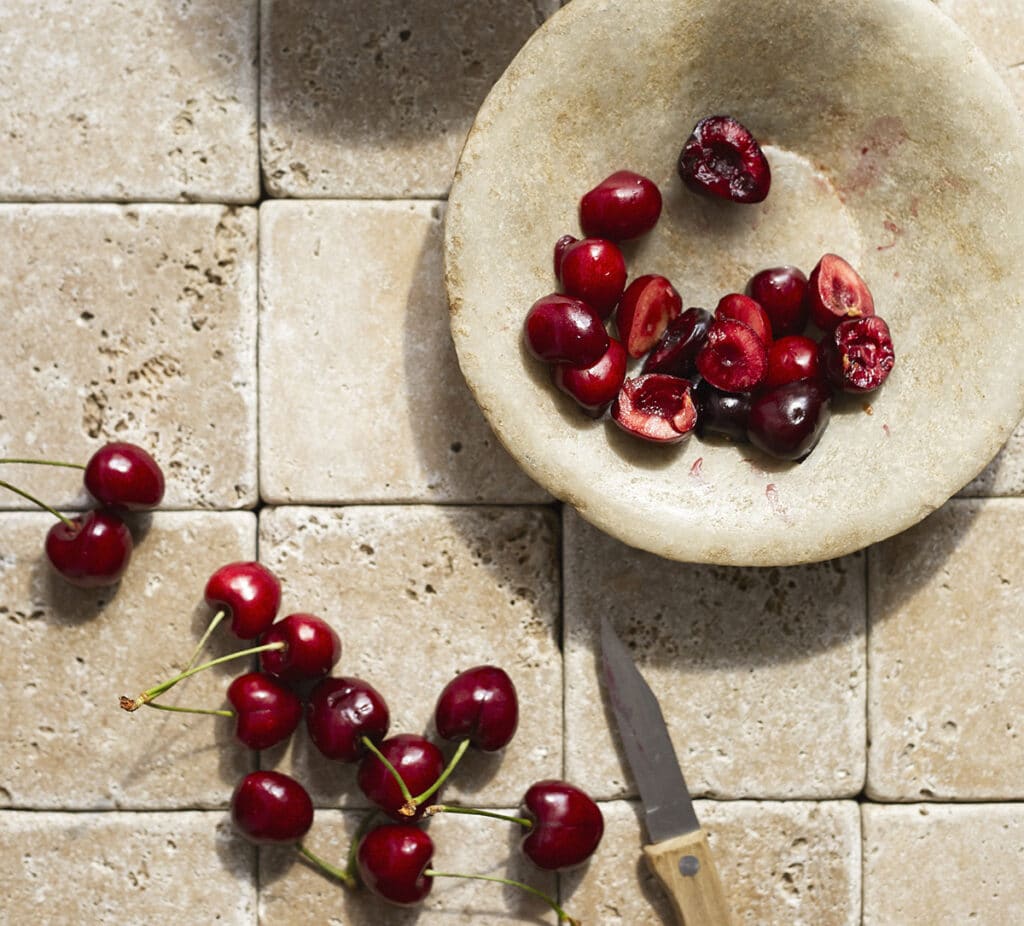 "NATURE HAS GIVEN US A HELPING HAND WITH PAIRINGS – SO MANY ARE COMBINATIONS OF PRODUCE THAT ARE IN SEASON TOGETHER"
Image: Kim Lightbody
Mint sauce with roast lamb. Apple sauce with pork. Gooseberry sauce with mackerel. These and more are the classic combinations of British culinary saucery. It is too easy, though, to dismiss them as Sunday roast, automatic pilot, heritage cooking. It's well worth taking a moment to consider what these sauces are and just why they work so darn well.
Because they really do. The fruits' sweetness helps marry together the other flavours on the plate and their acidity cuts through the richness of whatever meat or fish is being served. You can see that in all three of the examples mentioned just now, and with so many more besides. Duck and orange. Mutton with redcurrants. Venison with prunes or plums. Apples with, well, so many options – pork, goose, game.
The choices of pairing are definitely flavour led, but you might notice that nature has given us a helping hand in working out the best partnerships – so many are combinations of produce that are in season together. Yes, the mackerel that abound in British waters in the summer would traditionally be partnered with summer's gooseberries, but it would be equally fabulous with a rhubarb sauce or – as in my recipe with baked whole mackerel – a spiced cherry sauce.
In the past, fruits as partner sauces might have appeared as a jelly or other set sauce. But in our age of cooking ease, simplicity, and wanting to best protect the flavours of the fruits, I far prefer to just cook the fruits down for a few minutes in a pan, doing as little to them as possible so that the flavour of the sauce is at its most vibrant. Let the fruit lead.
Such sauces are simplicity itself to make. Chop the fruit and cook with a little liquid of your choosing – maybe a splash of vermouth, wine or sherry, or a little vinegar to take the sweet edge off. By all means add a few spices or other flavour enhancers. Either do it in the pan alongside whatever meat or fish you're cooking, or in the same pan after it's been taken out to rest. Using the same pan ensures you capture in the sauce all the flavours of the cooking, with none of that deliciousness going to waste.
Remember that the longer you cook the fruit, the more the texture will break down and the more of a liquid 'sauce' it will become.
What is being delivered with these is a whack of flavour, and the same thinking can apply to the simple herb sauces that are great with so many vegetable, meat or fish mains. Try mixing the leaves of herbs such as mint, basil, oregano, tarragon and / or dill (the flavour choices are entirely yours, after all) into extra virgin olive oil and garlic using a blender or food processor. More or less oil will give the sauce the texture you want it to be – thicker or thinner – with possibilities for adding in chilli, anchovy, vinegar, capers and so on.
If you don't have blender, or can't face the ensuing washing up (I don't know about you but I find it very annoying when tiny bits of herbs get stuck between blades) let a mezzaluna be your best friend. They are excellent for mincing herbs and garlic.
Even easier, if that were possible, is for the chopped herbs to be stirred through creme fraiche or yoghurt. Each of those is just a carrier for the herb flavour. All you need is a squeeze of lemon and seasoning.
Only slightly more involved for a hot herb sauce is to chop and cook off a shallot in butter, then add creme fraiche to the pan. Stir for a minute or so with a little lemon juice and just bundle in handfuls of chopped herbs.
With these basics of making fruit and herb sauces you are all set. Just listen to the seasons and keep things simple. These are not sauces that can go 'wrong'. The technique is minimal. The skill is in the flavour combinations – and the fun is in how you can build upon the basics. Below are some suggested pairings to get you started.
---
Roasted peppers
Basil, oregano and mint in olive oil
---
Roast pumpkin, aubergines carrots or beetroot
Herbs of your choice, run through Greek yoghurt
---
Stuffed cabbage leaves
Apple, dill, fig, cherry
---
Baked summer fish
Dill into Greek yoghurt with finely chopped cucumber or tomatoes
---
Baked or pan-fried mackerel
Sauces of gooseberry, rhubarb or cherry
---
Shellfish
Dill, basil, lemon thyme in olive oil
---
Mutton
Redcurrants
---
Goose
Redcurrants, gooseberries
---
Venison
Apples, plums, prunes
---
Duck
Figs, pears, apple
---
Lamb
Apricot, cherry, mint (of course!), or try samphire for salt marsh lamb
---
Pork
Apple, cherry, sage, tarragon
---
Beef
Blackberries, plums, cherries, fig
---
Winter sausages
Blackberries, apple, pear
---
Read Angela's recipe whole baked mackerel with spiced cherry sauce