Sunday lunch specials: noix de Grenoble walnuts
To celebrate Sunday trading at the Market, the traders responsible for the hero ingredients in Angela Clutton's new series of Sunday lunch recipes explain what makes them special. This time: noix de Grenoble walnuts from Food & Forest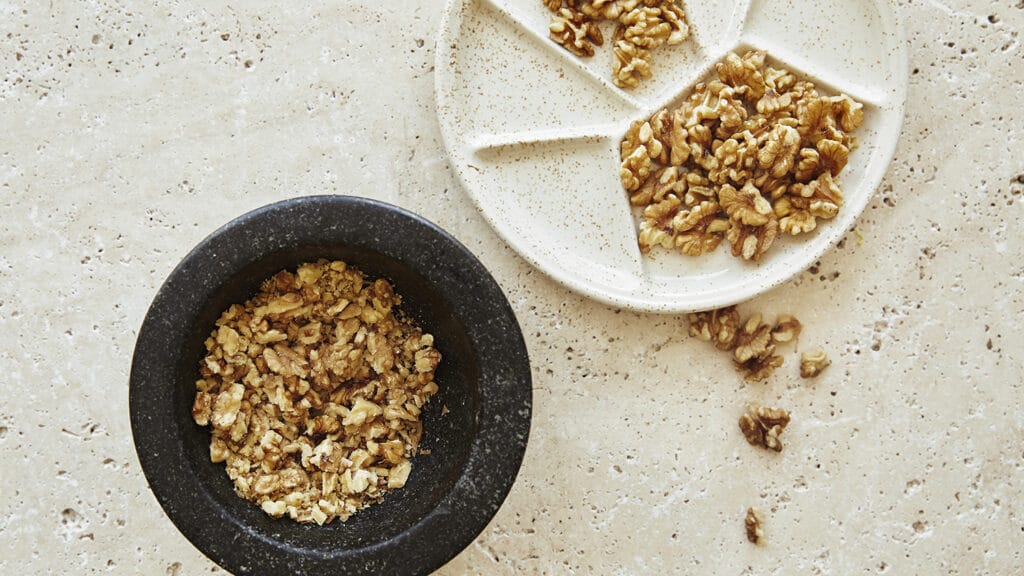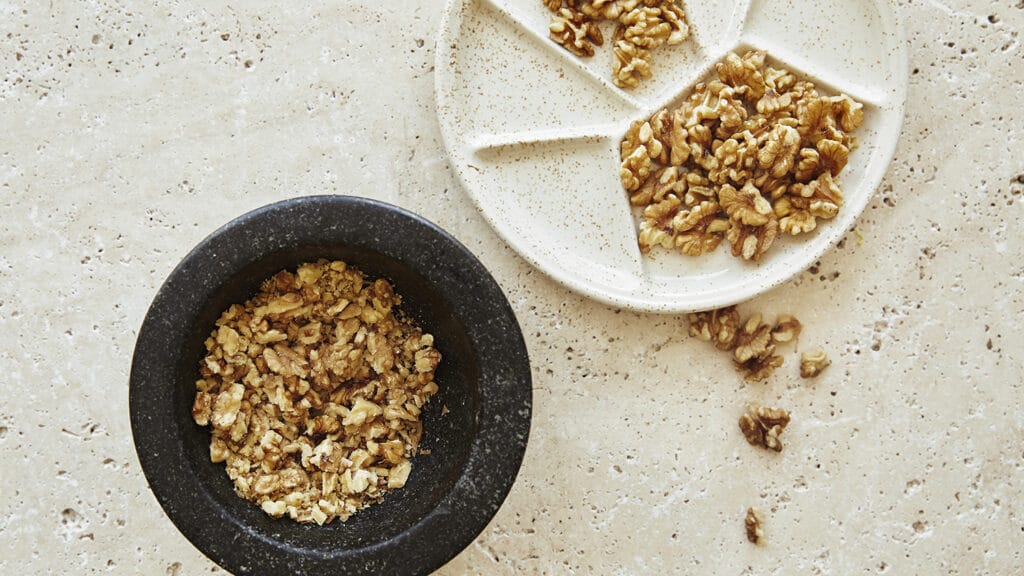 "SUPERMARKET WALNUTS ARE TYPICALLY THE CHANDLER VARIETY – HIGH YIELDING BUT WITH BITTER, TANNIC SKIN"
Words: Ellie Costigan / Image: Kim Lightbody
It's increasingly accepted that the provenance of what we eat matters not just when it comes to animal-derived products, but for all ingredients. The good news is, when you imbibe that philosophy, the result is not just a cleaner conscience but, more often than not, higher quality, tastier food.
Take walnuts, for example. Those found in supermarkets are typically the chandler variety – a high yielding crop but with bitter, tannic skin. Given the scale of production, harvesting, transporting and packaging can take several weeks, causing the quality to deteriorate. "With nuts, you have to keep the moisture content level to prevent them from going rancid," explains Charles Tebbutt of Borough Market nut stall Food and Forest. "When buying from a supermarket, the time between harvesting and you opening the packet is often quite long; these we get in around every six days. When you get them in that frequency, you can keep the moisture quite high because you're not having to extend the shelf life. When the moisture content is high, they're much creamier."
The shelled walnuts found on the stall are known as 'noix de Grenoble' or 'nuts from Grenoble' – a stunning region of France that's home to the Isere Valley. "Deposits from the Isere River have over time built up very deep, rich soil, which is what walnuts need to thrive," Charles continues. "The whole valley is carpeted with walnut orchards." At Food and Forest, you'll find three varietals from the region: franquette, mayette and parisienne. "The ones we have right now are the franquette variety. They're slightly lower yielding, but the flavour is exceptional. They're the best walnut I've tried."
All nuts at Food & Forest are bought direct from producers who employ regenerative farming methods, with an emphasis on agroforestry. "This French walnut farmer doesn't graze animals so technically it's not agroforestry, but we use profits to invest in it where we can," says Charles. "Agroforestry isn't a very established method yet, so even the farms that are established are only two or three years old. It'll be years before there's any sizeable harvest." In the meantime, he'll keep investing, keep educating people on the benefits of agroforestry, and continue supporting smaller scale farmers like Nicolas and Laure – whose noix de Grenoble walnuts are la crème de la crème.
Roast summer veg with Graceburn & spiced walnut sauce
See how Angela puts noix de Grenoble walnuts to use in her ultimate Sunday menu