Braised lamb & flageolet beans
Ed Smith
A simple – if not spontaneous – use for a store cupboard staple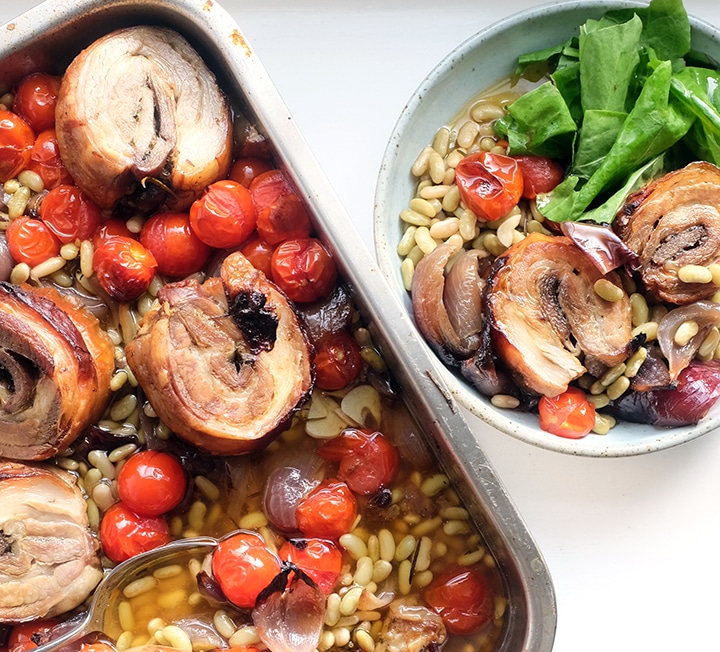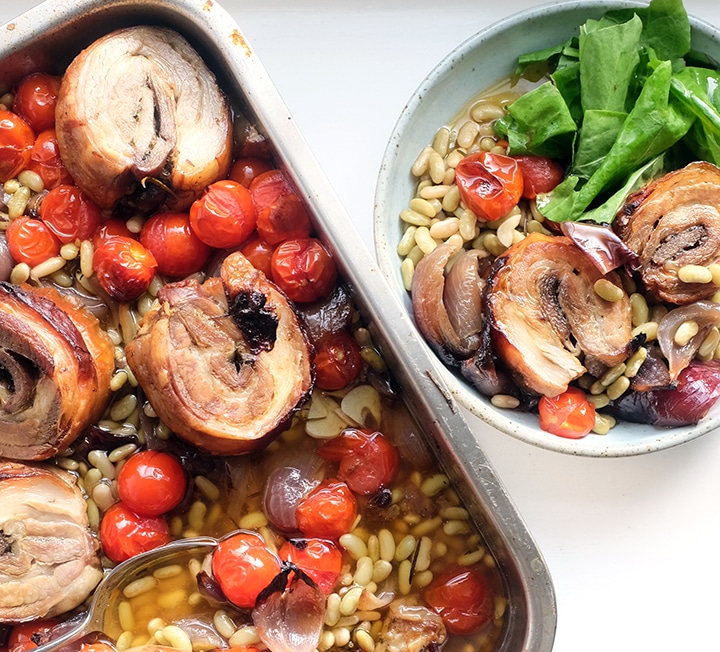 Recipe Meta
Prep
30 mins (plus soaking)
Ingredients
300g dried flageolet beans
2 lamb breasts
5 sprigs of rosemary, 1 finely chopped
4 large red onions, peeled and cut into 6 segments each
4 bay leaves
125ml white wine
500g cherry tomatoes
2 cloves of garlic, finely sliced
2 tbsp sherry vinegar
3 tbsp red wine vinegar
10 mint leaves, finely chopped
1 tbsp capers, chopped
1 tsp caster sugar
Method
Soak the beans for 8-12 hours. Drain and place in a large saucepan, with three times their volume of water. Bring to the boil, then simmer for 2 hours. Drain, reserving the cooking water, and set aside until needed.
Heat your oven to 170C. Trim the lamb breasts into rectangles. Season the fleshy side with salt, pepper and the finely chopped rosemary. Roll and tie with butcher's knots (YouTube is useful or just ignore the seasoning and ask the butcher to roll and tie them for you). Place a frying pan over a medium-high heat. Add a splash of oil and, when hot, brown each of the breasts all over – it should take just 2 mins.
Lay the onion segments in a medium-sized roasting tin. Place the rolled lamb pieces on top. Add the wine, bay leaves and rosemary sprigs. Measure a piece of baking parchment a little bigger than the tin. Scrunch it up, wet it under the tap, then open it out over the lamb and onions, tucking the paper into the edges of the tin. Cook in the oven for 2½ hours. Remove and leave to cool. Refrigerate overnight if necessary.
1 hour before you wish to eat, heat your oven to 200C. Remove the lamb from the tray, cut the string away and slice each piece into four portions. Remove 2 tbsp lamb fat from the baking tray, together with the rosemary and bay leaves. Add the beans, the sherry vinegar, about 100ml bean cooking water, the cherry tomatoes and garlic. Shuffle the contents of the tray, then place the lamb pieces among the beans – half in, half out. Braise for 45 mins until the lamb is brown and succulent and tomatoes burnished and sinking.
Mix the red wine vinegar, sugar, capers and chopped mint. Spoon the beans, tomatoes and onions into shallow bowls, add the lamb portions and plenty of cooking juices. Lace the meat with the mint sauce. Eat with a green salad and perhaps some crusty bread.
Image: Ed Smith
Where to buy these ingredients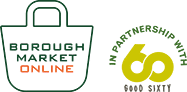 Borough Market Online
If you can't make it to the Market, Borough Market Online offers a wide selection of traders' produce, delivered direct to your door.