Lamb chops with cacio e pepe white beans
Ed Smith
A quick and delicious umami dish from Ed Smith's new book, Crave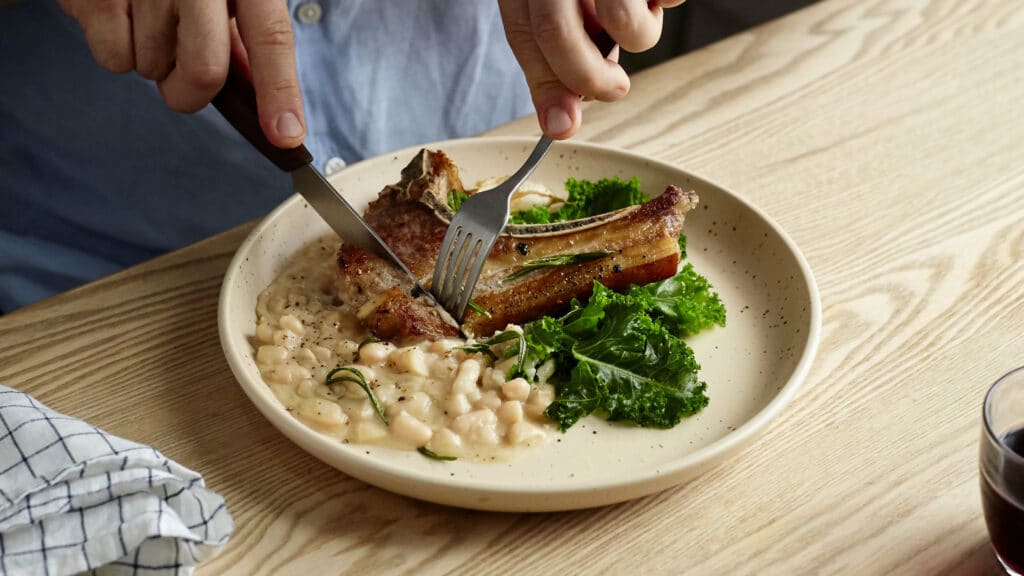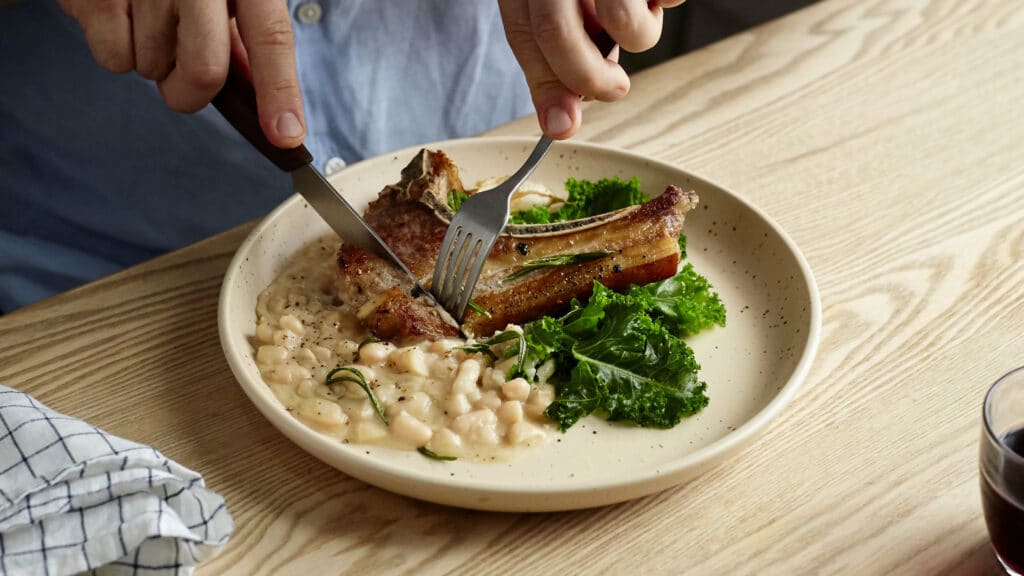 Ingredients
4 lamb chops or 2 thick barnsley chops (about 400-500g in total)
4 garlic cloves, unpeeled
2 sprigs of rosemary
1 x 400g can haricot beans, drained
60g butter, cubed
2 tsp ground black pepper
60g pecorino or parmesan, finely grated
Blanched greens or bitter/peppery-leafed salad, to serve
Method
Collate all the ingredients including the greens or salad, as you should cook both chops and beans pretty much simultaneously and neither take long.
Stand the chops on their fatty edges in a (still cold) frying pan (skillet), large enough that it'll still hold the chops once sat flat. Place on a low-medium heat and gradually warm up so as to cook the fat until it's golden and soft – much of which will seep ('render') out. Resist cooking too quickly or at too high a temperature; it's a gentle process that should take 5 mins or more.
While this is happening, bash the garlic cloves to flatten them then add to the pan (keeping the skin on to prevent burning), along with the sprigs of rosemary. Let those cook away for a few minutes to release their flavours into the ever-increasing pool of lamb fat. Then, once the fatty edges are golden and soft, push the chops onto their flatter sides, turn up the heat and cook for about 90 secs on each side, basting regularly with the flavoursome oil, until the chops are browned and buzzing with hot oils and juices. (If ready before the beans, remove from the heat and rest on a warm plate for a couple of minutes.)
Also, while the lamb chops are standing, add the drained beans to a wide frying pan or saucepan and set over a low-medium heat. Pour in 200ml water and let them warm gently – so the liquid begins to simmer but not boil, and therefore the beans remain intact. Scatter the cubes of butter over and around the beans and allow them to melt, before sprinkling the black pepper over the top. Shake the pan vigorously so the butter and cooking liquid become one, then add the cheese, again waiting for it to melt before shaking and stirring to emulsify everything.
Puddle the beans and their cheesy, peppery sauce in a bowl or onto a plate with a rim, add the lamb and greens and tuck in.
Recipe from Crave (Quadrille)
Image: Sam A Harries
Where to buy these ingredients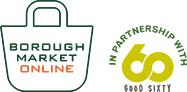 Shop online
If you can't make it to the Market, Borough Market Online offers a wide selection of our traders' produce, delivered direct to London addresses and, where available, by post to the rest of the UK. The service also includes a range of Best of Borough Market hampers and meal boxes.