Lamb salad with anchovy, walnut & chilli sauce
Angela Clutton
Lamb, radicchio and herb salad with a boldly flavoured sauce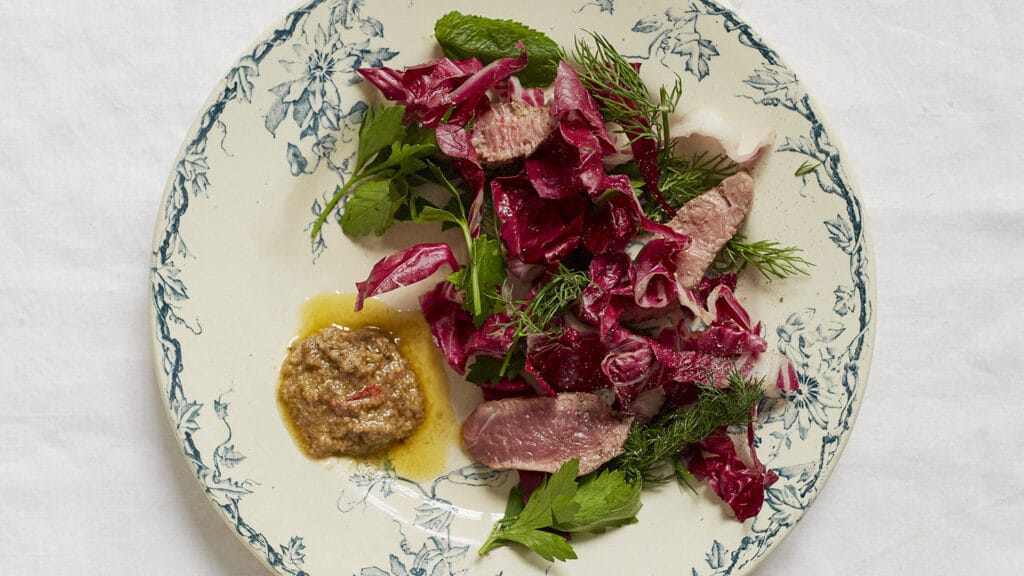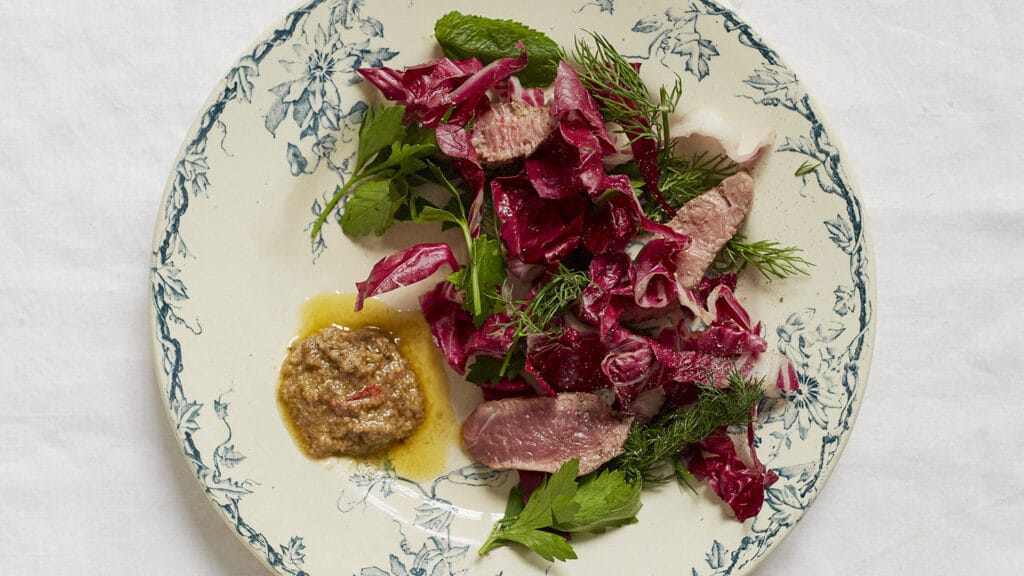 Ingredients
For the sauce
2 cloves of garlic
8 anchovies in oil
80g walnut pieces
½ medium red chilli, finely chopped
½ orange
150ml good olive oil
For the lamb, radicchio & herb salad
4 lamb steaks or chops
Butter for frying
1 radicchio
3 handfuls of fresh, leafy herbs (dill, mint, basil, flat leaf parsley)
Method
To make the sauce, peel the garlic cloves, quarter and put into a mortar. Add a hefty pinch of salt and pestle to a paste. Lift the anchovies out of their oil, add to the mortar and pestle again. Add the walnuts and sliced chilli and pestle still more. Mix in the juice of the orange and enough oil to get the consistency you are after.
Season four lamb steaks or chops and pan fry in butter. You want the lamb to be pink in the middle. Set aside to rest. Halve the radicchio, cut out its white core and chop the leaves. Toss in a mixing bowl with the herbs. Season. Slice the lamb and arrange it all on a serving dish or between plates, with the sauce on the side.
Image: Kim Lightbody
Where to buy these ingredients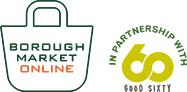 Shop online
If you can't make it to the Market, Borough Market Online offers a wide selection of our traders' produce, delivered direct to London addresses and, where available, by post to the rest of the UK. The service also includes a range of Best of Borough Market hampers and meal boxes.