Tomato & Woodside Red salad
Paula McIntyre
An award-winning cheese from Alsop & Walker, paired with three preparations of tomato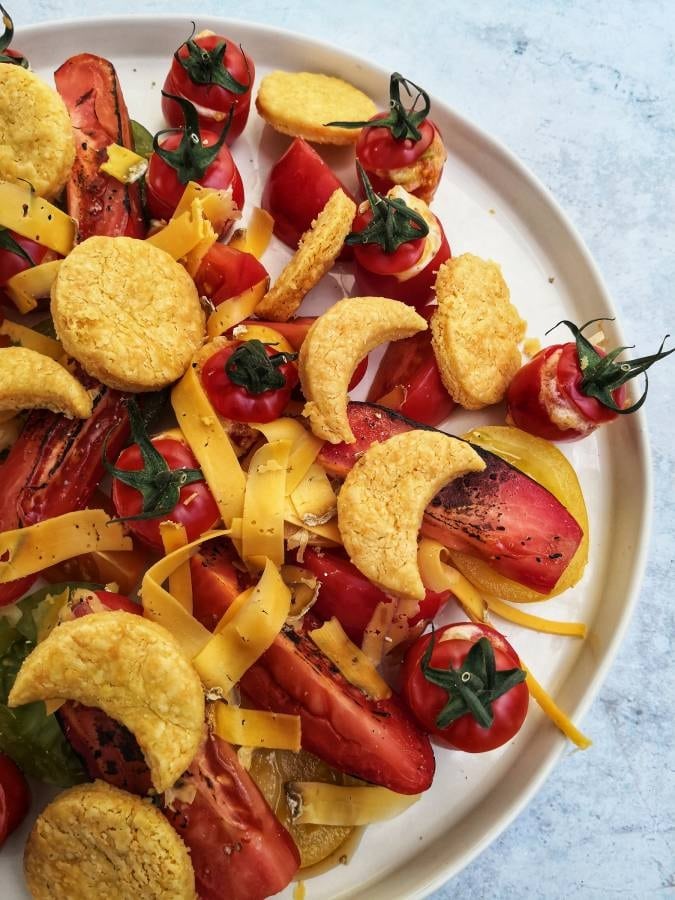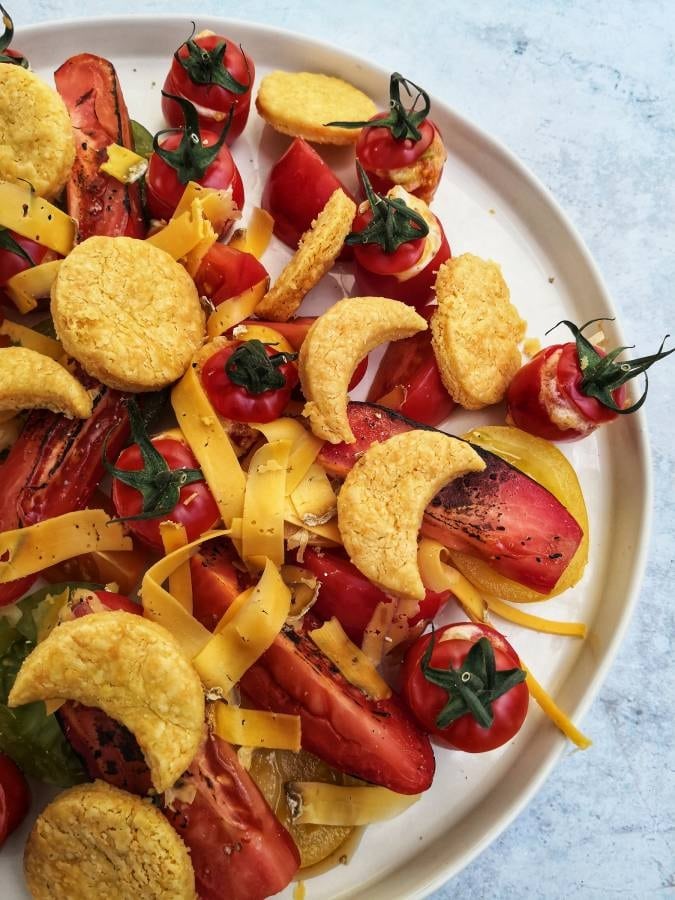 Ingredients
For the stuffed tomatoes
12 midi tomatoes
1 shallot, finely chopped
2 tbsp celery, finely chopped
50ml sour cream
100g Woodside Red, grated
2 tbsp finely shredded lovage leaves
For the charred tomatoes
4 plum tomatoes, halved lengthwise
1 tbsp soft brown sugar
1 tsp salt
½ tsp freshly cracked black pepper
¼ tsp celery seed, crushed
2 tbsp olive oil
1 tbsp red wine vinegar
For the pickled tomatoes
250g multi coloured cherry tomatoes
1 tsp yellow mustard seeds
2 tbsp castor sugar
75ml cider vinegar
½ tsp salt
For the Woodside Red wafers
100g soft butter
100g plain flour
65g Woodside Red, finely grated
1 egg yolk
Method
Cut the top off the midi tomatoes, keeping the lids, and scoop out the centres into a bowl. Take a small slice off the bottom with a sharp knife so the tomatoes can stand upright.
Heat 2 tbsp olive oil in a saucepan and gently cook the shallot and celery until soft. Add the tomato pulp and cook for a further 2 mins. Add the cheese, sour cream and lovage and check the seasoning. Spoon into the tomato shells and top with the tomato lids.
For the charred tomatoes, mix the salt and sugar together. Place the plum tomatoes cut side up in a metal tray. Sprinkle the salt and sugar mix evenly over the top. Leave for 30 mins. Blowtorch the top to char. Whisk the black pepper, celery seeds, oil and vinegar together and spoon over the top of the charred tomatoes.
For the pickled tomatoes, cut the cherry tomatoes in half and place in a dish. Toast the mustard seeds in a dry pan until they pop, then add the sugar, vinegar and salt. Cook until the sugar has dissolved. Cool and pour over the tomatoes. Leave to marinate for an hour.
Blend the wafer ingredients together in a food processor until a smooth dough. Wrap and chill for 10 mins.
Line two baking trays with parchment paper and set the oven to 180C. Roll out the dough to ¼cm thick and cut into desired shapes. Place on the baking trays and bake for 10 mins or until golden. Cool on a wire rack.
To serve, arrange the charred and pickled tomatoes on a platter. Place the stuffed tomatoes around the plate. Place the wafers in between the stuffed tomatoes and serve.
Where to buy these ingredients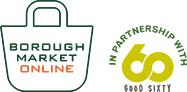 Shop online
If you can't make it to the Market, Borough Market Online offers a wide selection of our traders' produce, delivered direct to your door.