A few ways with pumpkin and squash
In an extract from Borough Market: The Knowledge, Angela Clutton explores the rich culinary potential of this diverse family of vegetables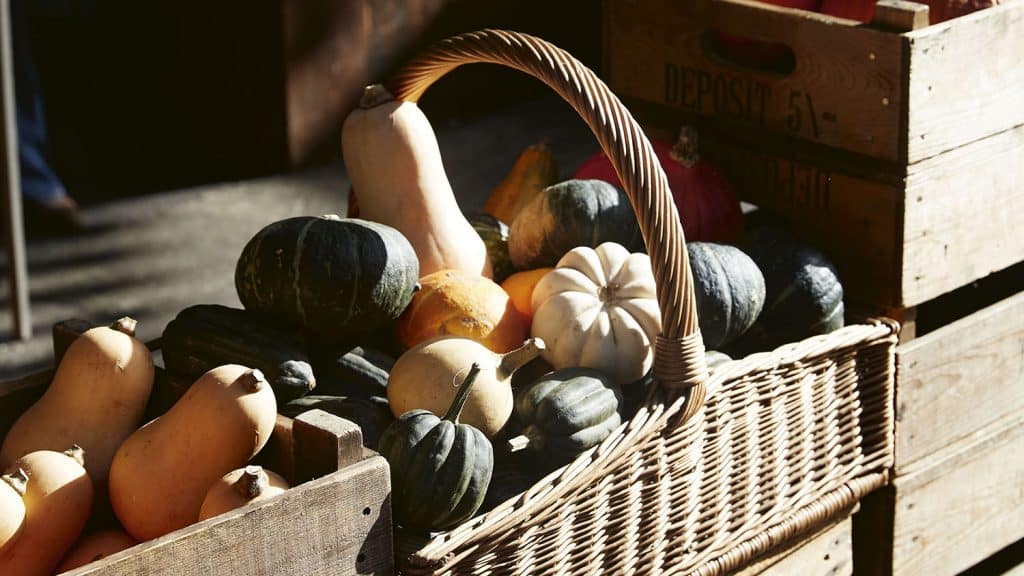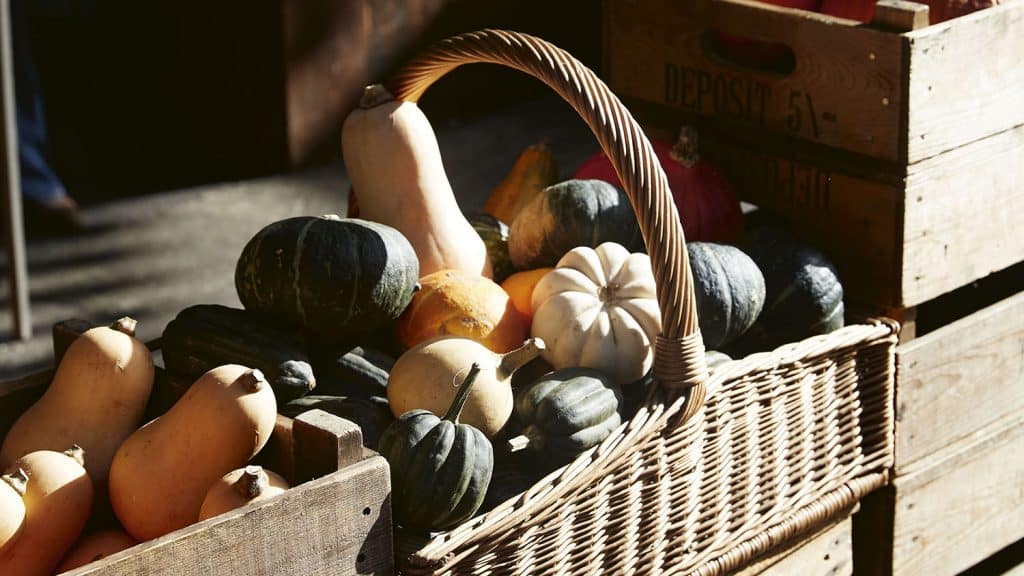 ROASTING PUMPKIN OR SQUASH PROTECTS AND DEVELOPS THE INHERENT FLAVOUR, OPENING UP A WORLD OF CULINARY OPPORTUNITY
Words: Angela Clutton / Image: Kim Lightbody
Every autumn and winter brings the sheer joy of seeing all the pumpkins and other squashes displayed across the Market stalls – so many different shapes, colours and sizes – and seemingly endless ways they can be used in all kinds of cooking.
---
Shop
The ripest pumpkins and squashes will give a hollow sound when tapped. Stored in a cool, dark place, they can keep for months, should you want to. Different varieties come with different flavours and textures, and the following are particularly wonderful to cook with:
Acorn squash
Unsurprisingly, shaped like an acorn, with dark green ridges that, when sliced into, give a scalloped-edge appearance. Its flesh is a beautiful yellow with a mild, nutty flavour, but a little watery, so not the best for grating. Instead, it's ideal for soups or sauteing.
Crown prince
These absolute beauties have a pale blue-green skin that's so thick it can be hard to cut into, so take care. Once in, prepare to be stunned by the vivid beauty of its deep orange flesh that holds its shape well on cooking. Great for roasting. They store well too.
Harlequin squash
This one looks a bit like an acorn squash, but this time with speckled creamy green skin. Its watery flesh means it can disintegrate on roasting or grating. Best for soups or sauteing.
Onion squash
A small, teardrop-shaped squash that's bright orange inside and out. It has a nutty flavour, is a little less sweet than others, and may not keep well for quite so long. Great for roasting.
Turban squash
Looks like a small stripy squash on top of a larger one. Its pale yellow flesh is, again, a little watery, and is better for soups than grating or mashing.
---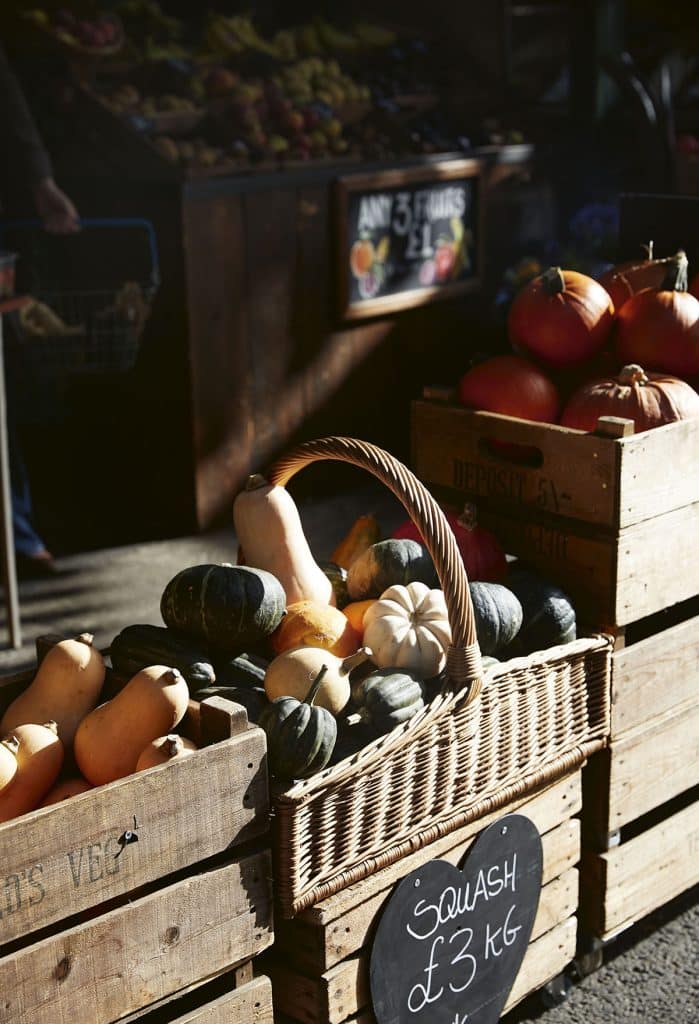 Roast
Roasting hollowed-out, sliced or chopped pumpkin or squash – particularly a crown prince – is very probably the very best thing you can do with it. It protects and develops the inherent flavour, opening up a world of culinary opportunity for what you can do with it once cooked.
Slice open and remove the stringy insides and the seeds. Don't throw away the seeds – below.
Remove the skin if you want to for the final dish, but keeping it on helps with flavour and it's easier to remove the skin after cooking.
Slice or chop, add to a roasting tin, then toss in oil or ghee along with spices and aromatics of your choosing – rosemary, sage, oregano, za'atar, cumin, paprika, cinnamon, caraway, etc – and a splash of balsamic or sherry vinegar.
Roast in a hot oven at 220-230C for 20-40 minutes, depending on the variety and the sizes you are roasting. (If you do remove the skin before cooking, keep it to make pumpkin-peel crisps: just toss the peels in oil and salt and roast in a very hot oven until crisped.)
Then perhaps:
Serve as a winter salad with other roasted vegetables (maybe cauliflower or beetroots), feta, quinoa or spelt.
Roast a mix of varieties and tear some kale or puntarelle into the roasting tray for the squashes' last 10 minutes to take on flavours and crisp up. Add halloumi pieces if you like.
Mash the tender flesh to use for kofte, gnocchi, as part of the filling for a tart or pie, as a bed for seared scallop, langoustines, fish or meat, stir into a risotto finished with crisped sage leaves, parmesan and lots of black pepper, or simply have it mashed, with lots of butter and grated parmesan.
Blitz into soups.
For roasted stuffed squash: Halve your squash, scoop out its strings and seeds, slash the flesh, rub with oil and salt, and roast cut side down for 30 minutes. (Use that time to make your stuffing by cooking whatever mix of grains, greens, herbs, spices, beans or meat you fancy.) Then turn it the other way up, stuff and bake some more to finish.
---
Simmer
Bring pieces of pumpkin to tenderness by cooking them directly in all kinds of tagines, stews, dals and curries. It's best to peel the skin away first.
The simplest lunchtime soup is made by simmering peeled chunks of pumpkin in stock and then blitzing. Other flavour layers are optional.
Cook peeled and diced pumpkin with onion, spices and coconut milk to use as the filling for a dosa.
---
Grate
To include in the filling for dumplings, ravioli or tortellini.
For baking into cakes, muffins and breads.
Add to the batter of a chickpea-flour pancake, or to flatbreads.
For fritters.
Simmer grated squash with apple or pear and spices as a porridge or granola topping.
---
Raw
Use a mandoline or vegetable peeler to make ribbons you can toss in olive oil, sherry vinegar and salt.
Very thin slices of raw pumpkin are great deep-fried in a light batter as tempura.
Make a pumpkin pickle.
---
Seeds
Wash the seeds to remove the bits of string (they can be used for stocks). Spread the seeds out on a baking sheet and roast just as they are – no oil or salt yet – at 200C for about 10 minutes or until turning golden and dried out. Use them as follows:
Toss with olive oil, some grated citrus zest and soy sauce, then roast in the hot oven for snacking on.
Toast in a dry pan with honey (or maple syrup) and salt, then let them cool on a plate until you can break them like praline for a sweet snack.
Add when making granola.
Use in flapjacks.
---
Flavour enhancers
Think about: strong cheeses (such as feta, cheddar, parmesan, and the blues like gorgonzola); anchovies; chilli; fennel or fennel seeds; sage; bitter leaves like kale, puntarelle and spinach; celery; lemongrass; coconut; mushrooms; nutmeg; soy sauce; lime; spices; tahini; miso; balsamic vinegar.
From Borough Market: The Knowledge with Angela Clutton (Hodder & Stoughton)