Cupboard love: fides pasta
Ed Smith explores the essential components of a kitchen cupboard. This time: fides pasta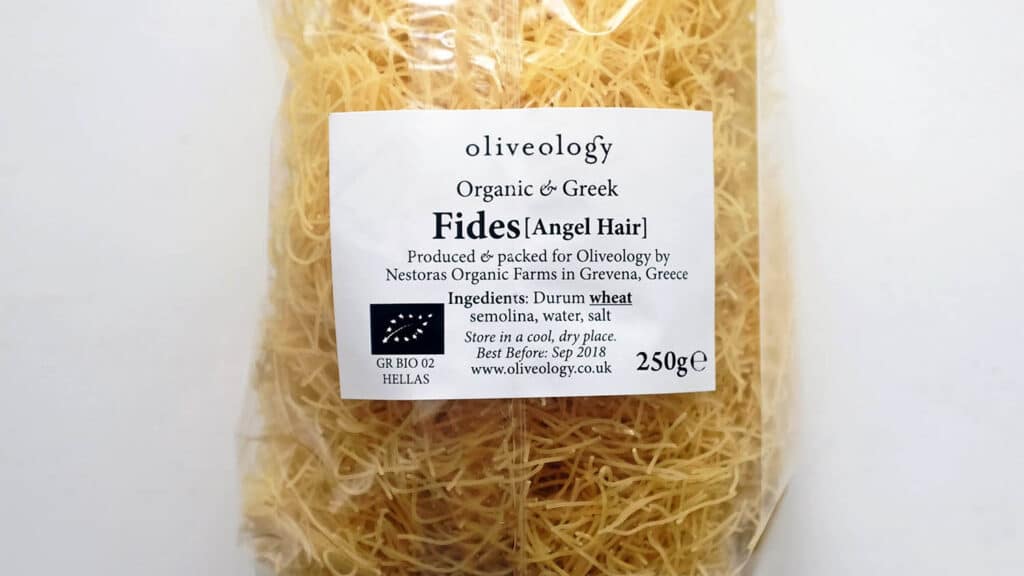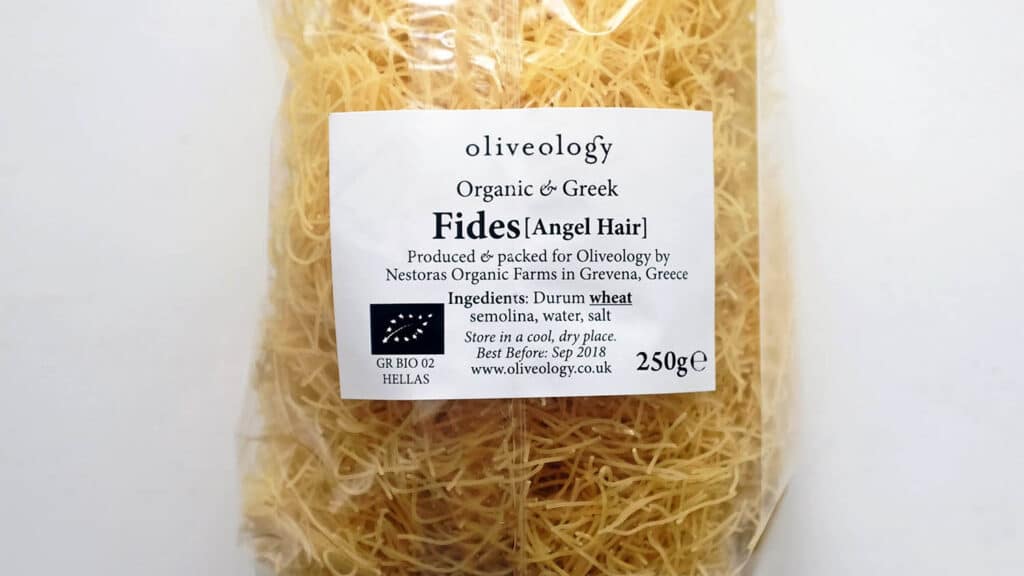 "RATHER THAN A NEST OF FINE HAIR, THE STRANDS OF FIDES PASTA APPEAR DELIBERATELY BROKEN AND SHORT"
Image: Ed Smith
It's good to take the time to look into the corners of the Market, to go beyond the superstar ingredients that initially gain our attention. So often, it's in the nooks and crannies that the best larder ingredients lie – those that sit quietly in support of the headliners, both on the stalls and on the plate.
Head, for example, to Oliveology, an emporium of superb Greek ingredients. Its signature product (deservedly) is a range of organic extra virgin olive oils, all pressed from one variety of olive grown on an estate in Sparta, and all of which display a remarkable variety of flavour profiles and characteristics.
Tucked away towards the rear of the stall, however, are a couple of shelves laden with dried pastas, grains and pulses. Some – bulgur wheat, chickpeas, favaki (a mix of split peas and lentils), giant white beans – are to be expected, but evidently, there remain gaping holes in my knowledge of Greek cuisine, as the remaining packs surprise me.
One, labelled 'trahana' (sour), contains a pale, grain-like substance, similar in appearance to finely ground oats. It is, I discover, a mix of milk and yoghurt and either flour or cracked bulgur wheat, kneaded into a dough before being dried in the sun then broken into granules – a way of preserving dairy and providing a source of protein through the year. It can be eaten like a porridge, or perhaps mixed into a tomato or red pepper-based soup, adding a satisfyingly sour quality to your meal. I bought some and will experiment.
Next to the trahana is a trio of dried pasta shapes, all relatively different to common Italian varieties. 'Hilopites' are tiny little squares – a shape that'll tumble pleasingly over the tongue. I imagine it working particularly well when cooled immediately, bathed in extra virgin oil, tossed with fresh herbs – perhaps some olives, sun-dried tomatoes and pine nuts too – and placed in the middle of the table for everyone to dig into.
I like the look of 'kritharaki', too: similar to orzo, but with flat rather than curved edges. I picture this run through with a tomato and squid ragu, or perhaps giant prawns, fresh cherry tomatoes, fennel and a splash of ouzo. It's the kind of thing you could use to make a risotto or paella, provided you don't mind offending the Italians, Spanish and Greeks in one reckless move.
The final shape is described as 'fides' (angel hair): a thin, vermicelli-like pasta, made from durum wheat flour, semolina, water and salt (no egg). Rather than a nest of fine hair, the strands appear deliberately broken and short. You could treat fides as you would fine spaghetti, but I imagine it would become clumpy and dense – better to use it as the Greeks do, thrown into 'kotosoupa', a chicken soup, or mixed with rice to make an interesting pilaf-style side ('ryzi me fithe'). You could, I suspect, also use fides as a direct substitute for the Middle Eastern pastry known as 'kataifi' or 'kadaif', which looks like out of control shredded wheat and is baked for both sweet and savoury dishes.
It's the rice idea that calls to me, though, when I get home and spend a few minutes with my gaze oscillating between angel hair and thin air. The traditional way to cook such a dish is to brown the pasta in oil first, before cooking with rice and enough liquid to be absorbed into the pasta and grains. I've seen recipes use chicken or vegetable stock (and I imagine the results are good), but water was more than adequate – the browned pasta adding such a good, savoury bite to the rice, that I bought another pack straight away to add to my larder. It's excellent next to lamb or chicken, not least when there's a cooling salad and the sharp salty hit of feta cheese nearby.