Currant affairs
Sybil Kapoor explores the many joys of the glorious summer explosion of British berries and currants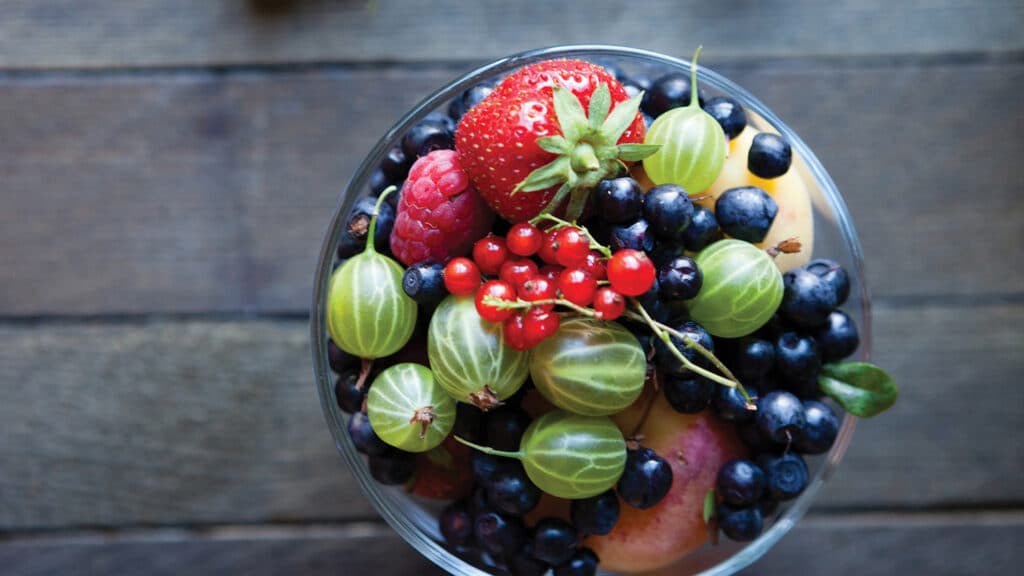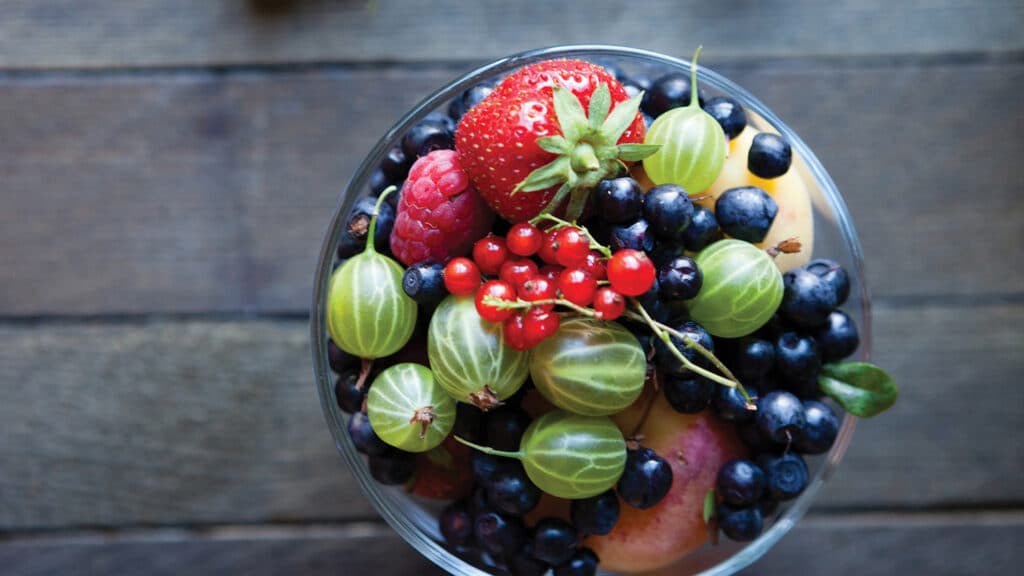 "OUR LONG SUMMER DAYS NURTURE A CORNUCOPIA OF INTENSELY-FLAVOURED BERRIES AND CURRANTS"
France may have superb peaches, Turkey luscious figs and India exquisite mangoes, but Britain has the most delicious summer berries imaginable. For six blissfully long months, our gentle weather and long summer days nurture a cornucopia of intensely-flavoured berries and currants, from fragrant strawberries and raspberries to tart gooseberries and blackcurrants. Their pure sweet-sour taste needs nothing more than sugar, cream and the occasional foil of buttery pastry, sponge or white bread to taste wonderful.
The British soft fruit season traditionally starts with strawberries. Just as every builder strips off his shirt at the first sight of sunshine, so every Briton feels compelled to eat the first strawberries with lots of sugar and cream. Only after being suitably satiated – it usually takes several weeks of strawberry gluttony – do cooks begin to use strawberries in different ways, turning them into fools, ice creams, sorbets, fruit salads, cobblers, pies and, of course, jam. And it is at this moment that the true magic inherent to all summer fruits is revealed – they take on an irresistible, deep flavour when exposed to gentle heat.
Happily, this realisation coincides with the arrival of other soft berries and is usually initially manifested in that classic 18th century dish 'hydropathic pudding', now better known as summer pudding, with bread used to replace the original rich suet pastry, which was far less effective at containing all those lovely, colourful juices.
The concept of gently heating a mixture of currants, strawberries, raspberries and blueberries with sugar can be easily transferred to serving them warm with pancakes, waffles and pain perdu. They also taste good cooked with other fruits, such as peaches with redcurrants or blueberries, rhubarb with strawberries, or apples with raspberries, especially when baked with a scone or sponge topping.
The stronger-tasting fruits such as gooseberries, blackcurrants and raspberries make incredible ice creams, fools, jellies (both the pudding and the preserve), tarts, curds (as in lemon curd) and jams. Blackcurrants taste particularly good when flavoured with rosemary, raspberries with distilled orange flower water, and gooseberries are delicious with elderflowers or elderflower liqueur. I for one cannot resist a blackcurrant curd meringue pie or a gooseberry curd sponge cake, never mind a wobbly raspberry jelly or a crisp, buttery gooseberry tart.
All soft fruits have an affinity with homemade custard. If you have the time, create islands of poached meringues (oeufs à la neige), floating in a sea of custard, and serve with a scattering of raspberries or redcurrants. Alternatively, make a summer trifle – where you pool custard in each serving bowl, then scatter with a mixture of summer berries, and top with a small pile of sponge diamonds and a blob of syllabub.
As the summer progresses, so the compulsion to preserve will grow. Everyone loves homemade jam. Naturally, there are jellies to make too, as well as pickled gooseberries and blackcurrant or gooseberry cordials. It's also worth making the English version of shrub – a refreshing drink where a sweet fruit-flavoured vinegar is served iced and diluted with soda. All soft fruits make good shrubs.
But perhaps the greatest pleasure lies in simply mixing different combinations of soft berries with sugar, maybe with the slightest dash of kirsch, and eating them just as they are for pudding. They always taste heavenly.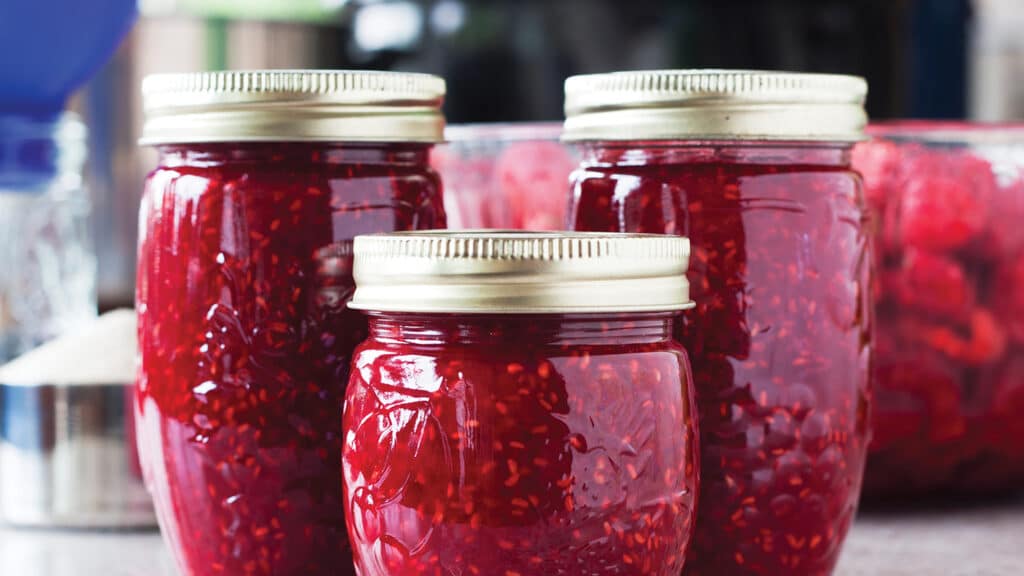 ---
Strawberries
Strawberry fashions come and go, but London chefs currently love the sweet, soft-textured scarlet berries of early fruiting garigette (from late April), and the gorgeously perfumed woodland strawberry mara des bois that appears from late May onwards. Two quirky strawberry strains are the strasberry and the pineberry. The former has small, dimpled fruits that resemble a raspberry and the latter has tart, supposedly pineapple-flavoured, small white fruits with red seeds.
---
Gooseberries
There was a time when gooseberries were categorised by their size, colour and hairiness – coming in shades of green, yellow, white and red, both large and small, smooth and hairy. Today, gooseberries are rather hard to find, so should be bought whenever spotted.
Tart culinary gooseberries usually appear just as the elderflowers finish towards the end of May or beginning of June, followed in July by their sweeter, muscat-flavoured dessert cousins. The latter need no cooking, only washing, topping and tailing. Both are utterly delicious. The former freeze well, both raw and cooked.
---
Raspberries
Traditionally the British raspberry season started in July, but these days they're grown undercover and so fruit from June to October. Tulameen, with its perfectly balanced ratio of sweetness to acidity, remains a popular summer variety, with autumn bliss taking its place in the later months. Look out for white, yellow and black raspberry varieties, all once treasured for their subtle flavours.
---
Red, white and pink currants
These jewel-like strings of currants fruit in Britain in June and July and have a much more intense, sweet-sour taste compared to their imported cousins, which are available for much of the year. They add a delicate acidity to other fruits, both raw in fruit salads and cooked in pies and preserves.
---
Blackcurrants
Depending on the weather, blackcurrants come into season in July for four to six weeks. Always choose plump, undamaged fruits and wash thoroughly before stripping from their stalks. They freeze well and have a fantastically rich port-like taste once heated with sugar. They make superb ice creams, syrups, jams, sorbets, fools and summer puddings.
---
Blueberries
Families once gathered the bilberries (also known as blueberries or whortleberries) that grew wild on the acidic heaths and moors of Britain for intense-tasting August pies, tarts and jams. Today, we buy the milder cultivated blueberries adopted from America. The English crop will fruit in August and September, before being replaced by foreign imports for the rest of the year.
---
Blackberries
There are more than 400 micro-species of blackberry growing wild in Britain, which can fruit from August until November. Their fruits are smaller than those of domesticated blackberry varieties, with myriad different flavours and tastes. Domesticated berries have large juicy fruit, but a tendency towards sourness that requires a generous sprinkling of sugar. They are at their best in August and September.