Heaven's scent
Rosie Birkett on how the translucent, alluringly perfumed flesh of the lychee brings sunshine to the dark days of winter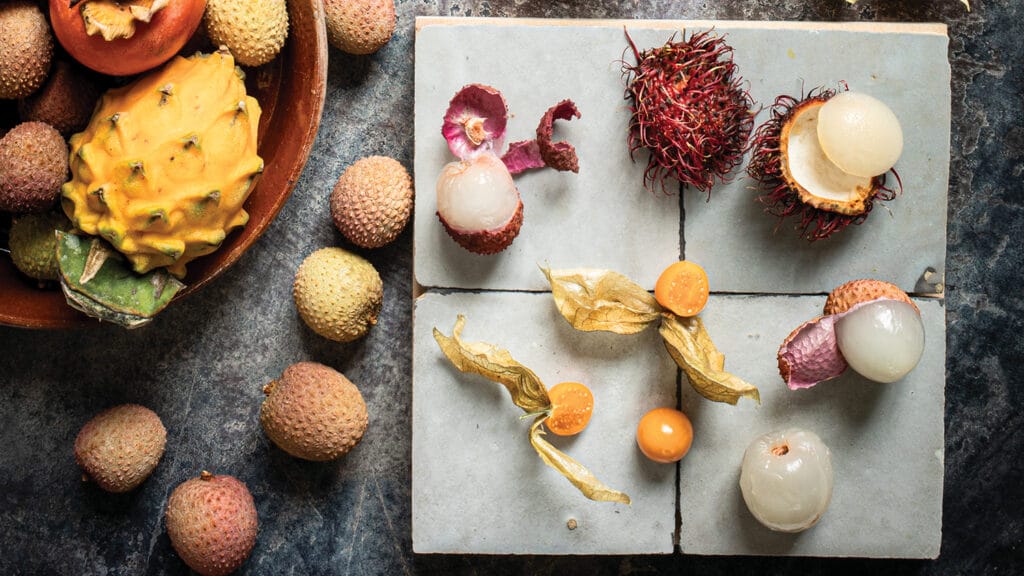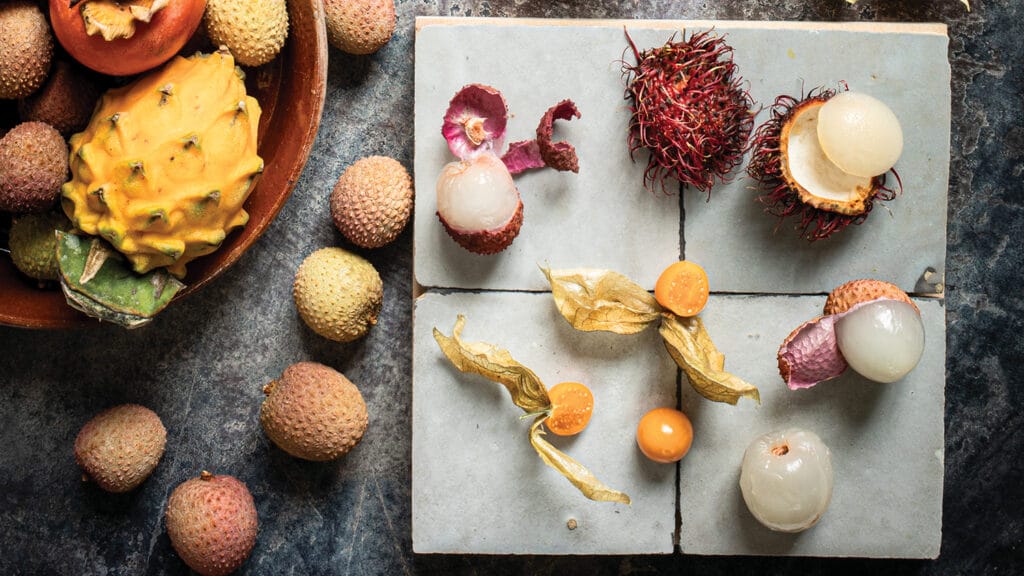 "THERE'S AN EXQUISITE PLEASURE IN CRACKING INTO THE THIN SHELL, REVEALING THE WANTONLY PLUMP, FRAGRANT FLESH WITHIN"
Image: Regula Ysewijn
In the midst of British winter, there's something especially cheering about a haul of fresh lychees. At this time of year, you can find them at markets and greengrocers across the country, snuggling together in their boxes, their rusty, pangolin-esque shells blushing out at you invitingly.
Lychees, which, like ackee, are members of the soapberry family, are native to the Guangdong and Fujian provinces of southern China, where records of their cultivation date back more than 2,100 years. China is still the largest producer of the fruit, closely followed by India, southeast Asia and South Africa, which is where most of the UK's lychees come from at this time of year. Their translucent, alluringly perfumed flesh won the hearts of the wealthy and powerful, and they became a delicacy of the Chinese imperial court, a favourite fruit of emperors and their concubines. Such was the demand for lychees that the court arranged for them to be couriered by horse at great expense from the orchards of the south to the palace in Xi'an, Shaanxi province, covering hundreds of miles in rapid time before the fruit spoiled.
It's not hard to understand why. There's an exquisite pleasure in cracking into the thin shell with a thumbnail, peeling it back to reveal the wantonly plump, fragrant flesh within. I was so excited to find a box of particularly good looking specimens at the greengrocer on a recent winter's stroll that I unapologetically made my way through a bag of them as I walked home, their sweet, sticky juices spilling down my chin as I squinted in the low winter sunshine, dreaming of warmer climes. Spitting out the pips might not have been particularly ladylike, but who cares when you're enjoying a tropical treat in the cold?
The lychee's short season and tendency to spoil quickly meant that in China they were often preserved, either unpeeled in a salted brine, or dried and soaked in alcohol – like a very early version of the lychee martini, my drink of choice around 2011. This cocktail's potent charms once helped me overcome a dodgy date and an agonising case of plantar fasciitis, induced after a long day standing at my street food stall at Brixton market in the wrong shoes (Topshop brogues). Thanks to several lychee martinis, I managed to make it through the date, which dragged on far too long, and the lonesome walk home. It's fair to say that the only good chemistry on that date happened in my martini glass. Around this same time I took to making lychee martinis for dinners in my shared flat, pleased by the relative ease of shaking together lychee syrup, vodka and a dash of white vermouth and freezing lychees to make chic ice cubes, utterly sure I was impressing my guests with my sophistication. Were the lychees from a tin? Absolutely. Did it matter one jot? Absolutely not. Were we squiffy on them? Always.
In fact, while I might now coo over the superior aroma, delicacy and texture of fresh lychees in their shells, my lifelong appreciation for this fair fruit was built on the tinned lychees of my childhood. I'll always remember the Halloween party where my mum filled up a large glass bowl with terrifying but delicious floating 'eyeballs' made from lychees, into which she'd pushed seedless black grapes. To this day, I have a habit of stuffing grapes inside lychees if the two happen to appear together in a bowl of fruit salad.
When it wasn't Halloween, lychees meant one thing – mum's outrageously delicious lychee and hazelnut pavlova, my favourite childhood dessert, and one whose recipe I pilfered for my first book, A Lot On Her Plate. The lychees' sweet, juicy flesh works beautifully chopped and folded through clouds of whipped cream, sweetened slightly with lychee syrup, the crunchy meringue flecked with nuggets of toasty roasted hazelnuts. This is definitely a dessert to make with fresh lychees from the Market, and grab a passionfruit while you're at it – the sharpness of the seeds spilling over the top of the creamy pavlova is a delight. I also love Nigel Slater's refreshing, pleasingly simple lychee sorbet, which involves making a sugar syrup with fresh lychees and then mixing it with lime juice. In a similar vein, try suspending fresh lychees in a loose, delicate jelly made with lychee syrup infused with kaffir lime leaves and lime zest – beautiful with some whipped double cream or thick, creamy coconut yoghurt.
There's no doubt that the fruit lends itself best to dessert, but I do also quite like the idea of combining its sweetness and juiciness with rich, fatty meat, such as slow cooked, spiced lamb shoulder or duck. Ken Hom and Gordon Ramsay offer different takes on a Thai curry of duck with lychees, both making a spiced sauce with coconut milk, shrimp paste, soy sauce and various other aromatics. It sounds delicious, though I can see how some of the nuances of the fruit's flavour could get slightly lost in the cooking.
The lychee's balance of sweetness and sourness make it particularly well suited to a salad, be it sweet or savoury. As well as making for a very special fruit salad with papaya, passionfruit and pineapple, they add an interesting, juicy dimension to a hot green mango salad with chilli and king prawns or marinated tofu. There's also an intriguing traditional Thai recipe called 'sohm choon' – a dish of lychees in a fragrant syrup infused with pandan, jasmine flowers and bitter orange peel, topped with julienned green mango and young ginger, with toasted peanuts, fried shallots, shaved ice and sometimes roasted coconut.
The heritage of this dish nods to the culinary influence of Chinese immigrants who came to Thailand in the 18th century, before lychees were cultivated there. They began importing earthenware pots of brined lychees, which were often in varying states of fermentation when they arrived. The Thai chefs who worked in the noble kitchens used their skill to offset the sourness of the fermented lychees by soaking them in aromatic syrups flavoured with bitter orange peels, ginger and shallots. And speaking of fermented lychees, there's a rather good sounding fermented lychee soda on the internet that uses a ginger bug starter to kick-start lactic fermentation. Perhaps this could replace the lychee martini in my affections – if mixed with a good slug of vodka of course…