Q&A: Asma Khan
The chef-owner of Darjeeling Express on Mughlai cuisine, singing in the kitchen and the cultural barriers faced by British-Asian female chefs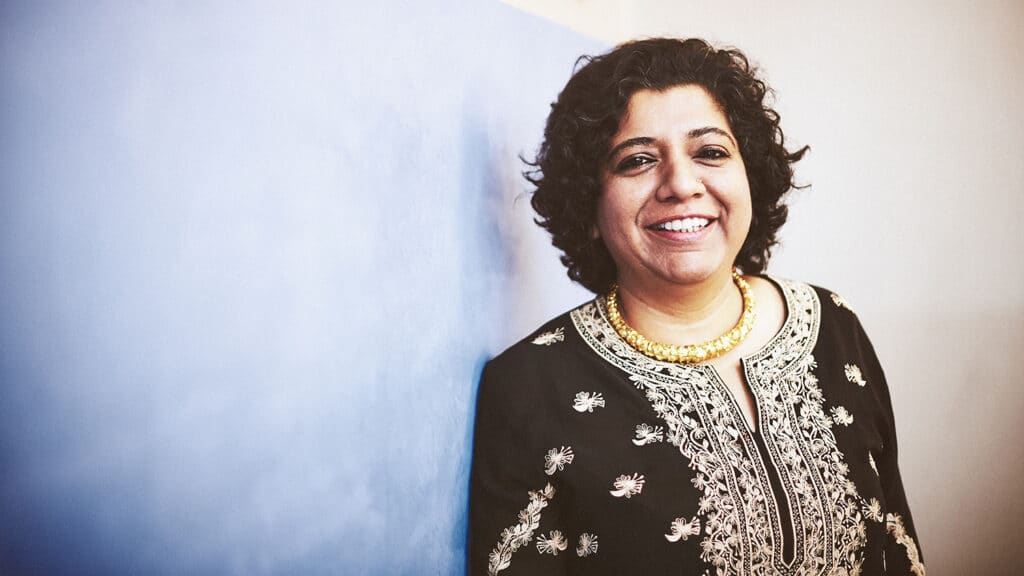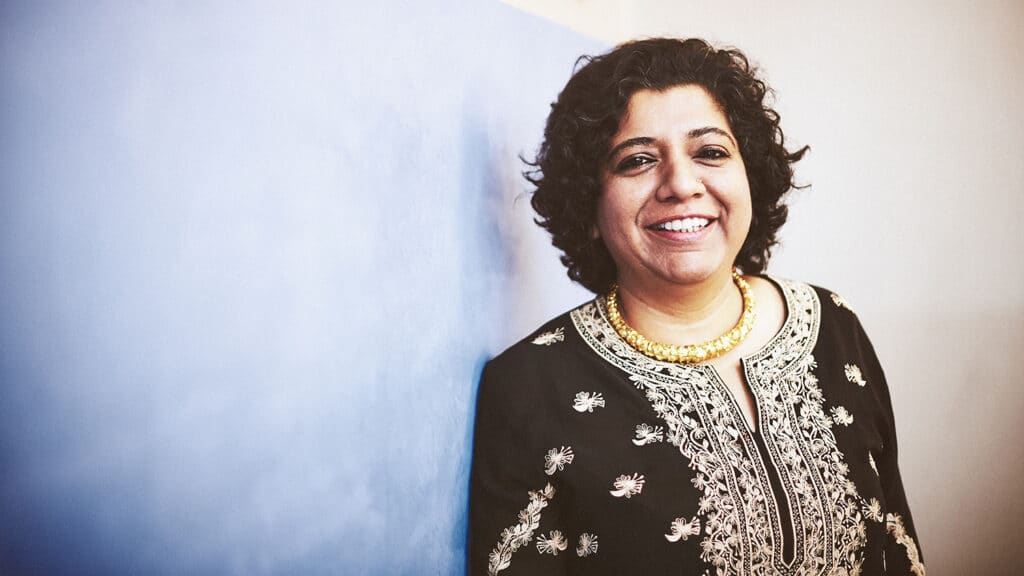 "BOROUGH MARKET FEELS LIKE AN INDIAN BAZAAR, BUT ON STEROIDS – VERY CLEAN, VERY SORTED OUT, VERY PUMPED UP"
Interview: Ellie Costigan / Images: Christopher L Proctor
On her arrival in Britain in 1992, having been born and raised in Kolkata, India, Asma Khan couldn't so much as boil an egg. It wasn't until homesickness drove her to attempt to recreate the dishes of her homeland that she discovered cooking to be her true calling. Packing in a highly promising career in law, Asma began by setting up a supper club in her London home, before eventually opening her restaurant, Darjeeling Express, in Soho in 2017. She has made use of her growing profile to teach the British public about the distinctive but near-extinct food of her Mughal heritage, and she actively seeks to employ home cooks whose talents too often go overlooked by the industry. Asma came to Borough Market's Demo Kitchen this year as part of our South Asian Spice Box residency, but her love of the Market goes way back.
What was your experience of food growing up?
I have a big family, and I grew up surrounded by food. This was in the days before cable, before the internet, when eating was the main entertainment. Food was central to everything: if there was a birthday, a wedding, a funeral, the first question was, what's on the menu? At lunchtime we would talk about what we were going to have for dinner. At dinner, we would talk about how we would use the leftovers for breakfast. My mother owned a catering company, so even when food wasn't being cooked for us there was always a feast being prepared in the kitchens.
How has your heritage influenced the menu at Darjeeling Express?
Kolkata is the city where I was born and spent most of my childhood, and the street food there was an integral part of my life – but so too was Mughlai food: a cooking tradition that dates back to medieval India. The kitchens of the Mughal sultans who ruled northern India introduced Persian, Arab and Turkish culinary influences, specifically in Bengal. My mother is Bengali and my father is of Mughlai descent. Spicy, tangy dishes with tamarind from Kolkata and layered, slow-cooked Mughlai meat dishes might seem like opposite ends of the spectrum, but for me they are both equally significant, which is why I have both Kolkata street food and Mughlai feasting dishes on my menu. I don't differentiate between them.
You did a PhD in law before getting into food. How did that transformation come about?
As a girl in India, especially as a second daughter, you are not encouraged to cook. I was aware from a young age that I was a disappointment; that everyone in my family had hoped I would be a boy. Families often lament the birth of a second girl, because the backward traditions of dowries and extravagant weddings mean that they become a financial liability. I was the first girl in my family to do a PhD and my parents were very proud of me. It's a very Asian thing – all Asian parents want their children to become doctors or lawyers! I loved law, but even while I was studying, I knew I would go into food. My husband is an academic and he couldn't see why I would want to cook when I had studied law for so many years, so I had to keep it to myself. But when I completed my viva – the final oral examination of my PhD – I registered my food business that same night.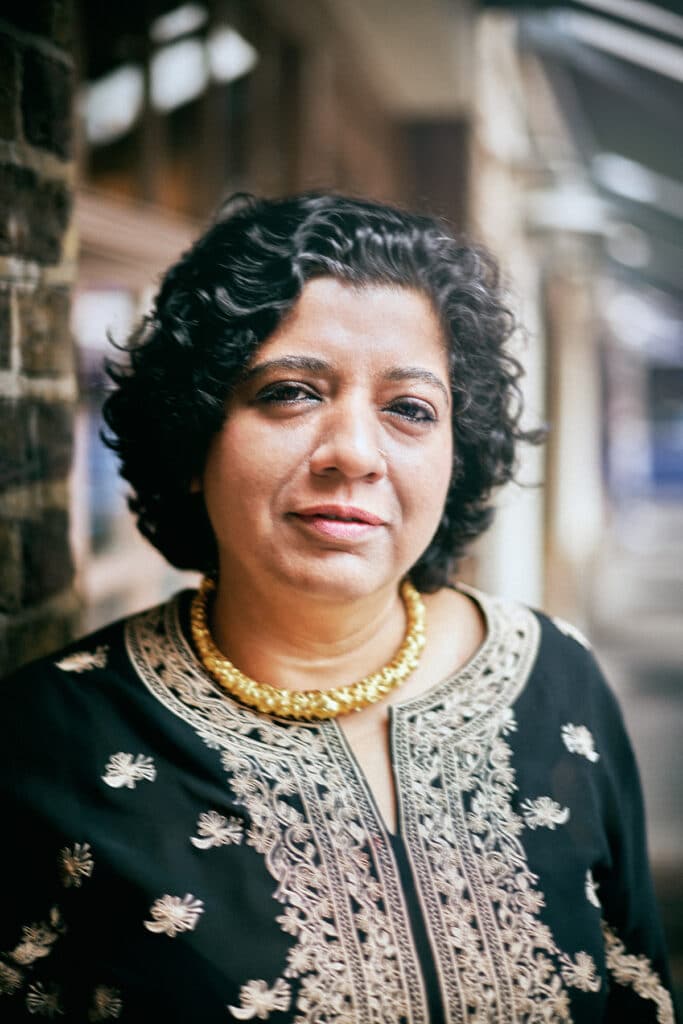 Your career began with supper clubs. How did you make the leap to opening your own restaurant?
I started by running supper clubs in my home in South Kensington. I borrowed £50 to buy a pot to cook in – everything else was my own. When I first started, I did it for charity. That way, if people came and didn't like the food, they wouldn't complain too much! It took the pressure off. But they went well, and eventually I began running the supper clubs regularly. It is a good way of doing it: you know how many people are coming, they've already paid, there is minimal waste. They come, they eat, they leave, and you wash up. But it was too much for my family – there were people in our home all the time.
A friend of a friend invited me to do a pop-up at the Sun and 13 Cantons pub in Soho. It was the best experience. I was working in the kitchen alongside chef Asha Pradhan. My team and I were cooking for the private dining room. It was a very steep learning curve. It was always me who would go downstairs to say sorry when we made mistakes – and we made a lot of mistakes. All the women working with me were – and still are – home cooks. I remember they said, "We should be wearing chef's whites, like the professionals." And I said, "Look at us, we are wearing our own clothes, we are serving just as many people as the pros, and what we are serving is just as good." It was a turning point. Fay Maschler came to one of our pop-ups there and wrote a fantastic review. It changed everything.
The landlord at Kingly Court had been a guest at the pub and liked the food so much that he insisted on showing me this space. I said, "I love it, but I cannot afford it." I had no capital. I never had any doubt that I would succeed, but I didn't want to risk the roof over my son's head by re-mortgaging the house. But he offered to waive the premium – anyone in the industry will know what that means. It meant I could do it.
Do you still have an all-female kitchen?
I do. The process by which this team got together was very organic. Some I have known for 15 years – they came to my house to help do the supper clubs, then followed me to the pop-up at the Soho pub and finally to the restaurant. The style of home cooking is very similar all over India – it is seasonal, the spicing is very layered, nothing is wasted. The women in my team understood the techniques and none of them cooked using measurements or written recipes, which is how I still cook now. We sing a lot. The kitchen can be very hot and sometimes claustrophobic, but when we sing together it brings peace. It makes us feel like we are a team. There is harmony.
The British-Indian food scene must have changed a lot since you arrived here in the nineties…
When I arrived here the food was terrible. I remember going to an Indian restaurant in Cambridge with my husband, and being like, "Oh my gosh, what is this?" The 'sag paneer' was made with cottage cheese. The rice was multicoloured. I could not believe it. I was so shocked. But Indian food was the first 'exotic' food that British people experienced, and they have always loved it. People grew up going to their local curry house. I have to respect the people who set up those restaurants. They might have been winging it, it might not have been 'real' Indian food, but they transformed the palate of British people and introduced them to spices. I remember when fresh ginger came into supermarkets – the Asian community were queuing up to buy it. It seems unbelievable now that nobody here had heard of root ginger. These restaurants paved the way for people like me. I have to thank them.
Recently, several British-Indian female chefs have begun to rise in profile. What has sparked that?
You had Madhur Jaffrey, and then there was a desert. Until recently, you never had any Indian women cooking Indian food for Indians. A lot of credit should be given to the supper club scene, because it has allowed women to start cooking for the public, and many Asian women have made their journey from there – I'm one of them, but there are others and not just in London. But there's still not anywhere near enough of us. We're not able to get our message out, we need numbers.
Why do you think that British-Asian women are still underrepresented in kitchens?
We have these added layers of difficulty: our cultural baggage, our parents, our society. If you said, "I want to go and do a culinary course at Cordon Bleu," our parents would say, "But you could do an architecture course for that money; the kitchen is not a space for you." Very few Asian parents would be happy to let their daughters work the hours that you do in a restaurant, in a male-dominated kitchen. These are things no one talks about, but I am happy to talk about them because I need people to understand that we have a problem.
Restaurants are not doing the simple things that would open up the doors for women of colour. Sort out your rotas so that you are welcoming. Make it so she doesn't have to be on the 1am bus home, full of drunk people. Have flexible working hours, do not make people work 70 hours a week, have a support system, have strong policies against bullying. There's a lot of tension at service times, I understand, but there is no room for abuse, for racism and bigotry. There are too many apologists. You think a doctor doesn't work under pressure? School teachers don't work under pressure? Pilots landing their planes are not under pressure? But do you see them abusing people? Why has it been allowed for so long? It's become part of a toxic culture in kitchens. We need to stop this.
How does Borough compare to the sorts of markets you were familiar with back home?
I love Borough Market. It feels like an Indian bazaar, but on steroids – very clean, very sorted out, very pumped up. It's exciting. It's very reminiscent of Kolkata for me, and I love going because of that. But in India we don't have markets quite like Borough. My first time at Borough Market, I was just so amazed by all the stuff I didn't recognise. I've been to the Market quite a lot and I love the fact that I still don't know half the names of things. I am fascinated by all the colours and shapes. I've been friends with Ed Smith for years and the first time I came to the Market, I had to ask him to explain everything to me. I remember asking him what gooseberries are. In India, if you see a berry you don't eat it, because you will die. They're all poisonous.
All the fresh ingredients at your restaurant are British. How do you source quality produce locally without compromising your traditional recipes?
I'm grateful for what London is. We are in the greatest city in the world when it comes to food. There is so much amazing produce, and I saw that first at Borough – I don't use any vegetables that are flown in, and that's because I was so impressed by the markets. Okra packed in India would arrive jet-lagged in my kitchen. I don't want to cook a jet-lagged okra. I'd rather cook something fresh and vibrant. I'm not trying to do fusion – it's the same flavours and spicing, I just swap the vegetables. We did a Bengali dish, but substituted the beans for broad beans and made it with British asparagus. No one could tell the difference. I have a recipe in my book that's made with courgette instead of the Indian vegetable turai, which is very similar to courgette in texture, but smaller. I am grateful to this soil, to this land and city, which has allowed me to flourish and create these dishes. If I don't use the produce of this land, what's the point?
Does this approach chime with Indian food culture?
When I lived in India, you only got what was in season. There were dishes that were made at the beginning of the season, and others that were made at the end of the season when there was a glut – mass pickling, lots of stuff being preserved. I grew up this way. I'm amazed when I go to Indian restaurants and see out-of-season vegetables. It's so bad. There is no need: there are always ingredients in this country that are in season and they are awesome. They taste incredible. I don't make a song and dance about it, but I still think restaurants could do a lot more to reduce their carbon footprint. We create minimal waste. We buy small quantities and I know it hasn't been flown in, wrapped in clingfilm. Our produce arrives in sacks covered in soil. And we love that.
Will you be passing the baton of Mughlai cooking to your children?
I have two sons and I am teaching my older one. My younger one is absolutely not interested in cooking – in fact, he's not a big fan of Indian food at all. My older one will probably go into food after his studies. He has an incredible palate. He is what I was at his age, he tastes everything. He understands. He can tell me when I have under-spiced. We take him very seriously – if he says, "I think this needs a bit of salt," I will add the salt without tasting again. I have so much faith in him. He's brilliant, he gets it and understands the recipes completely. I'm very proud of both my sons.
What do you feel is your biggest achievement?
For me, my own success doesn't matter. I am very happy with the attention, but I'm most delighted about that generation of Asians who will see that someone has succeeded by going down this route. That's really important. And their children will see that you can follow a dream. There is nothing as beautiful as knowing what your calling is and then being able to follow it. Food is the dream of so many Asian people, but they are sitting as accountants, as doctors, as lawyers, just to please society and because of family pressures. And in their heart, they're cooking. I think this should change. It can change.