The female chef: Pamela Yung
In an extract from her new book, The Female Chef, Clare Finney hears from Pamela Yung, head chef at Flor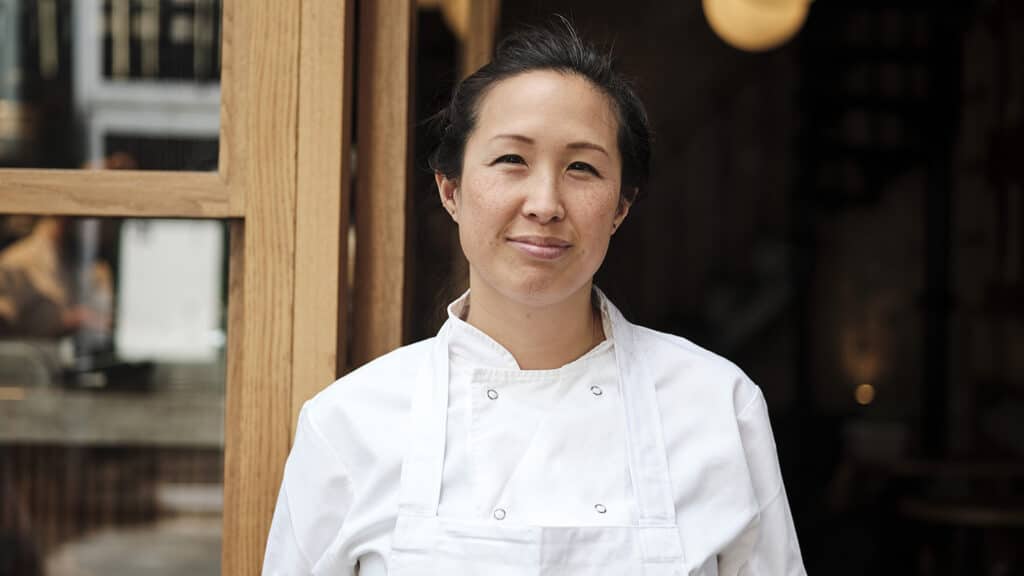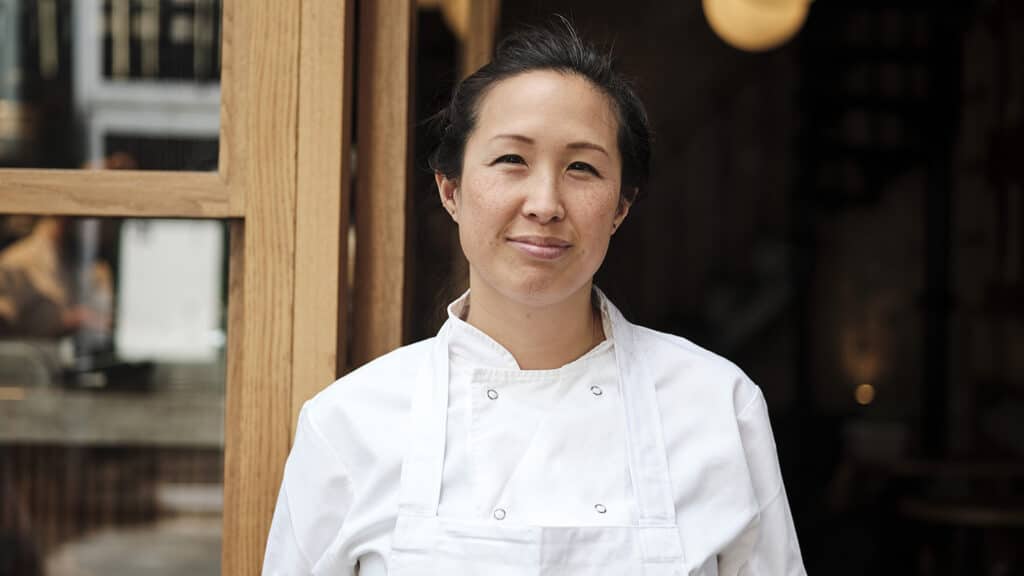 "IT IS A HEALTHY THING TO KNOW WHAT YOU DON'T KNOW; TO HAVE HUMILITY AND THE DESIRE TO LEARN"
Image: Liz Seabrook
My first feeling, upon reading that Pamela Yung grew up with working parents who rarely had time to cook proper meals, was not sympathy, but relieved recognition. Here was a woman working in food whose passion and talent stemmed not from her mother's apron strings, but from her an ambition cultivated after, and even in spite of, her childhood.
"It's a good story," she says of the tale told by so many chefs and food writers of childhoods spent around the kitchen table, cooking and eating dishes handed down through generations. "But it's not the only story. Not everyone has the privilege of growing up with parents who had time to cook from scratch. Not everyone has the privilege of growing up with both parents, with grand- parents. And I don't think you need to have that to pursue a career in food."
The proof is in Yung's CV: stints at Michelin-starred restaurants around Europe, training with the 'prince of pastry' Will Goldfarb and opening own her own restaurant, Semilla, in Brooklyn in 2014, which won a Michelin star itself a year later. Today she's head chef of Flor in Borough Market. All this despite growing up in 1980s America, where women were increasingly eschewing the kitchen in favour of careers.
"It's intimidating," she says of the emphasis placed on 'origin' stories for those in food – not that she appears intimidated – "but I think it can contribute a sense of imposter syndrome, and that's something many women suffer from." Yet a background some might consider a barrier has served Yung well by ensuring she is always learning, always open-minded and never blinded by ideas of authenticity.
"It is a healthy thing to know what you don't know; to have humility and the desire to push yourself forwards and learn. There's always some- thing new to explore," she continues. Being free of the shackles of tradition has allowed her to take risks, "which is really rewarding. It might be harder than doing something that you know works, and that people like – but when you're someone who likes to learn, it's interesting to try new ideas, even if they don't always work out."
Today, Yung is rapidly establishing herself as a chef who puts environmental sustainability at the heart of her food, but in a way "that is provocative. I'm not saying it should make you sit and scratch your head – food should first and foremost be delicious – but my motivation for menu development comes from working with and supporting producers who share a similar ethos around the environment and sustainability." These are values she has nurtured throughout her career, but which are finding their fullest expression in Flor: a restaurant that, under the careful stewardship of founder and executive chef James Lowe, has been meticulous about sustainability from the start.
"As I've got older, I've felt the need to have more of an impact than 'that was a really good dish' – not that that's not a great thing, but I want to be able to incorporate environmental and agricultural issues into what I do," says Yung. Like Lyle's, its sister restaurant, Flor has sourced from organic and regenerative producers since it opened; now Yung wants to take this philosophy outside of the kitchen and into mainstream conversation. "It's not just about sourcing well; it's about communicating to the customer what that means; how it supports the grower; the greater good in the world, and how they can take part."
Being a baker as well as a chef, grain is the obvious starting point. "It's an economy that is increasingly important in terms of how it is grown and how beneficial it is in feeding the world. Just saying we use 'heritage grain' [slower-growing grain varieties that predate high-yielding, hybridised wheat; the mass cultivation of which has proved so damaging to soil health and biodiversity] is not enough anymore." This doesn't mean she's looking to lecture someone over Flor's famed, chewy, cheesy flatbreads; more that she is looking to engage the media – and by extension the public – in a more meaningful way.
Our interview is on the phone – but I can almost hear her eyes rolling as we discuss the 'top 50 insert-adjective listicles' that dominate some parts of the food media. "We can do better. We have to do better," she exclaims. "We have just lived through a pandemic that has been, if not brought on by, then exacerbated by many of the issues around agriculture and food production. These are the issues that are going to drastically affect our lives in the next 50 years. It's more important than anything else we can talk about."
From The Female Chef by Clare Finney & Liz Seabrook (Hoxton Mini Press)
Mozzarella in carrozza
Pamela Yung's recipe for a moreish southern Italian deep-fried sandwich