The offal project: the oink, the feet & the tail
Ed Smith looks in depth at the offal available in the Market. This time: pig's head, trotters and tail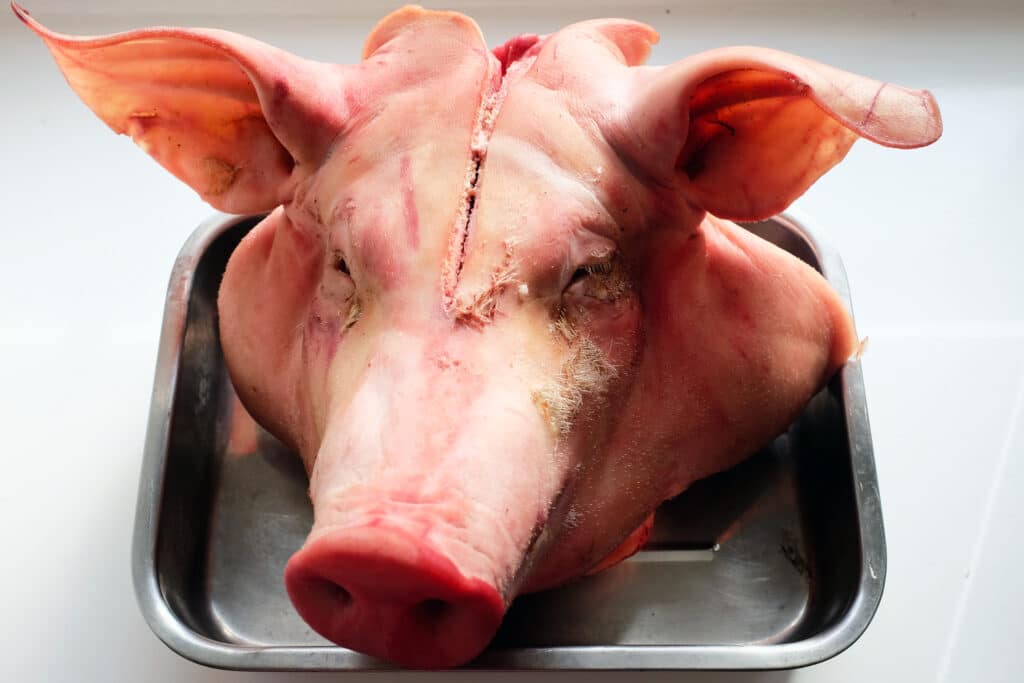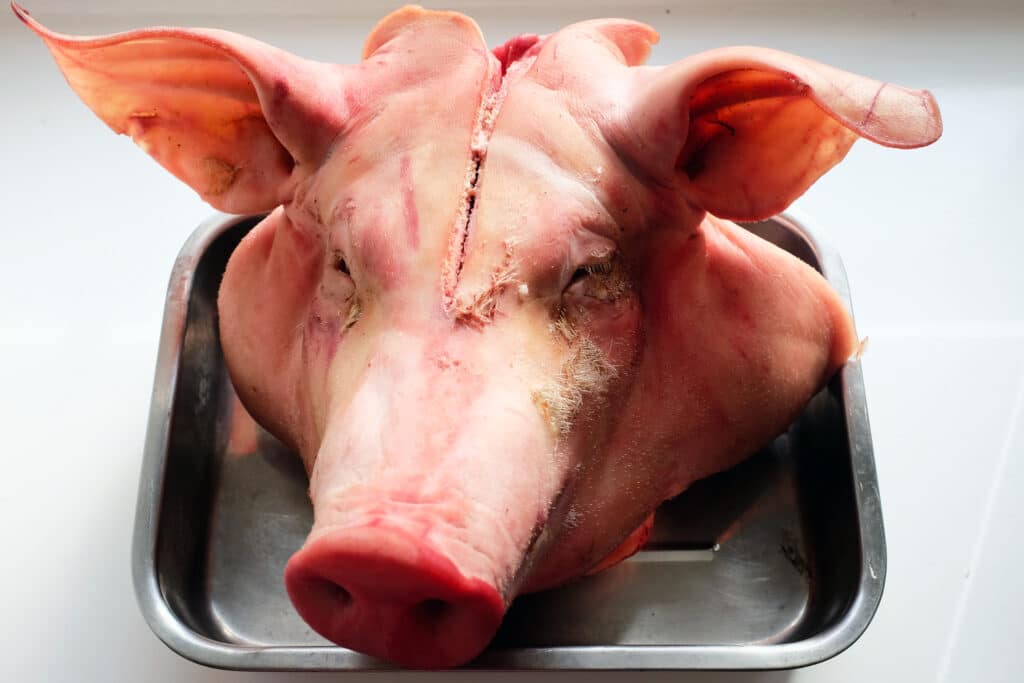 "LOOKING AT A PIG'S HEAD,THERE DOESN'T SEEM TO BE MUCH YOU'D WANT TO EAT. AND YET THE BOUNTY IN A PIG'S HEAD IS WELL KNOWN"
It would be blinkered to say that the history of offal eating should be split BF and AF (Before Fergus and After Fergus), but it's not that far from the truth.
The sensibilities of Fergus Henderson and his St John restaurant have had a huge impact on British (and indeed western) gastronomy, and the effect of his 'nose to tail' ethos is more obvious today than ever before. So many restaurants, chefs, writers and cooks espouse the importance of treating animals with respect and using every part of them that a chef coming out to say "we don't bother with all that" would now seem extraordinary.
Of course, nose to tail encompasses all types of offal in all types of animals. But the subjects of this month's post are, specifically, those bits at a pig's extremities: the nose (and head), the tail and the trotters. What do they taste like, are they really worth eating, and if so, how should we cook them? Don't they taste a bit dirty? And where's the meat anyway?
---
Pigs' heads
Looking at a pig's head – or even your own – there doesn't seem to be much that you'd want to eat. I mean, quite literally, why would you want to do that? And yet the bounty in a pig's head is well known.
In particular, and least controversially, this treasure comes in the shape of cheeks and jowls. Cheeks are a powerful, constantly used muscle, so if you extract them there's plenty to chow down on. It's necessary to cook cheeks slowly – braised for a few hours – so that the collagen and sinew breaks down into beautiful, flavoursome gelatine. The jowls are good, too, particularly if cooked confit, and then fried – they've a quality that's somewhere between fat and meat, and ultimately a bit like a grown-up pork scratching. Which is fine by me.
What else is there? Well, believe it or not, ears are good to chew on. Either braised or boiled first, then sliced and fried until crisp. Or, as the Chinese do, boiled, sliced finely, chilled and then marinated in spicy oils. It's a textural thing.
Pig's tongues are decent, so long as the outer membrane is peeled from them. Lots more thoughts on tongues will be presented in my next post, so we'll leave it there for now, save to say that the tongue is also often included in pig head charcuterie – in brawn (more below), and also Bath chaps, the classic English ham made from rolling a jowl, cheek and tongue (if you pick the lucky side). The Ginger Pig sometimes sells jowl ham.
Speaking of charcuterie, it could be argued that some of the best things you can do with a pig's head involve curing. There's guanciale, of course: cured and air dried jowl, used by Italians in their pasta dishes. Coppa di testa is a ham made, like brawn, from the whole head. You might find some at the Parma Ham and Mozzarella Stand.
If you're intrigued but think all of the above sounds like a bit of an effort (or a bit gross), one of the most rewarding things to do is to request a whole pig's head, split in half, then braise this in the oven with a bit of wine. A few hours later and you've crisp crackling, succulent and tender flesh, and an amazing gravy. It's more like a pork roast than a pig's head at this point. See Henderson's Nose to Tail Eating book for more.
---
Tails
"OK, I get there's something to enjoy in a pig's head. But surely there's nothing to the tail?"
Amazingly, you'd be wrong to assume that's the case. The funny, curly tails are surprisingly joyous to eat. Braise and the bread them (as with so many types of offal) and these crispy lengths are one of the better things you could nibble on. Again, Fergus Henderson should be the first port of call for a recipe. He suggests the longer the tail the better.
But there are other places to look – cooks from the American Deep South have enjoyed this part of the pig for ages, and many Caribbean recipes exist for split pea and pig tail soups. I can imagine the tails add a porky, savoury note, plus a natural gelatine to the soup.
---
Trotters
The Chinese and south-east Asians have long been better than us at making the most of a pig's feet. Typical and very tasty options include red braised pig's trotters (sugar, soy, Sichuan pepper, star anise), which are sticky and gelatinous and you need to be happy with gnawing around bones and cartilage, but I rather love it. Have a read of Fuchsia Dunlop for more on this.
Eastern cuisine is also well versed in using trotters in broths and stocks. Vietnamese pho is nothing without a trotter to add both its flavour and a certain, appealing viscosity (because of the collagen content).
Over here, Pierre Koffmann made trotters famous, with his much copied stuffed pig's trotter – an absolutely classic dish at his restaurant La Tante Claire, later eulogised by Marco Pierre White and other Koffmann-trained chefs. The trotter is painstakingly deboned, then stuffed with a pork and morel mousse, before being served with the richest of gravy.
I've eaten the Koffmann version and it's remarkable – if exceedingly rich. I also had to recreate it at catering college. Efficiently removing the bone while keeping the skin intact is one of the harder things I did. Koffmann takes just over a minute when doing a presentation. I hate to think how long it took me.
It seems appropriate to head back to St John to round things up. Trotters are celebrated there too, not least in a trotter pie – very little bite on the loose meat filling, but maximum flavour – and also the restaurant's famed trotter 'gear'. No gravy stands up to it, once you've tried.
---
Making brawn
Roasting or deep-frying a tail would've been the adventurous thing; and de-boning then stuffing a trotter the ultimate test of skill and patience. However, using the whole of a head (plus a trotter for luck) to make brawn, seemed the most appropriate way to approach this stage of the Offal Project.
Brawn is a set terrine comprising meat picked from a boiled pig's head (and sometimes trotters too), held together by gelatinous stock made during the cooking process (the trotter helps achieve that quality). I really love it. It looks dramatic and is as tasty as any form of soft charcuterie you'll come across; superb with some toasted sourdough and sharp pickles. It's also incredibly cheap to make (expect to pay around a fiver for the head, £1 for some herbs and onions, and that's about it).
That said, there are a few steps to go through when making it, so it's a bit of an effort, if not actually hands-on laborious.
Pig's heads are fairly easy to get hold of at the Market, but don't expect to just happen upon them when walking past The Ginger Pig, Northfield Farm or Rhug Farm. Contacting one of those butchers in advance ought to guarantee success.
Admittedly, it's quite an alarming thing to look down at a pig's head that's looking back at you. Particularly if you've a mild hangover. You do need to look at it though, not least because it's necessary to give it a good wash, shave it, and clean wax and grime out of the ears. After that, find a pot that's large enough to simmer the whole thing (we're talking 8-10 litre volume, if not more), leave it to bubble for 3-4 hours, pick the meat from the trotter and head, mix in some chopped tarragon and leave to cool in a terrine overnight, using the gelatinous stock as a setting agent.
As mentioned, glorious on toast with pickles, and a bit of a talking point. You could dip cubes of it in flour, egg and breadcrumbs too, then deep fry, for dreamy (or, for some, nightmarish?) pig's head nuggets.