Two of a kind: Sandhya & Gaurav
Sandhya and Gaurav from Horn OK Please on seasonal eating, connecting with customers, and fighting like brother and sister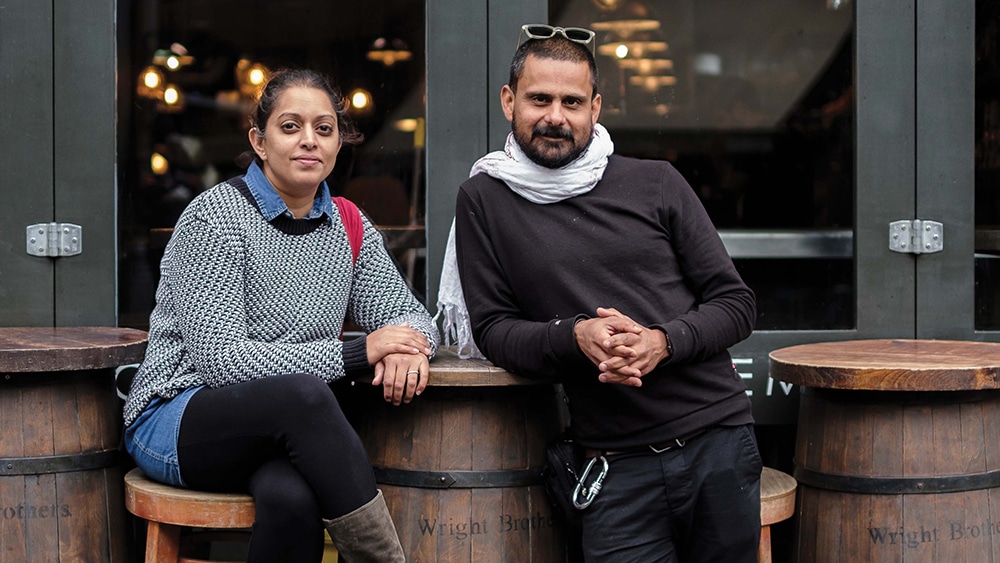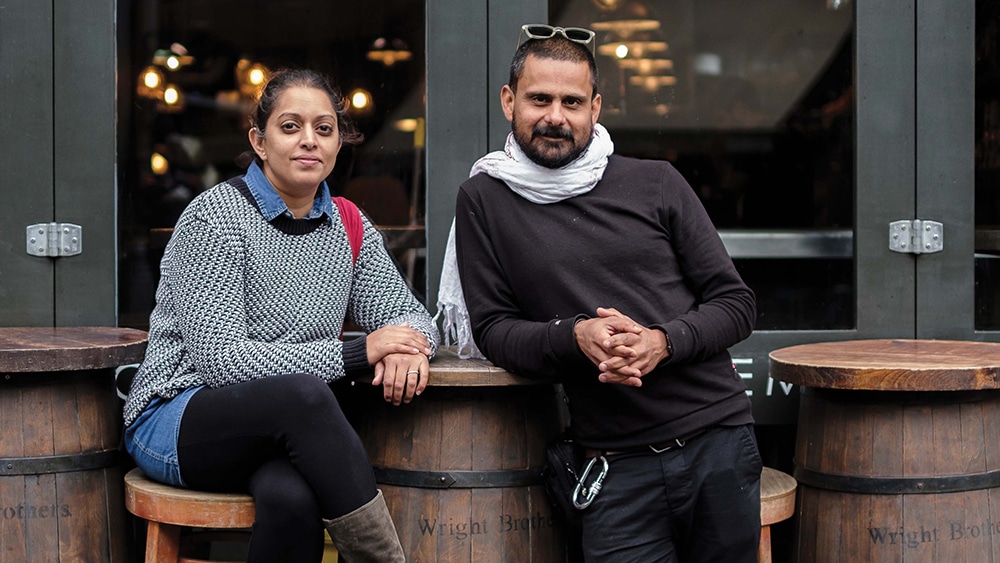 "OUR LOVE OF FOOD MEANS SANDHYA AND I WERE ALWAYS LIKELY TO GET ON WELL, AND WE HIT IF OFF FROM THE BEGINNING"
Interviews: Viel Richardson / Image: Orlando Gili
Sandhya on Gaurav
Gaurav and I have known each other for about 10 years. My husband, who was best friends with Gaurav long before I met him, knew that I wanted to change my job and that Gaurav was in the same position. We both share a passion for food, and we would talk about it all the time, so my husband suggested we actually do something with that passion. Horn OK Please was the result. We decided we wanted to do Indian street food, which is reflected in the name – it's a phrase you'll see painted on the back end of vehicles in India.
Gaurav is always talking about food. If it's not about something we are cooking, it will be about something else that's gluten free and healthy – those are his food obsessions. Those and beer! He is an amazing chef and does most of the cooking for the business. He has a wonderful culinary imagination and is great at playing with tastes, textures and aromas, which is what I think makes our food exciting. Being surrounded by fresh produce at the Market is something that really inspires Gaurav – he loves the seasonality that Borough Market represents and tries to reflect that in the food. Where Gaurav is really brilliant is in his ability to incorporate these seasonal changes into what we regularly cook, rather than creating entirely new dishes.
Gaurav's dedication is amazing. When I was on maternity leave, he worked all hours to keep things running smoothly. Not only is he a very good friend, but I feel like I have his complete support whenever I need it, which is very important.
The worst thing about working with Gaurav is the fact that he is always so relaxed. If something is getting me a bit stressed, it can be frustrating to look across and see him as the picture of calm. We get on very well, but we do argue a bit, which is why even though we both work on the stall, you will rarely see us working there at the same time! I would say the relationship is like a brother and sister.
---
Gaurav on Sandhya
Our shared love of food means Sandhya and I were always likely to get on well, and we hit if off from the beginning. But with her, it's more than just about loving food, it's about connecting with the customers. We have developed a real bond with many of them, and Sandhya has been central to that: she knows their names, their birthdays, what they do for a living. We have customers who have had children since they have been coming to us and now their kids are beginning to eat at the stall, which is really lovely.
Sandhya wants to make sure the customers understand our food as well as enjoying it – and that enthusiasm is infectious. Seeing her with the staff and customers is like watching an extended family enjoying themselves. It adds real colour and vibrancy to the Market.
The main things Sandhya brings to the business are drive and passion. Her work ethic is amazing. When she goes on holiday and I take on her duties, it reminds me of just how much she does in all areas of the business. It is one of the core reasons that the business has done so well.
Even though I do the cooking, Sandhya has a great palate and I completely trust her opinion. She is the first person to try any new recipe and if she doesn't like it, I go back to the drawing board. We both go to India regularly and if either of us try something we like, we will see if we can use it in some way. While our food is vegetarian – and so am I – Sandhya definitely is not. She likes steak and really good hamburgers. That said, if I was choosing a place for a celebratory meal, it would have to be somewhere with good champagne and a great cheese board. Those are two of her favourite things.