Cupboard love: pistachios
Ed Smith on why pistachio nuts are an essential component of his kitchen cupboard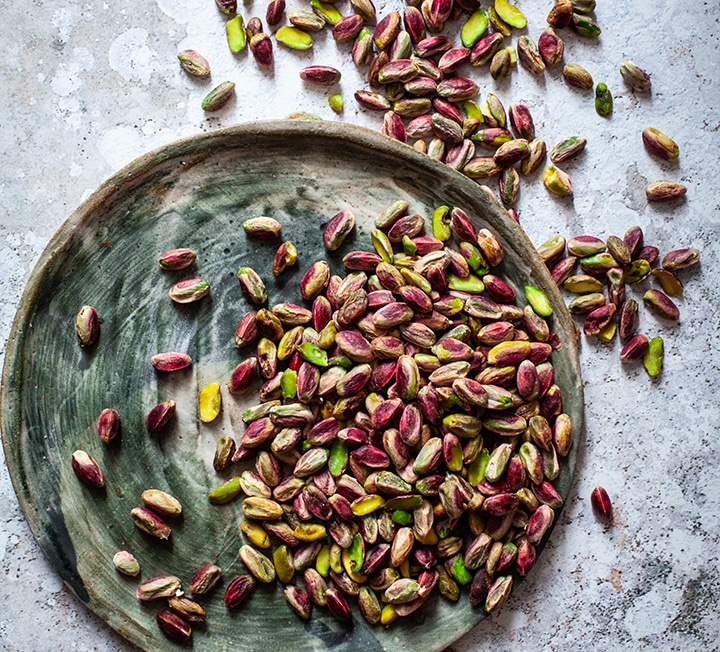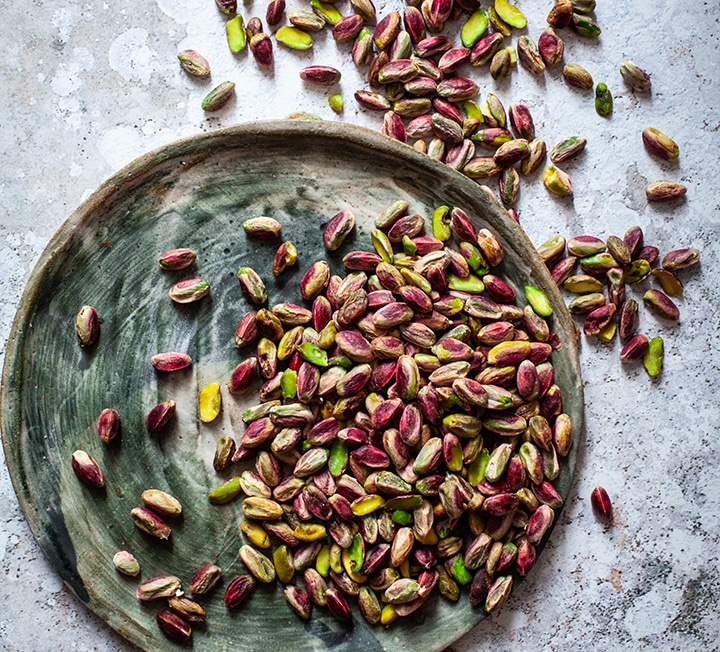 "YES, THEY'RE A TEMPTING BAR SNACK, BUT THE POTENTIAL OF PISTACHIOS GOES FAR BEYOND THAT OF A DRINKING PARTNER"
Image: Regula Ysewijn
I didn't grow up thinking pistachios were something we should cook with. Which is not to say I don't have fond memories of them. In fact, I have strong recollections of Tuesday night binges – the time of the week when my dad sat down to work through his accounts, with a bottle of red and some salty bites to get him through the grind. Initially, the snacks were small bags of Mini Cheddars or dry-roasted peanuts. Then, as my brothers and I got bigger and our begging hands more greedy, grab-bags of Kettle Chips and Mignons Morceaux. At some point he got fed up of sharing, and it was one bag for him and one for us. And then, as a sign that he had become really frustrated by the thieving tribe he had spawned, the nibbles became pistachios – fiddly, dusty, salty pistachios in shells, which, though delicious, quickly lost the interest of boys who were supposed to be asleep, such was the effort of opening them. Dad and pistachios 1: Boys and their bedtime 0.
Now, I see pistachios in a very different light. Yes, they're a tempting bar snack. But at a time when Middle Eastern, central Asian and eastern Mediterranean cuisines have opened up to us Brits, it's clear that the potential of pistachios goes far beyond that of a drinking partner.
There are some food products in which pistachios shine like the diamonds they are: mortadella from Bologna is one example, Sicilian pistachio ice cream another. But we should recognise them as an ingredient to use at home, too. Blitz them in the food processor and bake near-fluorescent frangipane-style tarts (particularly good when embellished with raspberries) or make them into a crumb to form a cheesecake base or crumble (as suggested in The Borough Market Cookbook, by the way). Keep blending them into a paste and there's material for custards, crème pâtissière and ice cream of your own. They're savoury but also sweet and creamy – akin to a grassy sunflower seed crossed with an almond, perhaps.
On which note, it's worth pointing out that pistachios are not nuts but seeds, the shells of which split open with an audible pop upon ripening. You can buy them roasted and salted in their shells, of course. But the very best pistachios I've ever tasted (and I would write this on any other organisation's website too) are the raw, unsalted, shelled pistachios imported by Oliveology from Sparta and sold at the Market.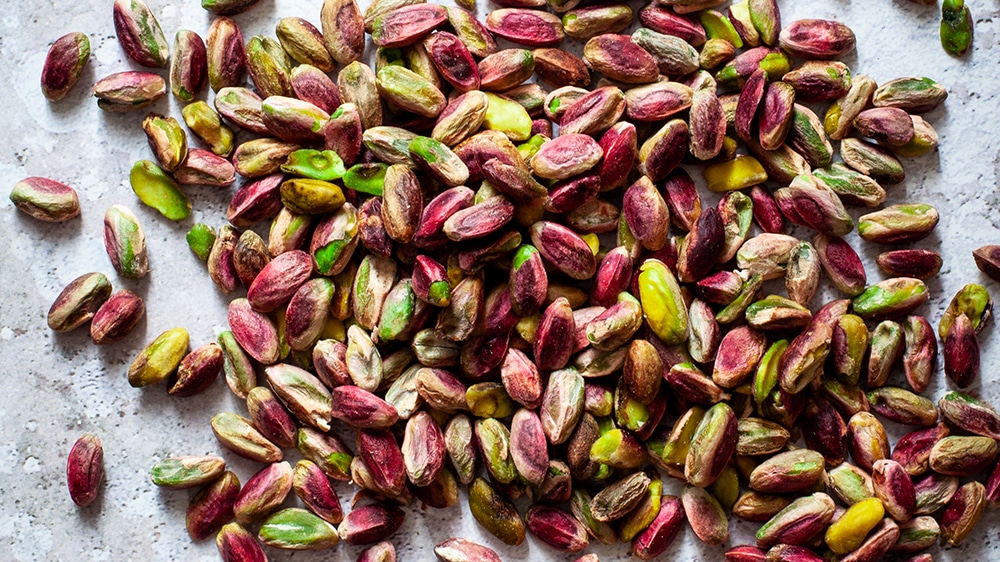 We do eat with our eyes, and if you stop by their stall, you'll see that a bag of these are an absolute feast: bright purple skins and even brighter chlorophyll-green centres jump straight out of the cellophane. As it happens, that visual treat is echoed in the eating – the moreish flavours of my youth are amplified and emboldened. These pistachios are many times sweeter than my memories, as bright in flavour as they are in colour. Juicy too. Honestly, try them: you'll immediately see why, in my opinion, you must always have a bag of them to hand.
They're the ideal store cupboard ingredient, ready to embellish and improve a multitude of dishes, both savoury and sweet. You could, if you wish, chop half a bag finely, stir into honey and layer between sheets and sheets of buttered filo. But I've found I'm more likely to use them a few handfuls at a time: scattered over breakfast (yoghurt and fruit, or porridge); as part of a sort-of-gremolata to supercharge simple lunches (Ottolenghi-style crisp or sharp salads, with labneh or mozzarella); stirred into rice or grain-based platters for flavour, crunch and colour alongside dried fruits, fresh herbs and citrus; used in snacks and treats like chocolate bark and brownies; and on creamy desserts too (trifle, panna cotta). A sprinkling of raw, unsalted pistachios punches above its weight and is never superfluous in the way, dare I say it, pomegranate seeds can be.
If you'd like to do a little more than simply chop and scatter, consider the dukkah suggestion below. The spices, sesame seeds and flaked salt bounce so well off the pistachios in this versatile garnish. As with Oliveology's pistachios, once you've tried it, it may well (read: should) become a constant presence on your shelves.
Pistachio dukkah
Put 1 tsp cumin, 2 tsp coriander seeds and 8-10 black peppercorns in a small heavy-bottomed pan and toast gently on a low hob for 3-5 mins until fragrant but not browned. Decant to a pestle and mortar. Add 4 tsp sesame seeds to the pan and toast those for 2-3 mins until golden. Grind the spices to a powder while keeping an eye on the sesame seeds.
Run a knife through 50g raw, unsalted pistachios a number of times until coarsely chopped (not fine or a powder, but not just split into one or two pieces). Add these and 4 tsp sesame seeds to the spices, along with 2 tsp flaky sea salt and, if you want a little kick, 1 tsp Aleppo chilli flakes too. Mix well and store in an airtight container at room temperature until needed. A homemade jar of this Egyptian garnish can be used to add a new dimension to a wide variety of dishes and meals. Dip some great bread first into olive oil and then into the dukkah. Use it to embellish hummus or baba ghanoush-style dips. Sprinkle it over roasted vegetables, honey-vinaigrette greens like green beans or mangetout and sugar snaps, or fresh cheeses like burrata, ricotta, curd. Or scatter it on platters of yoghurt-dressed charred and chopped kale or other leafy salads.