Hidden charms: gurnard
Determined that you should never judge a book by its cover, Ed Smith explores the hidden charms of some of the Market's less obviously alluring ingredients. This time: gurnard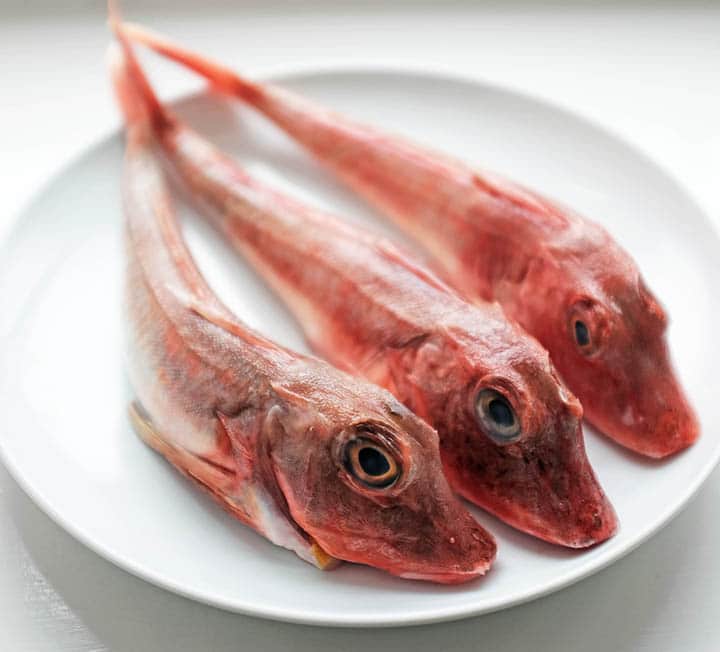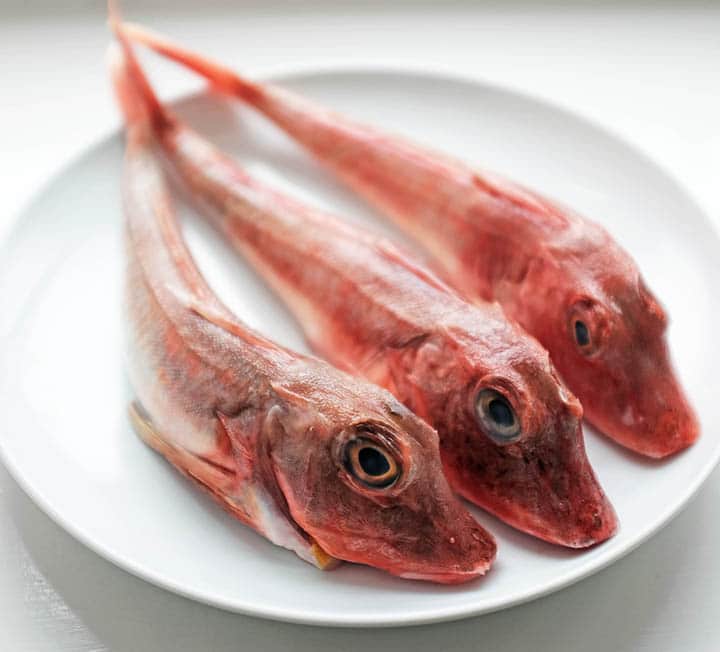 "BAKING IT IN A SALT CRUST IS AN OPTION, BUT POACHING IT GENTLY IN THE LAST FEW MOMENTS OF A STEW IS MUCH LESS HASSLE"
Image: Ed Smith
The gurnard may not be the absolute weirdest-looking creature of the sea, but neither is it the prettiest. You'll often see it described as "pre-historic looking", "distinctive" and "downright ugly" – and looking at the large-headed, wide-mouthed, big-eyed, jagged-finned, pink-skinned examples at Furness Fish Markets, it's hard to disagree. Which doesn't exactly make gurnard attractive to buy, cook and eat.
In his seminal book English Seafood Cookery, however, Rick Stein pointed out that gurnard "is an undervalued fish, mostly going as bait for lobster pots" and that it is excellent in stews like a bouillabaisse, and also when filleted and cooked simply. "Any recipe for filleted sole, turbot, brill or john dory would suit gurnard". Did we actually heed Rick, though, or were we just reading and watching because his dog Chalky was so cute?
I worry it was the latter – it's now nearly 30 years since that book was published, and I still don't think gurnard is cooked enough. Stephen Harris, chef proprietor at the acclaimed Sportsman restaurant near Whitstable, wrote about gurnard for the Telegraph, not just bemoaning the fish's bad reputation in general, but also noting his own reluctance to cook it ("I was never quite convinced"). The fact no one bought the gurnard dishes cooked at the Sportsman was nearly the final nail in the coffin for Harris ("even my brother couldn't sell it"). It was proving even more wasteful to buy gurnard for the restaurant than it would be to let the fisherman send it to the lobster pots.
There is, thankfully, a happy ending. Harris found that by cooking gurnard on the bone it didn't dry out, as it can do when filleted. He now salt-bakes the fish, serving it broken into large flakes on top of a bouillabaisse style sauce – and customers can't get enough. Having eaten that dish at the Sportsman, I can vouch for its quality and, more pertinently, his assessment that the fish tastes "briny and sweet" and that "and the texture was enhanced by a slight stickiness that came from the gelatine in the fish bones". Accordingly, I highly recommend gurnard as an easy to cook and great tasting, however odd it looks. Baking it in a salt crust (as Harris does) is absolutely an option. But simply poaching it gently in the last few moments of a stew is a pretty good, hassle-free alternative.
You will often see gurnard paired with peperonata, that sticky, intense, long reduced tangle of bell peppers, onions and tomato. A few weeks ago I cooked masses of peppers and onions with cumin and oregano, adding extra water and saffron once it was cooked so that it began to resemble a stew. I then added handfuls of sweet cherry tomatoes and let four whole gurnard nestle in amongst it all as if they were having a bath.
After some gentle simmering, just as it became clear they had poached perfectly, I lifted them out, turning the heat up for the broth to reduce a little while carefully pilling the fish into fillets. As Harris said, the resulting flesh was firm, sticky and sweet tasting, and worked brilliantly laid over the peperonata stew with a good hunk of warm bread, a glug of peppery olive oil and a scattering of parsley. Not such an ugly critter after all.
See Ed's recipe for gurnard peperonata stew.