Light entertainment
Gurdeep Loyal hears from Borough Market's South Asian diaspora about the food and rituals of Diwali, the annual festival of lights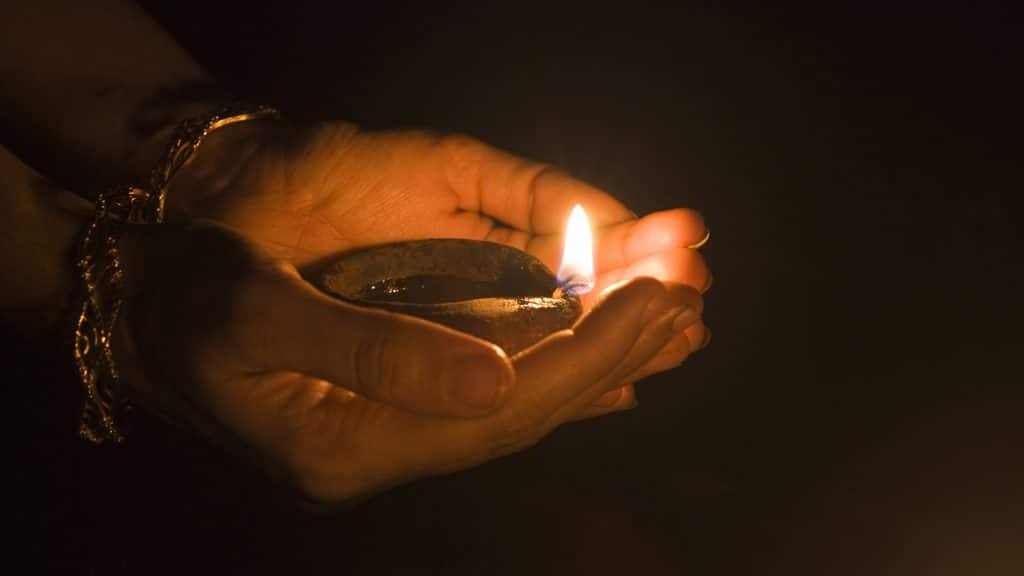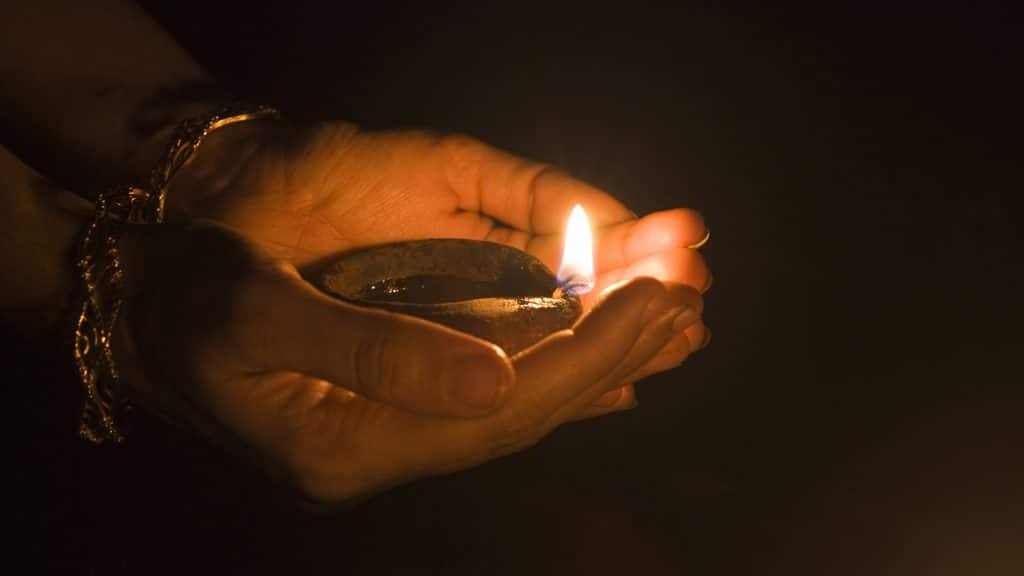 "MY ULTIMATE DIWALI FEASTING DISH IS SOMETHING THAT URVESH EMPHATICALLY AGREES WITH. I LOVE A BIRIYANI, HE EXPLAINS"
Words: Gurdeep Loyal / Images: RED Agency, Tom Bradley
To me, Diwali has always been the most sensorially riveting festivity of the year. Celebrated by millions of Hindus, Sikhs and Jains around the world, the annual 'festival of lights' – which this year falls on Sunday 12th November, preceded by five days of ceremonies – is a vibrant fantasia of delights, symbolising the luminous triumph of good over the dark forces of evil.
I have vivid memories of my childhood Diwalis, growing up in Leicester – each one illuminated by the shimmering diva oil lanterns that would suddenly adorn every corner of our house and garden from mid-October onwards. I still look forward to Diwali season with giddy excitement, relishing in the sight of glittering saris and sequined paisley pyjama suits; the sputtering sounds of samosas and pakoras in hot oil; the dizzying smell of bonfires and fireworks; and the thrilling taste of cardamon burfi, gingery masala chai and sticky-sweet jalebis, all devoured together in the same bite.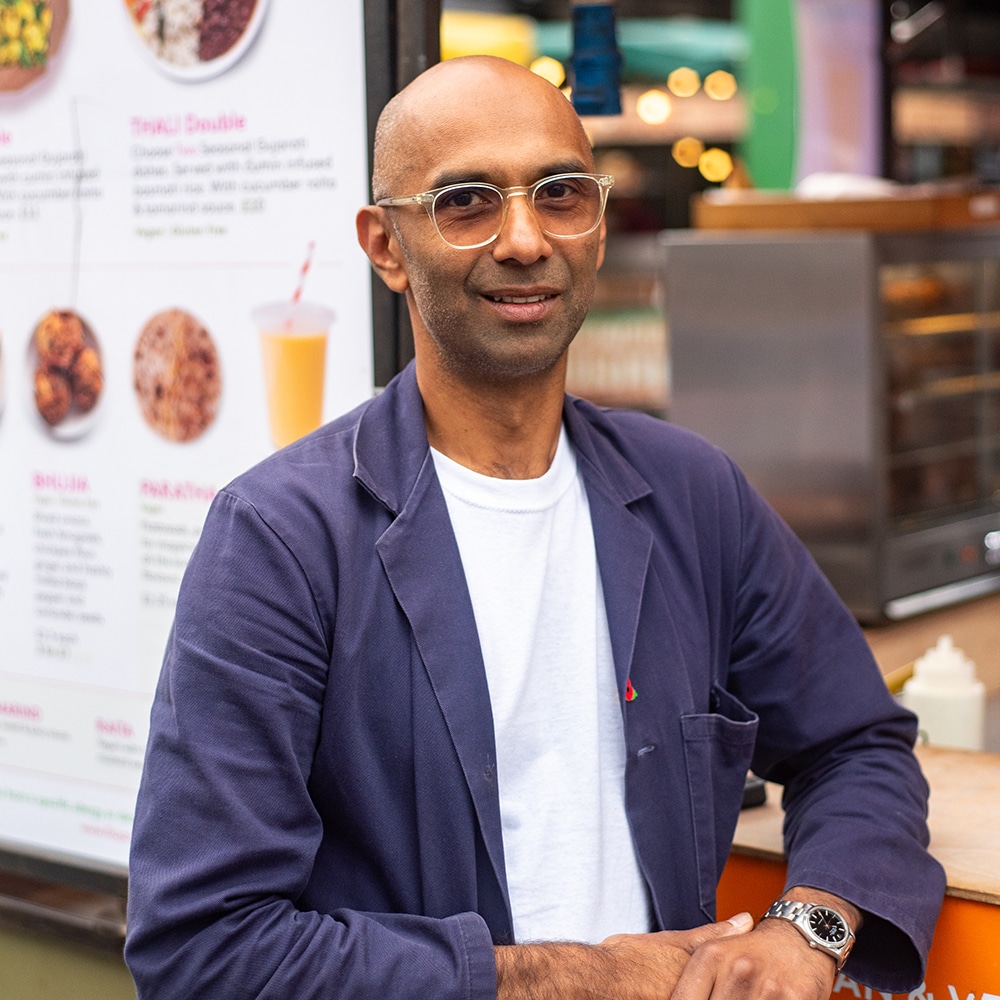 Like me, Urvesh Parvais of Gujarati Rasoi, which serves up vegetarian and vegan Indian food in the Borough Market Kitchen, has treasured memories of the festival's spiritual rituals. He remembers how his "grandmother would have a temporary Diwali temple in her home, illuminated with fairy lights and effigies of all the Hindu gods. She would pray, light divas and be still. Sitting quietly with her was one of the things I loved most – incense and her love filling my heart as we stared into the flickering divas."
These sacred aspects also make their way to Ratan Mondal's Tea2You tea emporium in Borough Market. He tells me that in his family "we worship Hindu deities – the goddess Kali and Ganesha – and perform puja with the use of incense sticks, the sound of bells, and enchanting mantras, similar to what I do every morning at my Borough Market store." His childhood Diwalis in Kolkata "were commemorated by decorating my home with divas and candles, as in those days we didn't have fairy lights. By the time I'd finished with the last candle, the first one would be out – and I'd need to jump to light that again!"
Devotional ceremonies are always followed by bountiful feasting, and as Ratan enthusiastically explains, "Diwali is not only a festival of lights… but also the festival of flavours!" My favourite celebratory mouthful growing up was salted gathiya – a flaky, crunchy chickpea-flour snack, speckled with ajwain, nigella seeds and cumin, which my mum would make in gargantuan batches to accompany jugs of fizzy mango-rose punch (often spiked with rum and brandy for the grownups!). I also loved handvo: a lentil and vegetable cake smothered in a rainbow splatter of green coriander, bright red tomato and conker-brown tamarind chutneys, the last of which is especially delicious made with Pantainorasingh tamarind paste from Borough's Raya stand.
And then there'd be shiny platters of wonderfully rich burfis and ladoos made from condensed milk, floral spices, toasted nuts and semolina – always garnished at this time of year with glistening silver leaf. Gaurav Gautam of Indian street food stand Horn OK Please, who hails from the north of India, took equal pleasure from the savoury and sweet edible delights of Diwali. "Two of the sweets I remember indulging in are gulab jamun sugar doughnuts and kaju katli cashew burfi," he tells me. "But we also used to make mathri – savoury butter biscuits made of wheat – and crunchy sweet-savoury noodles made from chickpea flour."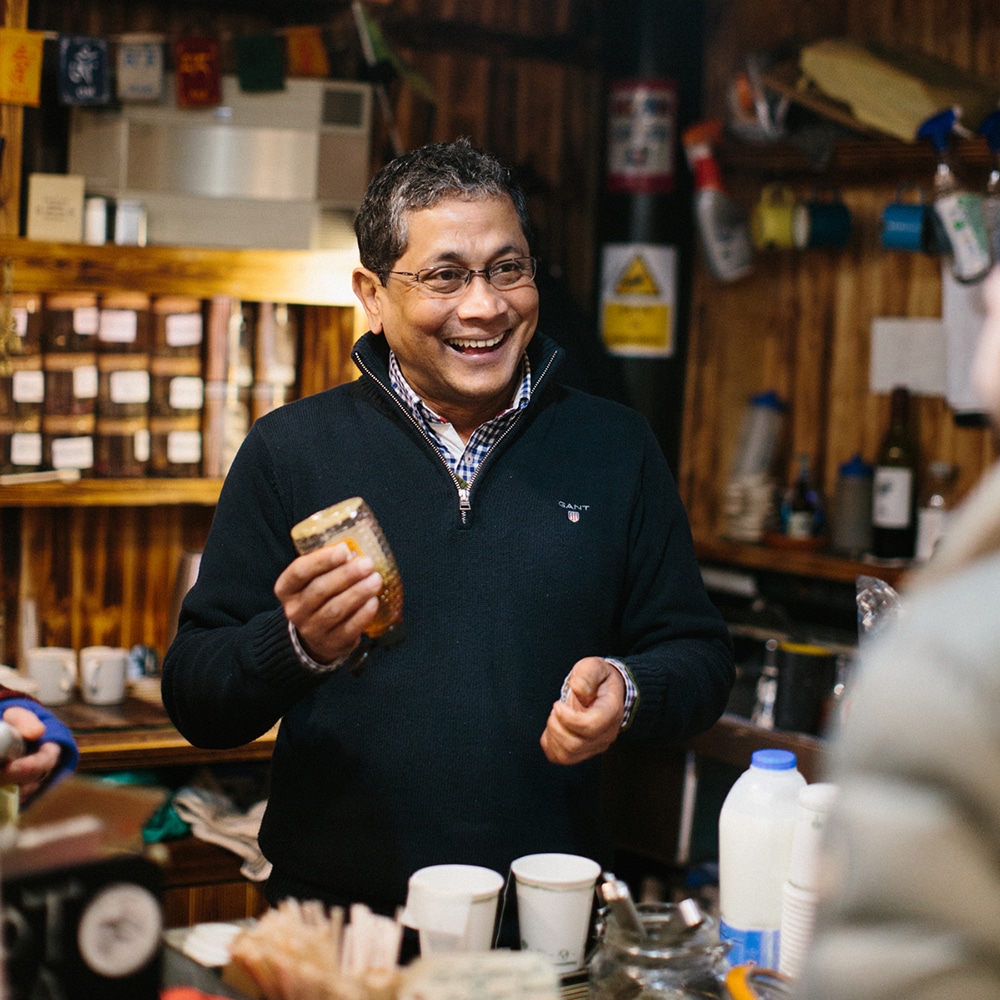 This cornucopia of dishes is also something that Ratan loves to feast on over the festival. "We make crispy spicy samosas, along with Indian masala chai, complemented with sweets like sooji halwa, which is a sweet semolina pudding," he says. "We also would have rasgulla – Indian paneer balls soaked in thick sugar syrup. We Calcuttans from Bengal must have rasgullas to celebrate any happy event!"
My ultimate Diwali feasting dish is something that Urvesh emphatically agrees with. "I love a biriyani at Diwali!" he explains. "All those layers and flavours!" Fragrant slow-cooked chicken biryani – heady with black cardamon, coriander seeds, saffron and garam masala – is a taste like no other, especially when made using the deliciously complex masala blend from Spice Mountain. Equally electrifying, and just as complex, are the celebratory festive teas at Tea2You, like Ratan's Indian masala rooibos, blended with cloves, cardamon and cinnamon, delicious brewed with warming fresh ginger and honey. Or for something extra, extra special, his white tea with rose buds has blossoms that unfurl in your cup.
Diwali's religious ceremonies and feasting all lead up to the festival's spectacular conclusion, which, as Urvesh tells me, has to be "the fireworks! Ignited as a celebration of light. I've always loved them!" Gaurav also remembers "waiting impatiently for our extended family to gather so that we can all go out in the open and enjoy firecrackers." Ratan laughs about the lengths he would go to in India to ensure the festival's fiery treasures would take to the skies: "Due to damp soggy weather at this time of year, I would dry my favourite fireworks meticulously in the sunlight on the roof for a week before Diwali, sitting beside them to guard them from being stolen."
As with Bonfire Night, any Diwali fireworks display calls for delicious food, served long into the night. Horn OK Please's signature moong dal dosa with warm masala chai would be a fantastic way to celebrate, as would Gujarati Rasoi's samosa or bhujia chaat – spicy, salty, sweet flavours and satisfying crunchy crisp textures jumbled together in a bowl. At the open-fire Sri Lankan restaurant Rambutan, situated in the heart of the Market, the red pineapple curry with mustard seeds, served with samba rice and a side of green mango yoghurt pachadi, would be an excellent way to celebrate. These are all dishes filled with the spirit of the festival, whose magnificent loud flavours – just like Diwali's fireworks – are guaranteed to go off with a bang!