Primary schools showcase their food growing skills at this year's Borough Market Summer Sale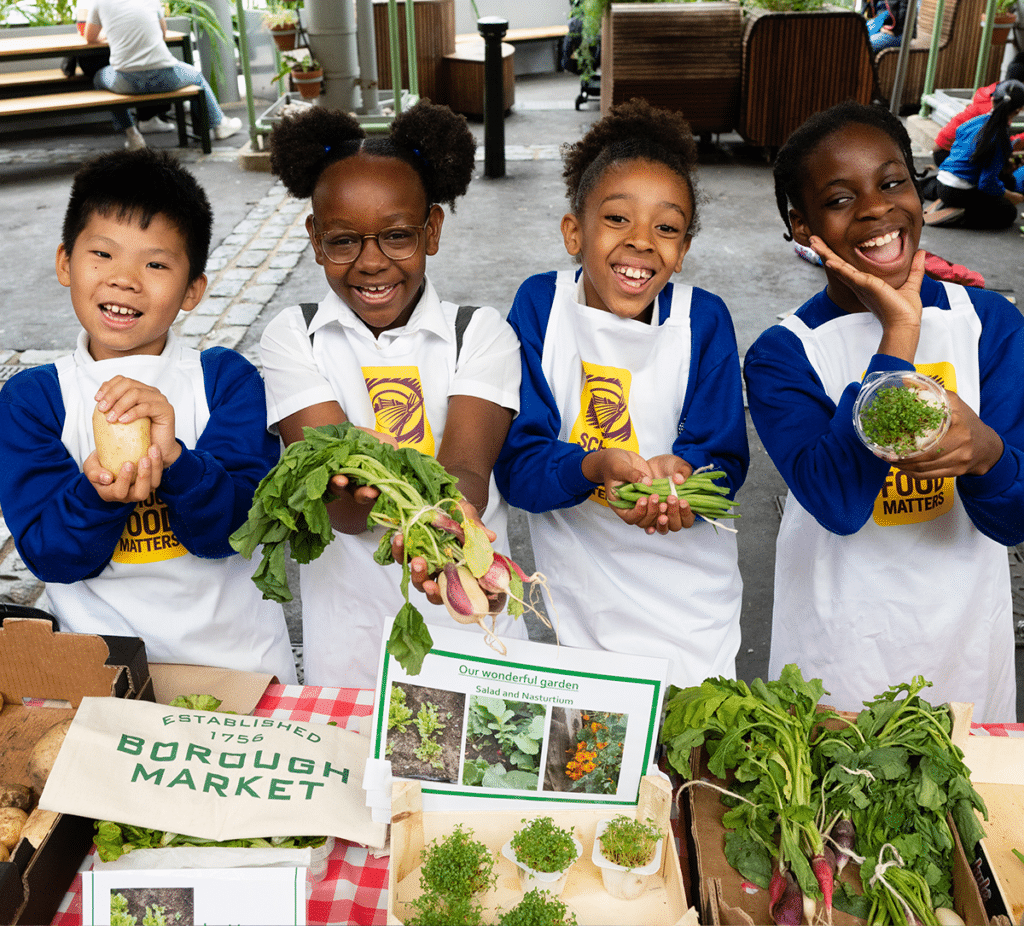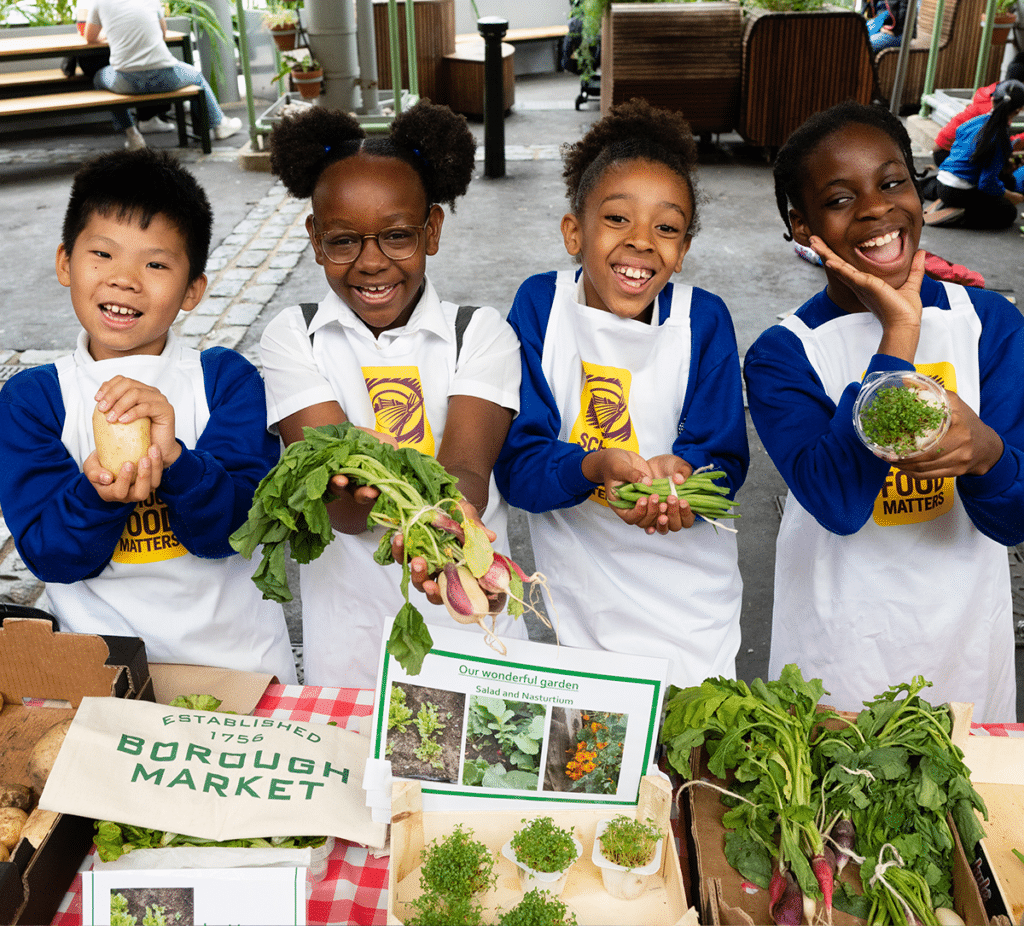 Media Release: Friday 7th July 2023
Sale gave Young Marketeers opportunity to celebrate time spent in nature by selling their produce at London's iconic food Market
Primary school pupils took over London's Borough Market yesterday (Thursday 6th July), to sell fruit and vegetables they had grown from seed in their school gardens, at the annual Summer Sale. Sixty pupils from 12 primary schools set up stalls in the capital's historic food Market and demonstrated their new-found skills in growing and passion for spending time in nature.
All proceeds raised by the children went to The Felix Project to provide meals for vulnerable families across the capital. The sale raised £662.72 in total.
Run by a charitable trust for the benefit of the community, Borough Market has hosted the Young Marketeers programme in partnership with School Food Matters for the last 12 years. In spring 2023, School Food Matters surveyed 500 school pupils and revealed that more than a third (37%) had never seen fruit or vegetables growing, while two thirds (66%) felt they didn't spend enough time in nature and wanted more.*
The programme gives children the opportunity to spend time in their school gardens, where they learn about where their food comes from, understand the importance of eating seasonally and discover new cooking skills. It not only provides pupils with essential nutritional knowledge and gardening techniques, but it also equips them with invaluable life skills, as they learn from the Market's traders about how to sell their produce to the public.
Martyn Odell (@lagomchef) a self-titled food waste disruptor, said: 'As a huge advocate for reducing food waste, I love how The Felix Project works with different businesses and organisations to divert food set to go to waste, to the people who need it most. It was great meeting the pupils who took part in the Summer Sale at Borough Market and seeing their enthusiasm for selling their produce to shoppers was really inspiring.'
Jane Swift, CEO at Borough Market,said: 'The Summer Sale is always a joyous occasion at Borough Market. Seeing children of such a young age show off the produce they have grown themselves is always so uplifting and makes the Market's traders very proud – who knows, they may even have spotted their next apprentice! The passion and confidence we saw from the pupils yesterday is testament to the success of the programme and the benefits it has for our young community.'
Stephanie Slater, Founder and Chief Executive of School Food Matters, said: "We're so proud of this programme and the powerful partnership we've developed with Borough Market over the past 12 years. Each year we are delighted by the insights shared by our Young Marketeers as they learn that food comes from the soil, not the supermarket, 'Wow! You can eat leaves, stems, flowers and roots!' Clearly this is not only a joyful programme, it's a vital one for children's health and happiness."
Since the Young Marketeers Programme began, 56,175 children have taken part, raising £11,472 for The Felix Project through previous sales – the equivalent of 68,832 meals for vulnerable families in need.
To find out more about the Young Marketeers Programme, watch the following video: https://www.youtube.com/watch?v=Qwq2M1pH1ig
ENDS
For more information contact the Borough Market team at Barley Communications:
Habiba Paracha [email protected] 07931 242738
Katie Raby [email protected] 07896 533547
Notes to Editors
Research from School Food Matters: https://www.schoolfoodmatters.org/news-views/press-releases/children-want-more-green-time-and-less-screen-time-school
*School Food Matters received survey responses from 467 schoolchildren across nine primary and secondary schools.
The schools taking part in the Summer Sale were: Cyril Jackson Primary School, Jessop Primary School, Cobourg Primary School, Greenside Primary School, Hollydale Primary School, Marner Primary School, Grasmere Primary School, Robert Browning Primary School, Marlborough Primary School, Riverside Primary School, Moreland Primary School, Stockwell Primary School
About Borough Market
Borough Market is a source of quality British and international produce, but it is more than just a place to buy or sell food. It's a place where people come to connect, to share food and awaken their senses. Borough has long been synonymous with food markets and as far back as 1014, and probably much earlier, London Bridge attracted traders selling grain, fish, vegetables and livestock. In the 13th century traders were relocated to what is now Borough High Street and a market has existed there ever since. Many of the Markets traders also now sell their produce online, meaning those unable to make it to the Market can still access a selection of the Market's exceptional range of artisanal produce. Details can be found through the Borough Market online directory.
In addition to the traders selling fresh produce from their stalls, Borough Market also houses a selection of restaurants and bars. Diners can enjoy Arabica Bar & Kitchen, Bao Borough, Berenjak Borough, Elliot's, Fish! Restaurant, Mallow, Maria's Market Café, Padella, Rambutan, Roast Restaurant, Silka, Sons + Daughters, Tapas Brindisa, Turnips restaurant and Wright Brothers Oyster and Porter House, while those looking for something to drink can head to Bedales of Borough, The Cider House, The Globe Tavern and The Rake.
Borough Market's mission is to continue to provide a world class food market at Borough for the community of London and beyond. It is owned by a charitable trust and run by a board of volunteer trustees. The trust is committed to supporting the local community around Borough Market. We regularly run community events and we support local community projects and schemes.
@boroughmarket
About School Food Matters
School Food Matters exists to teach children about food and to improve access to healthy, sustainable food during their time at school.
We provide fully funded food education programmes to schools. Our experience delivering these programmes informs and strengthens our campaigns, bringing the voices of children, parents and teachers to government policy.
@sfmtweet