Chana chaat
Jenny Chandler
A refreshingly tangy salad, perfect with flatbreads and yoghurt, or alongside barbecued meats or fish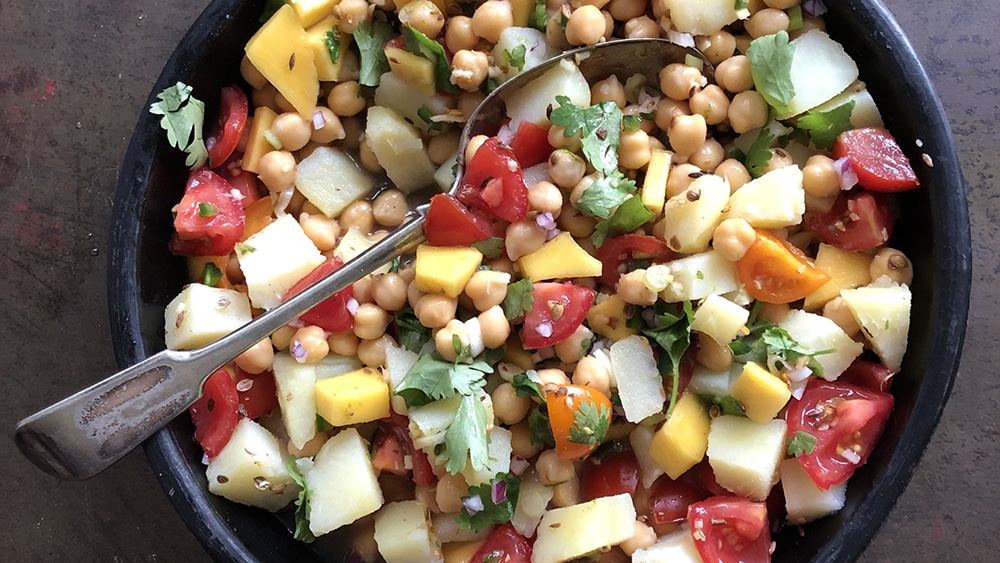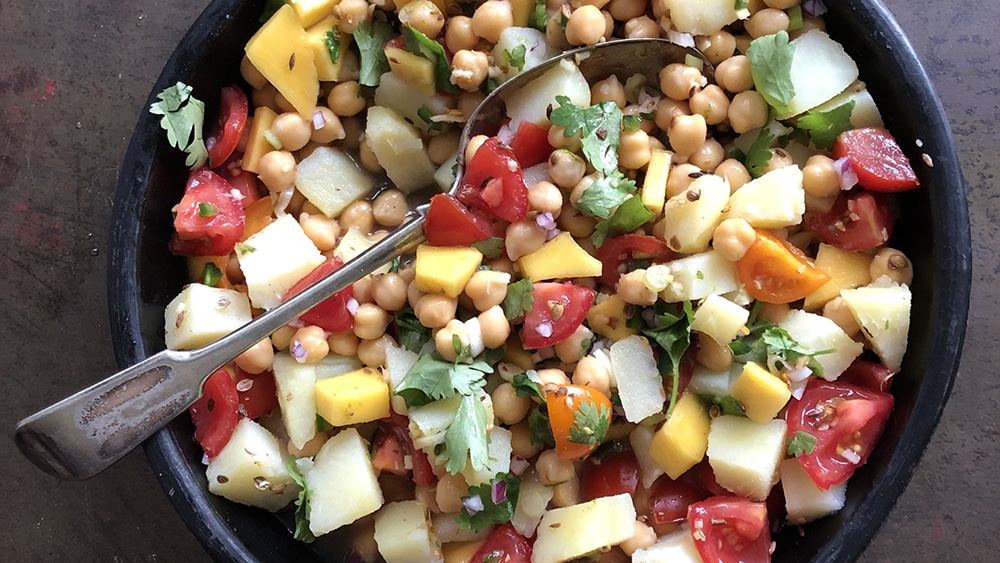 Ingredients
300g potatoes, peeled and cut into large pieces
250g home-cooked chickpeas (or a 400g can)
4 tomatoes, diced
10cm piece of cucumber, diced
1 small mango, peeled and diced ( a 'raw' or unripe mango would be fabulous)
2.5cm knob of fresh ginger, finely diced
½ red onion, finely diced
3-4 fresh green chillies, finely diced
2 limes, juice and zest
1 tsp grated jaggery (or muscovado sugar)
1 tsp cumin seeds, toasted and crushed but not completely ground
1 tsp coriander seeds, toasted and crushed but not completely ground
1 tsp amchur (sour green mango powder)
A large handful of fresh coriander, roughly chopped
Method
Boil the potatoes in salted water until just tender, then dice roughly. Meanwhile, put the drained chickpeas into a large bowl with the diced tomatoes, cucumber, mango, ginger and onion. Taste your chillies before adding – the salad is usually pretty pokey, but the level of heat is up to you. Stir in the lime juice, zest, 1 tsp salt, sugar and spices.
Turn the diced potato into the salad (too much stirring and you'll have a mushy mess) and sprinkle over the coriander. Check the seasoning. This should be mouth-puckeringly sour, so do add more amchur or lime juice if required.
Where to buy these ingredients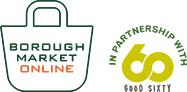 Shop online
If you can't make it to the Market, Borough Market Online offers a wide selection of our traders' produce, delivered direct to London addresses and, where available, by post to the rest of the UK. The service also includes a range of Best of Borough Market hampers and meal boxes.