Crusted mutton chops with braised black chickpeas
Paula McIntyre
Tender, crunchy-crumbed meat with chickpeas and parsley root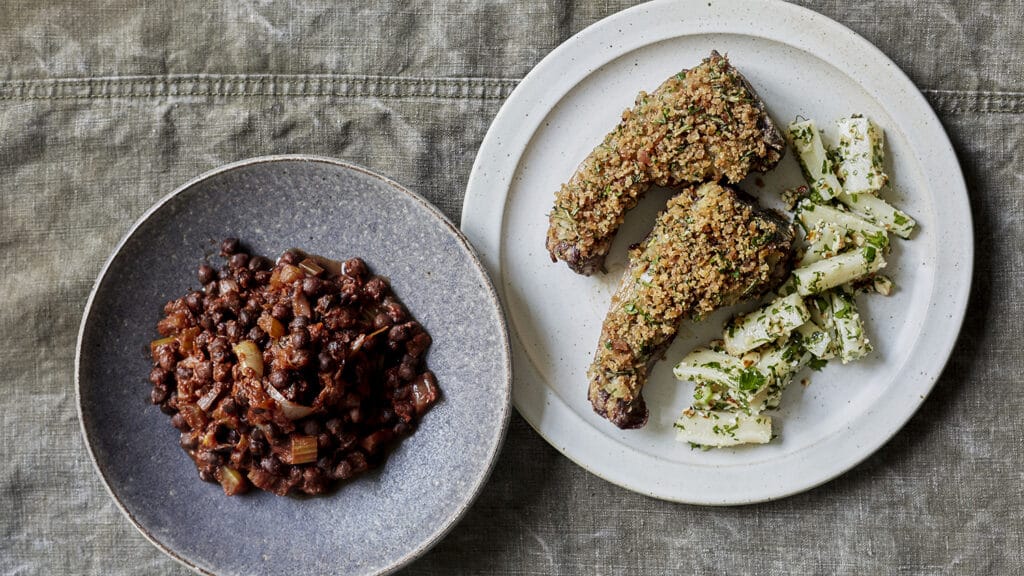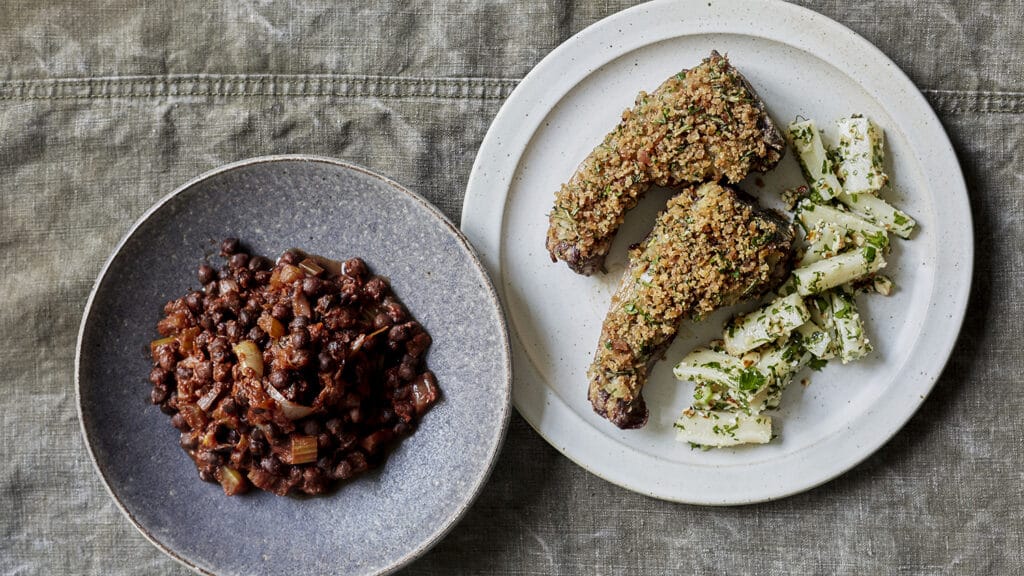 Ingredients
For the braised black chickpeas
75g pancetta, diced
1 onion, finely chopped
1 stick of celery, diced
1 clove of garlic, minced
250g black chickpeas, soaked overnight
250ml passata
750ml vegetable stock
2 tbsp balsamic vinegar
For the parsley root
4 medium parsley roots
A few sprigs of thyme
1 lemon
50g smoked almonds, chopped
A handful of lovage, chopped
50ml olive oil
For the mutton chops
2 medium onions
1 sprig of rosemary
8 mutton loin chops
75g butter, chopped
75g sourdough breadcrumbs
2 tbsp finely chopped fresh rosemary
1 tbsp finely chopped parsley
Method
Heat the oven to 180C. Cook the pancetta in a large casserole pot until crisp and golden. Remove from the pot and set aside. Add 1 tbsp olive oil to the rendered fat with the onion, celery and garlic. Cook gently until soft. Drain the chickpeas and add to the pot with the passata and stock. Cover with a lid and place in the oven. Bake for 2 hours or until the chickpeas are soft. Add the balsamic and check the seasoning.
Peel the parsley roots. Cut into 3cm pieces and place in a pan of water. Season the water with salt and add the thyme sprigs. To prevent the roots from discolouring, halve the lemon and squeeze out the juice from one of the halves into the pan, then add the lemon shell. Cook until the parsley root is tender – about 20 mins. Drain and dry on kitchen paper.
Squeeze the remaining lemon juice into a bowl and add the almonds, lovage and oil. Season to taste and toss in the parsley root.
Now prepare the chops. Peel and cut the onions into quarters. Place on a sheet of foil and drizzle over 2 tbsp olive oil. Season with salt and add the rosemary sprig. Wrap in the foil and place in the oven at 180C for about 30 mins, or until soft. Blend to a puree, then check the seasoning.
Season the chops with salt and place in a frying pan, fat-side down. Cook gently until the fat is crisp and has rendered. Seal the chops off and then transfer to a roasting tin. Cook for about 10 mins at 180C, then remove and leave to rest.
Heat the butter in a pan until the foam starts to subside and the mixture turns brown and smells nutty. Add the crumbs and finely chopped rosemary and cook until crispy. Add the parsley.
When the chops are rested, spread some of the onion puree onto the top and press on the crumbs. Serve with the parsley root and chickpeas.
Image: Kim Lightbody
Where to buy these ingredients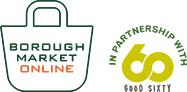 Shop online
If you can't make it to the Market, Borough Market Online offers a wide selection of our traders' produce, delivered direct to London addresses and, where available, by post to the rest of the UK. The service also includes a range of Best of Borough Market hampers and meal boxes.