Black butter spiced monkfish
Ed Smith
Spicy monkfish tail with macerated onion and pureed butternut squash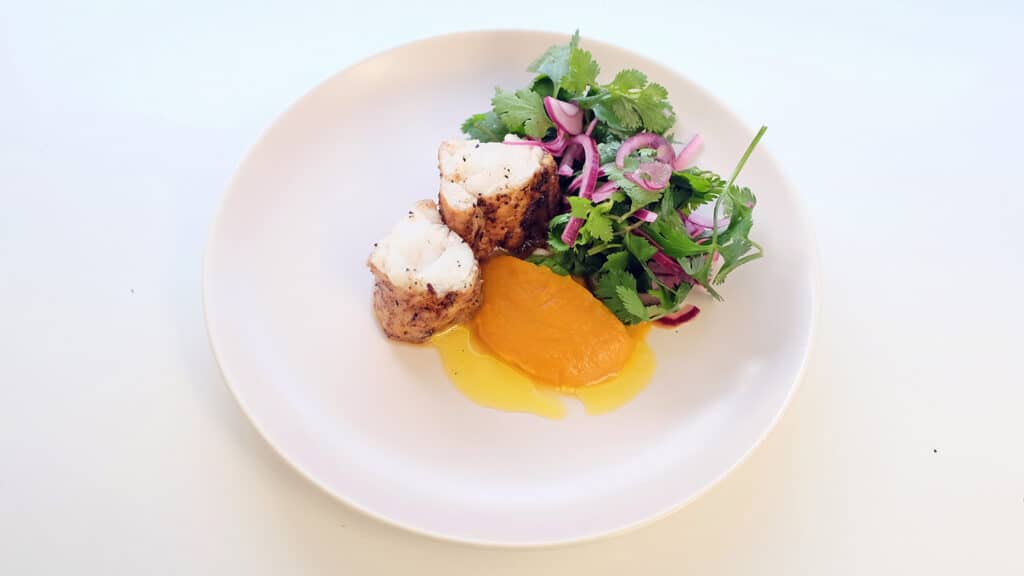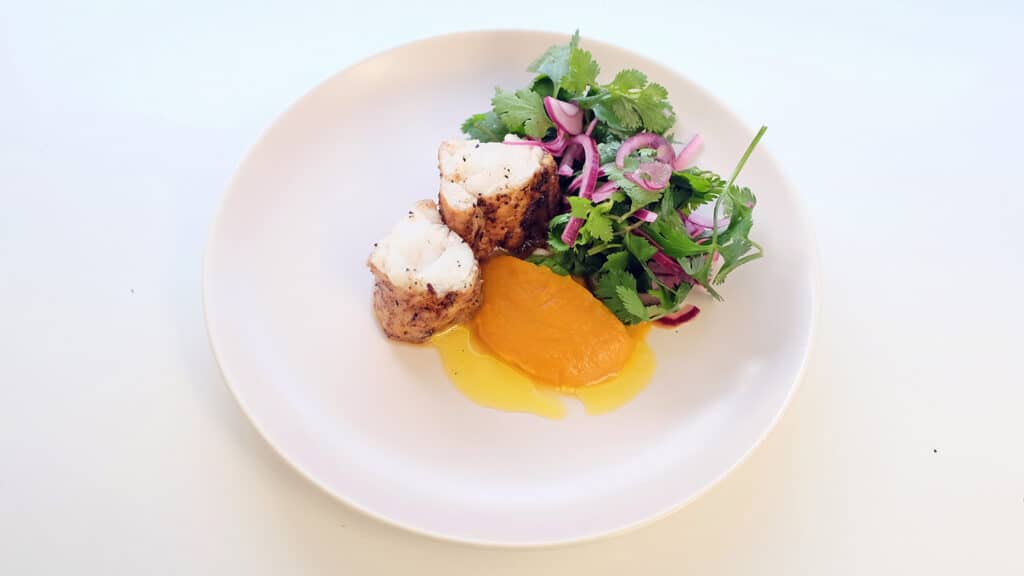 Ingredients
For the squash puree
30g butter
1 small onion, sliced
1 tsp ground ginger
1 garlic clove, finely sliced
500g butternut squash flesh, cubed (peeled weight)
¼ lime
For the macerated onion
1 red onion, very finely sliced
A heavy pinch of sea salt
Juice of ½ lime
Bunch of picked coriander leaves
For the monkfish tail
1 tbsp coriander seed
1 tbsp cumin seed
500-600g monkfish tail, filleted
3 tbsp sunflower oil
40g butter
¼ lime
Method
Melt 15g butter in a medium saucepan, add the onion and a pinch of salt and soften for 4-5 mins. Add the ground ginger and garlic and cook for 1 min, then add the squash. Barely cover with water, bring to the boil and then simmer for 20 mins until soft.
Drain, reserving the cooking liquor, and decant the squash, onion and garlic into a blender or food processor. Add 80ml cooking liquor and 15g butter, then blend for 3-4 mins until you've a velvety smooth puree. Season generously with salt, pepper and a squeeze of lime. You can do this well in advance of eating – just reheat gently in a pan and add the citrus only at the last minute.
15 mins before you plan to eat, combine the red onion, sea salt and lime juice. Leave to macerate so they soften and turn a little pink. Add the coriander leaves and gently mix together.
Grind the coriander and cumin seeds and another heavy pinch of salt to a powder using a pestle and mortar, then tip onto a plate. Cut each monkfish fillet into two pieces at the point the flesh begins to narrow. The thinner bits go in the pan later. Use 1 tbsp sunflower oil to lightly coat the monkfish pieces, then roll them in the spices.
Place a heavy-bottomed frying pan over a high heat. Add 2 tbsp sunflower oil and allow to warm for 30 secs before placing the two larger pieces of monkfish in the pan. Cook for 45 secs on one side. Turn and cook for another 45 secs before adding the two thinner pieces.
Cook for another 45 secs on a new side before adding the butter, which will immediately bubble and foam. A further 2-3 mins of frying, spooning the browning butter over the top of the fish as you go, will be enough.
Let the fish rest for 2 mins before cutting each piece in half, and dividing equally, along with a couple of spoons of puree and a handful of coriander and onion.
Image: Ed Smith
Where to buy these ingredients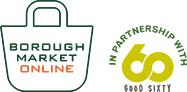 Shop online
If you can't make it to the Market, Borough Market Online offers a wide selection of our traders' produce, delivered direct to London addresses and, where available, by post to the rest of the UK. The service also includes a range of Best of Borough Market hampers and meal boxes.