Duck breast with furikake rice & kombu broth
Nicole Pisani
Roasted duck breast with a Japanese-inspired twist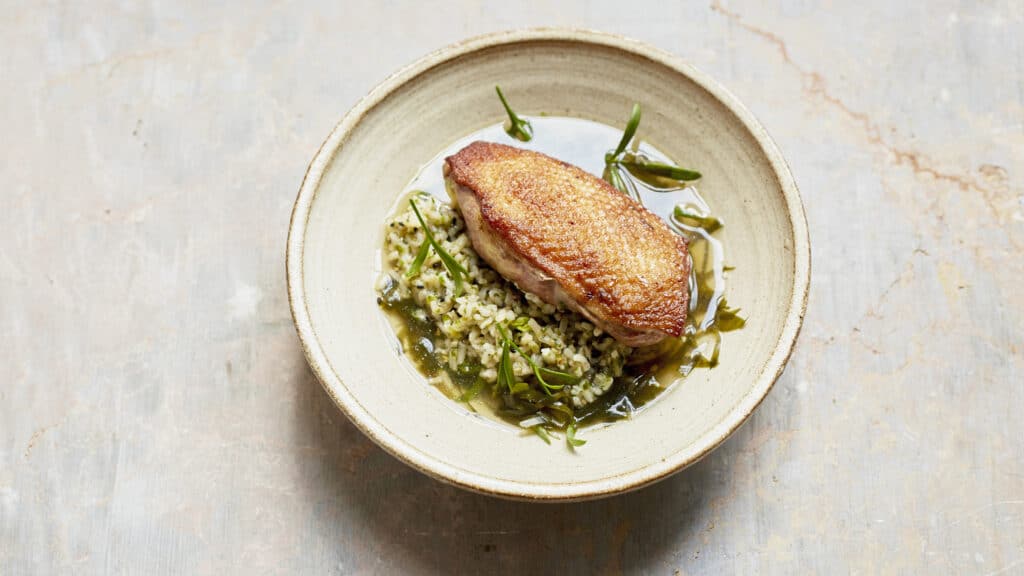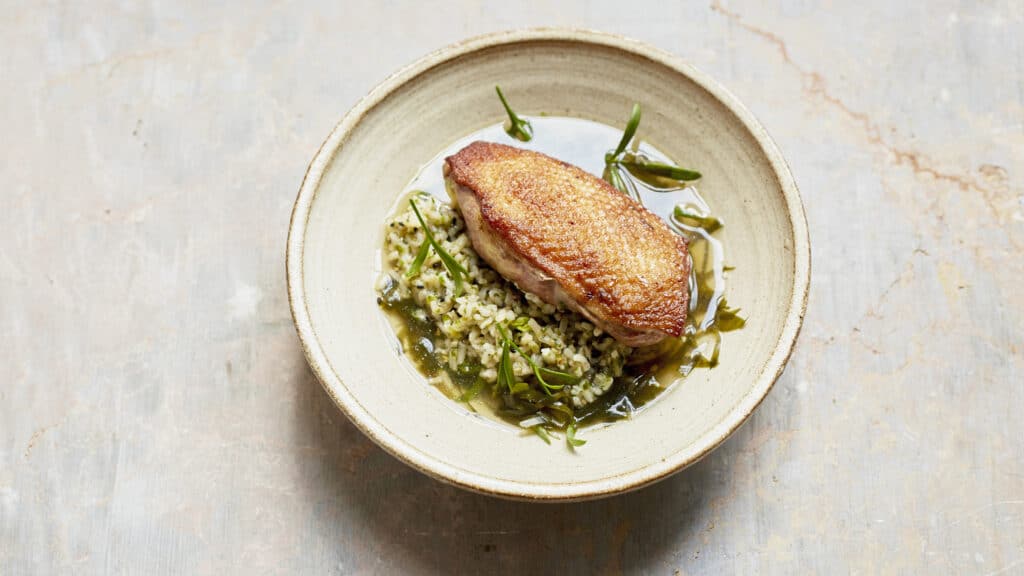 Ingredients
3 pieces of dried kombu
1 thumb-sized piece of ginger root, sliced into discs
200g jasmine rice (dry weight)
4 tbsp furikake
4 duck breasts
4 tbsp tamari
Sea fennel, to garnish (optional)
Method
Combine the kombu, ginger and 600ml water in a pan and let it sit until the kombu softens – around 25-35 mins. Bring to the boil, then take off the heat. Remove the kombu and reserve for later.
In the meantime, wash the rice a few times and cook according to the instructions. Put the hot rice in a large mixing bowl and add the furikake, mixing thoroughly with the rice.
For the duck breasts, preheat the oven to 160C. Place the duck breasts in two ovenproof pans, skin-side down, place the pans on the hob and turn on the heat to high. When the skin is seared and beginning to colour, turn the duck breasts over and sear on the other side for 1 min or so.
Turn back over to skin-side down and place in the oven for about 8 mins. The duck is done when it is just about firm when pressed. Take out of the oven and rest for about 8 mins before serving.
To serve, place the furikake rice in the centre of the bowls. Chop the reserved kombu and place it around the rice. Place the duck breasts on the rice and then pour the dashi broth (removing the ginger at this point) around the plate. Scatter over some sea fennel if available. Splash on the tamari, then serve.
Images: Kim Lightbody
Where to buy these ingredients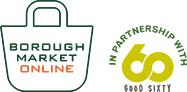 Shop online
If you can't make it to the Market, Borough Market Online offers a wide selection of our traders' produce, delivered direct to London addresses and, where available, by post to the rest of the UK. The service also includes a range of Best of Borough Market hampers and meal boxes.