Dulce de leche chocolate truffles
Ed Smith
A very welcome gift or after-dinner treat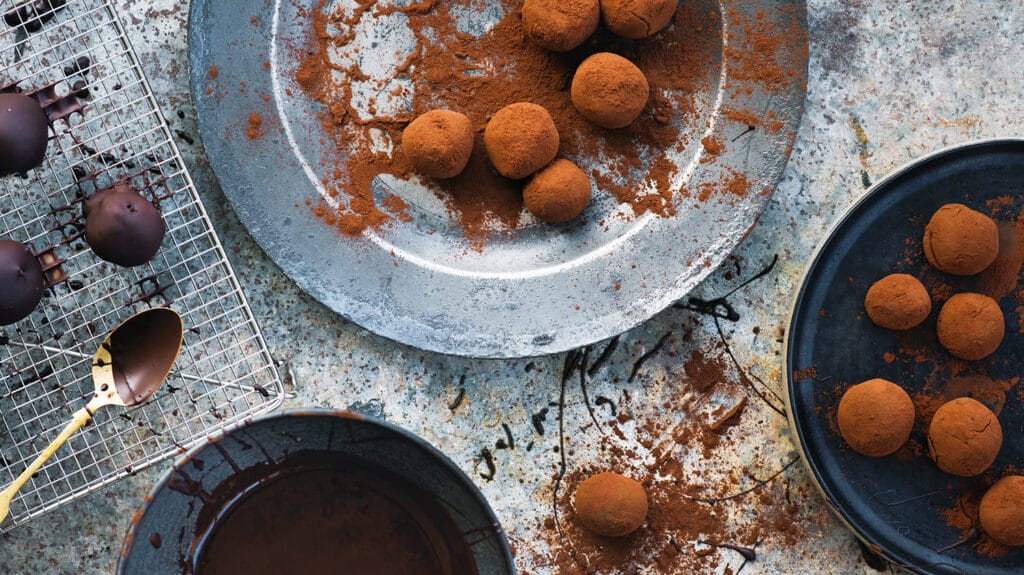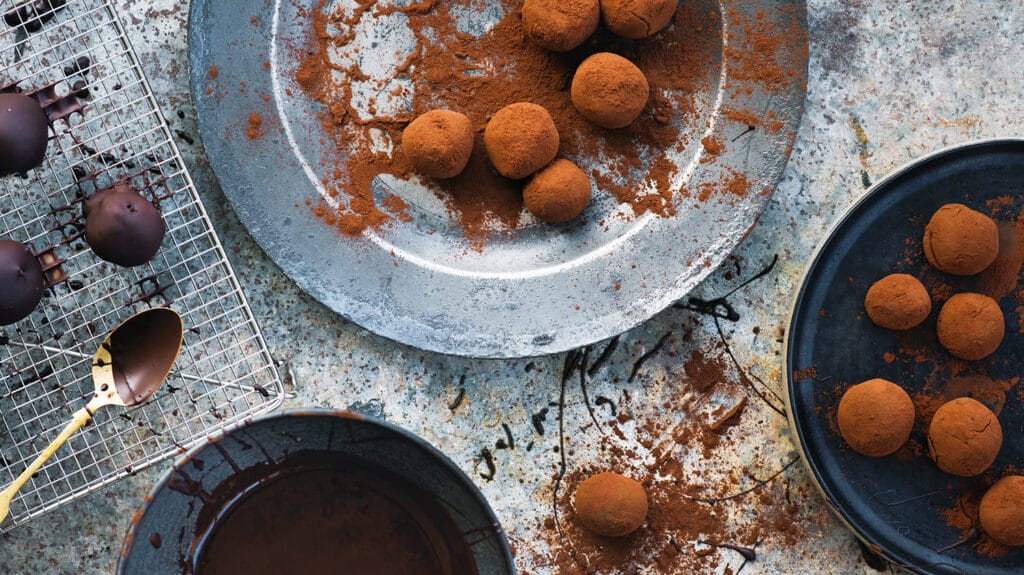 Recipe Meta
Cook
30 mins (plus chilling)
Ingredients
130ml double cream
120g dulce de leche
100g chocolate (60-70% cocoa solids), broken into small pieces
Unsweetened cocoa powder, for dusting
70g dark chocolate (70-85% cocoa solids), broken into small pieces
Method
Put the cream in a small, heavy-based pan and bring to the boil. Measure the dulce de leche into a heatproof mixing bowl and add the lighter chocolate pieces. When the cream begins to boil, pour it into the bowl of dulce de leche and chocolate and whisk energetically until the mixture is smooth and silky. If the liquid and solids 'split', add a little more cream and whisk again. Chill this ganache for 2 hours or until firm.
Use a teaspoon or melon baller to scoop out marble-sized amounts of chilled ganache (if you have an electronic scale, 10-12g of ganache per truffle is ideal). Do this methodically until you have 24-30 portions of ganache, place on a tray then chill the ganache again (as they will be soft – you can speed the process by using your freezer). Dust your hands with a cocoa powder and roll each ganache portion into balls, then place in the freezer again.
Place a heatproof bowl over a saucepan of simmering water, making sure the base of the bowl isn't touching the water. Add the dark chocolate to the bowl and leave it to melt without stirring. Remove the pan from the heat and set aside (leaving the bowl over the warm water). Use a cocktail stick to pick up each chilled ganache ball and dip it into the melted chocolate. Place on a wire rack or silicone mat to set.
There are more professional ways to ensure a shiny, snappy and perfectly spherical coating, but this method is perfectly good among friends.
Recipe from The Borough Market Cookbook (Hodder & Stoughton)
Image: Issy Croker
Where to buy these ingredients