Hot cross buns
Matt Jones
Bread Ahead's version of the quintessential Easter bake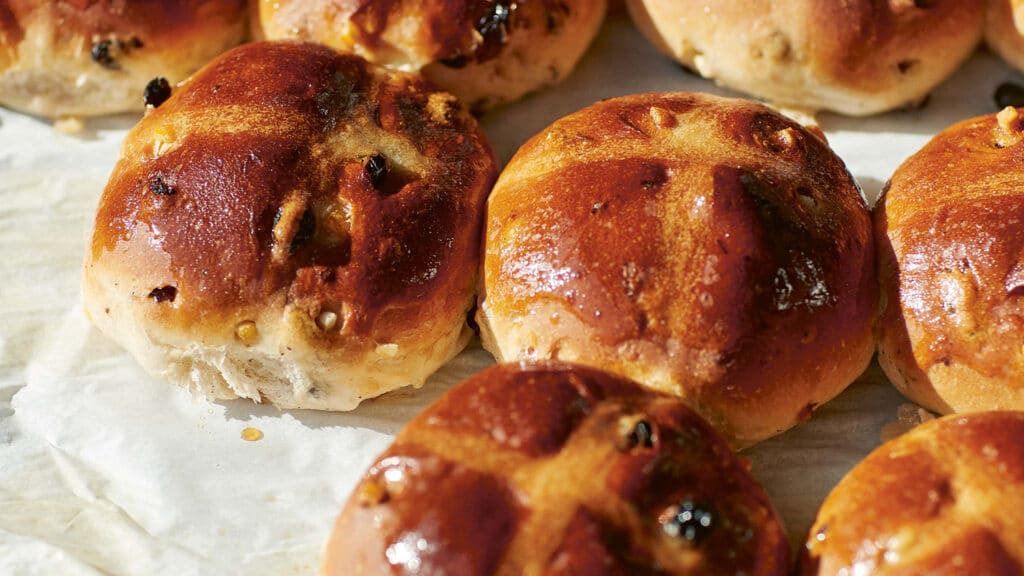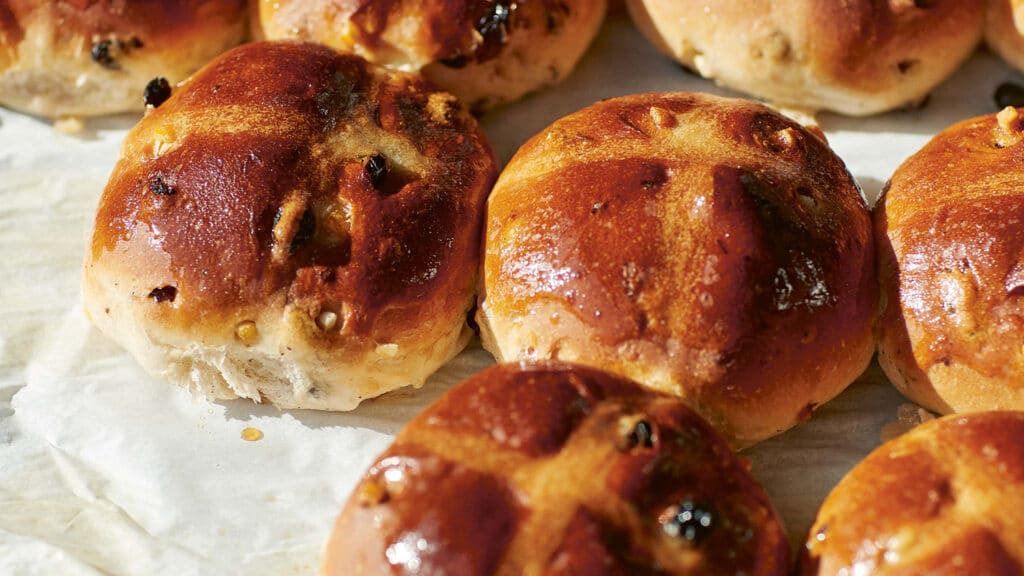 Recipe Meta
Prep
25 mins (plus 2 hours proving)
Ingredients
For the buns
250g strong white flour, plus extra for dusting
½ tsp fine sea salt
40g caster sugar
30g unsalted butter, softened and cubed
8g fresh yeast or 4g dried active yeast
140g full-fat milk
40g sultanas
25g mixed peel
1 tsp mixed spice
1½ tsp ground nutmeg
For the cross mixture
100g strong white flour
A pinch of fine sea salt
120ml water
For the glaze
100g soft light brown sugar
1½ tbsp lemon juice
80ml water
Method
Place the flour, salt, sugar and butter in a mixing bowl. Rub in the butter to a sandy consistency. Mix the yeast and milk together until the yeast has dissolved, then add to the mixing bowl. Use your hand or a dough scraper to bring the ingredients together into a rough dough, ensuring it is well mixed and there are no pockets of flour or butter.
Transfer the dough to the work surface and knead. Hold onto the dough with one hand and use the other hand to stretch and fold for around 5 mins until the dough is nice and smooth. Stretch the dough into a pizza shape and pile the dried fruits and spices in the middle. Fold the dough over to cover the fruit, then gently start to roll and fold the dough until the fruits and spices are evenly distributed.
Place the dough in a bowl, cover with a damp cloth, a plate or a shower cap and leave at room temperature for 1 hour or until doubled in size. Line a large baking tray with baking paper. Place the dough on a lightly floured surface and cut into 65g pieces. Roll each one into a smooth ball and place on the baking tray. Leave plenty of room between them as they will spread out. Cover with a damp cloth and leave at room temperature for about 1 hour, or until doubled in size.
While the buns are proving, make the cross mixture and glaze. For the cross mixture, mix together the flour, salt and water until you have a smooth paste, then transfer to a piping bag with a 4mm plain nozzle.
For the glaze, combine the sugar, lemon juice and water in a small saucepan, bring to the boil.
Heat the oven to 180C. Once the buns have proved, pipe a cross on the top of each one. Bake for 16 mins until golden brown. Remove from the oven and place on a cooling rack. After 2 mins, brush with the glaze.
Recipe from Bread Ahead: The Expert Home Baker by Matthew Jones (Hardie Grant)
Where to buy these ingredients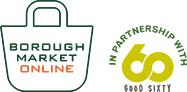 Shop online
If you can't make it to the Market, Borough Market Online offers a wide selection of our traders' produce, delivered direct to London addresses and, where available, by post to the rest of the UK. The service also includes a range of Best of Borough Market hampers and meal boxes.