Hot smoked chorizo croquetas
Ed Smith
Crispy, creamy croquetas flavoured with smoked chorizo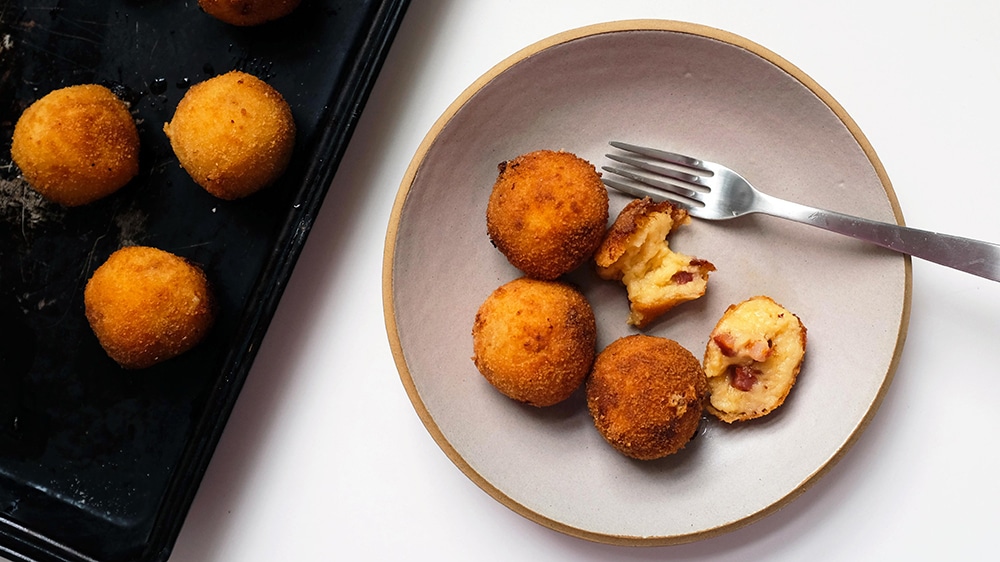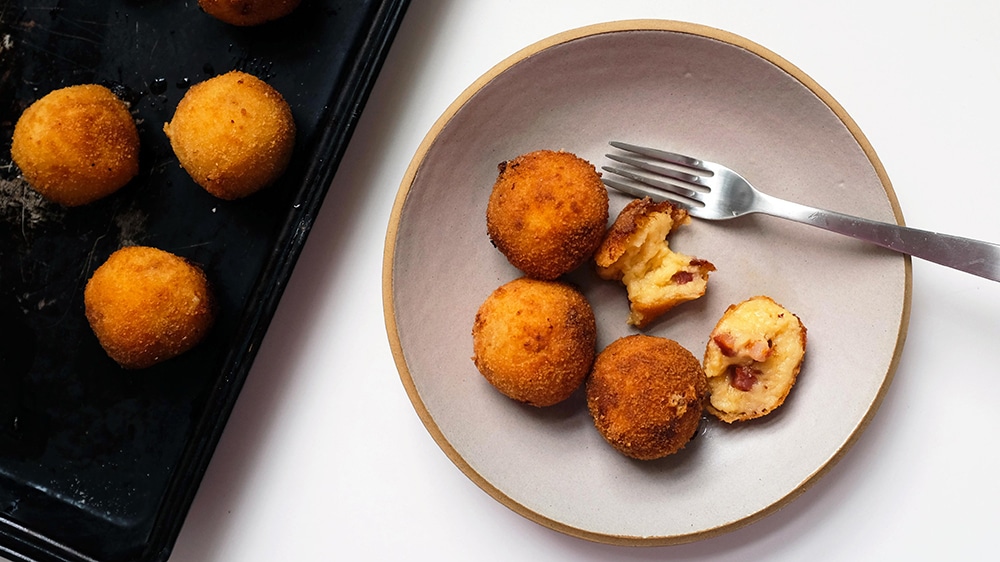 Recipe Meta
Prep
20 mins (plus chilling)
Ingredients
80g salted butter
1 small banana shallot, very finely diced
120g plain flour
100g fully cured and smoked chorizo, diced into 2-3mm cubes
600g whole milk, warmed
60g manchego or non-too mature cheddar, finely grated
1 large egg, beaten
60g dry white breadcrumbs, finely ground
Method
Put the butter into a medium-sized saucepan on a low-medium heat. Allow the butter to melt, then add the diced shallot and cook to soften for 3 mins. Add the flour and beat into the butter with a wooden spoon, continuing to cook and beat regularly for 5 mins. The roux will be quite stiff, but don't panic. Add the chorizo to the pan and allow to warm through for 2 mins, continuing to stir so the flour doesn't burn or stick, and so the fat from the chorizo begins to melt into the roux and helps loosen it.
Begin to add the warmed milk one ladle at a time, stirring vigorously to fully incorporate before adding the next. Once all the milk is used, cook the sauce very gently for a further 3-5 mins over a low heat, stirring occasionally.
Taste to ensure the mix does not taste like raw flour, then add the grated cheese, stir until melted, and decant to a small container. Leave for 1 hour to cool to room temperature, then cover the container and chill in the fridge for at least 2 hours more.
Measure the chilled filling into 24g balls (the size of a golf ball, if you've not got a scale), then roll the balls first in beaten egg, and then breadcrumbs before deep-frying for 2 mins at a temperature between 170C-180C. The crust should be golden, the centre molten and creamy. You may need to work in batches.
Transfer the croquetas onto a tray lined with a paper towel to soak up excess grease. Season with sea salt and serve, perhaps with a splodge of aioli or fresh mayo, though on their own they're fine too.
Image: Ed Smith
Where to buy these ingredients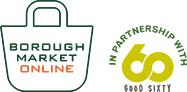 Shop online
If you can't make it to the Market, Borough Market Online offers a wide selection of our traders' produce, delivered direct to your door.