Midsummer bakewell tart
Luke Mackay
An English classic made from Rosebud Preserves' Midsummer jam: a muddle of strawberries, raspberries, blackcurrants and redcurrants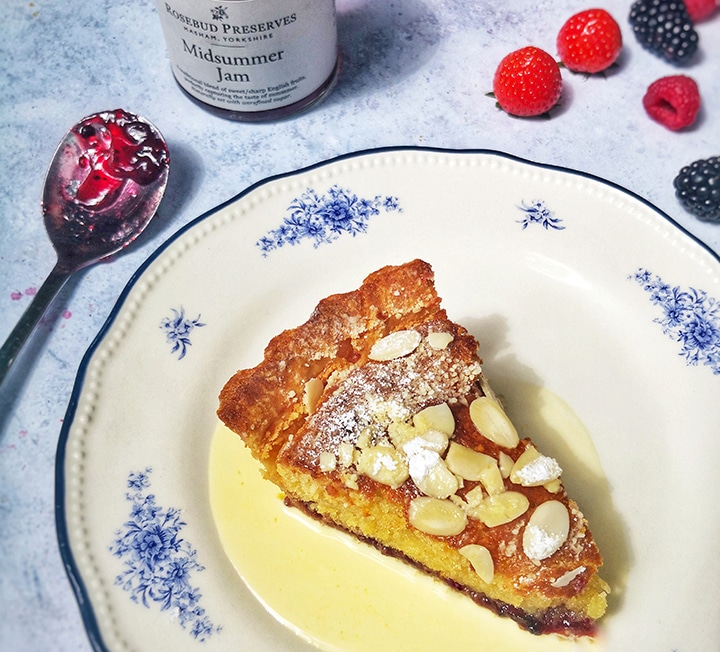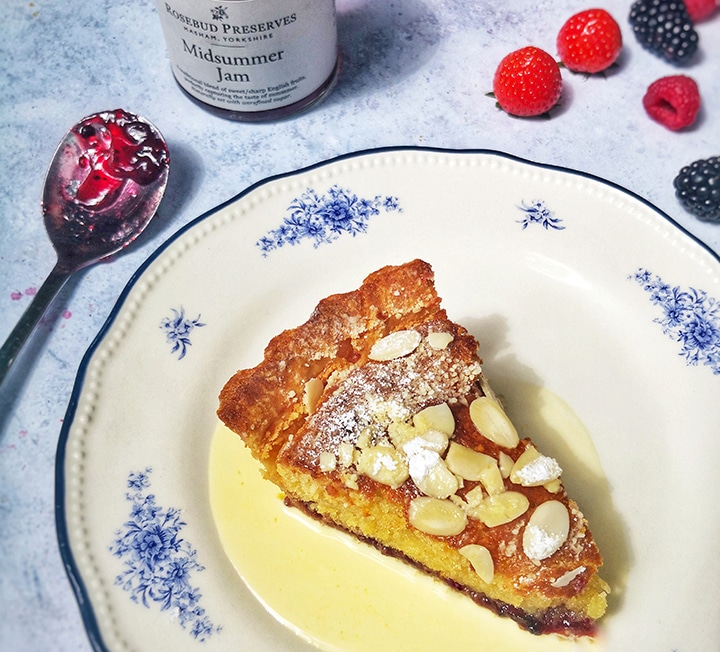 Recipe Meta
Serves
Makes 1 x 23cm tart
Ingredients
For the pastry
140g plain flour
85g cold butter
For the filling
110g butter
110g caster sugar
2 eggs
110g ground almonds
25g plain flour
½ tsp baking powder
Zest of ½ lemon
150g Midsummer jam
25g flaked almonds
Method
To make the pastry, mix the flour with a pinch of salt in a food processor and add the cold butter. Add enough cold water for it to form into a dough. Wrap in clingfilm and chill for at least 1 hour. Preheat the oven to 190C.
Grease a 23cm tart tin and roll out the pastry on a lightly floured surface until large enough to line the tin. Do so, then line with baking paper and weigh down with baking beans. Bake for about 15 mins until golden. Remove the paper and beans and bake for a further 5 mins.
Cream together the butter and sugar until fluffy, then beat in the eggs. Fold in the dry ingredients, zest and a pinch of salt.
Spread the jam over the base and top with the frangipane. Level out and bake for 25 mins, until golden. Add the almonds on top in the last 5 mins of cooking. Dust with icing sugar if you like.
Where to buy these ingredients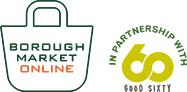 Shop online
If you can't make it to the Market, Borough Market Online offers a wide selection of our traders' produce, delivered direct to your door.