Quince tart
Regular Ysewijn
A modern update of a historical fruit tart recipe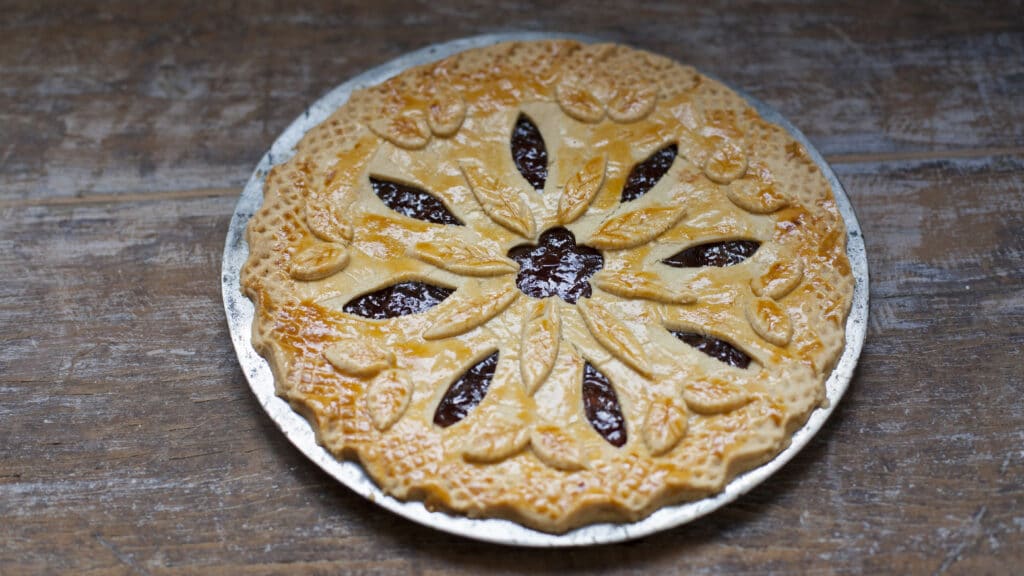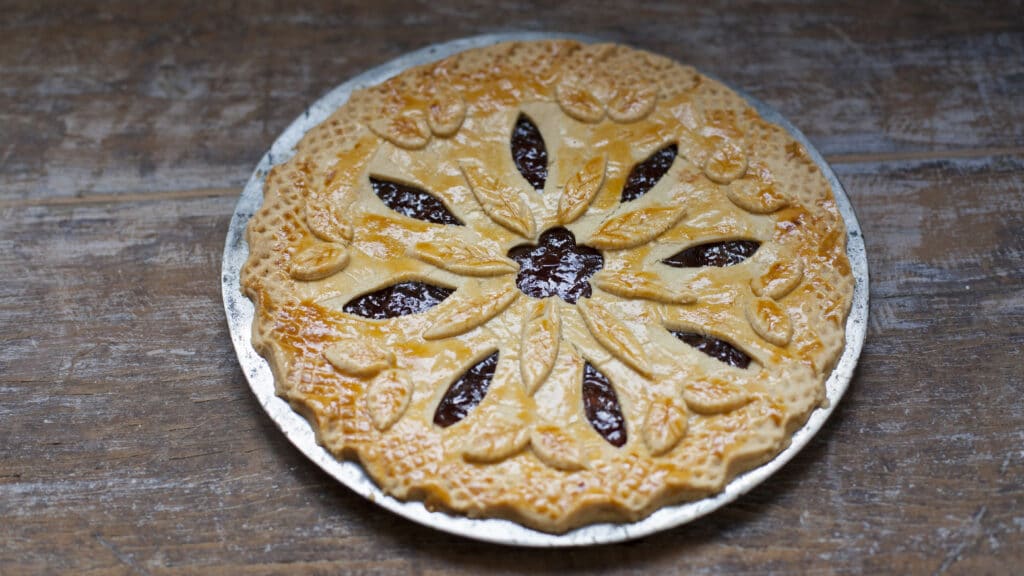 Recipe Meta
Prep
20 mins (plus 45 mins resting)
Serves
Makes 1 x 20cm tart
Ingredients
For the shortcrust pastry
1 pinch of saffron threads
180g plain flour
100g cold butter, cut into small pieces
20g icing sugar
A tiny pinch of salt
1 egg yolk
For the filling
3 large quinces (600g), roughly chopped
1 cinnamon stick
2 cloves
Peel of 1 lemon
350g raw sugar, plus 70g extra if needed
1 egg, beaten, for egg washing
Method
Soak the saffron in 1 tbsp cold water.
Put the flour into a food processor and add the butter, sugar and salt, then pulse for 8 secs until the mixture looks like breadcrumbs – to mix by hand, simply use a blunt knife, cutting the knife through the butter and flour to work them together. Add the saffron water and egg yolk and pulse until you get big lumps. Turn out onto a lightly floured work surface, then knead briefly until smooth. Wrap the pastry in cling film and refrigerate for at least 30 mins.
Turn the dough out onto a lightly floured work surface. Knead and press into a flat disc, then roll out to a circle larger than the base of the pie tin. Place the pastry over the tin and let it sink in, pushing it nicely into the corners, then cut off the excess and reserve to make the lid. Prick the pastry with a fork, making sure you don't pierce through it.
Preheat the oven to 160C. In a large saucepan, cover the quinces with water and boil with the spices until tender. Remove the quinces from the saucepan and save the spices. Blend the fruit to a puree using a stick blender.
Measure the quince puree and add the same weight in sugar, plus the spices you saved. Bring to the boil and stir for 5 mins, then cover the pan in greaseproof paper and transfer into the oven. Leave there for 45 mins, then check on it – it should be thick, perfect for a pie filling. Remove the spices, then pour the jam evenly into the pie dish.
Cut a circle of pastry the same size as the pie tin to make a lid, then carefully place it over the filling. Crimp the edges, or create a nice pattern using a pastry jigger if you have one. Egg wash the pastry lid. Bake in the middle of the oven for 45-50 mins.
TIP: If you have some of the quince jam leftover from making the tart, keep it in a jam jar in the fridge. It is perfect with a blue cheese or on toast.
Image: Regula Ysewijn
Where to buy these ingredients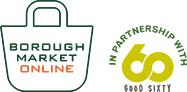 Shop online
If you can't make it to the Market, Borough Market Online offers a wide selection of our traders' produce, delivered direct to London addresses and, where available, by post to the rest of the UK. The service also includes a range of Best of Borough Market hampers and meal boxes.