Piedmontese veal carpaccio with pecorino & salted grissini
Ursula Ferrigno
A delicious, light starter, perfect for alfresco entertaining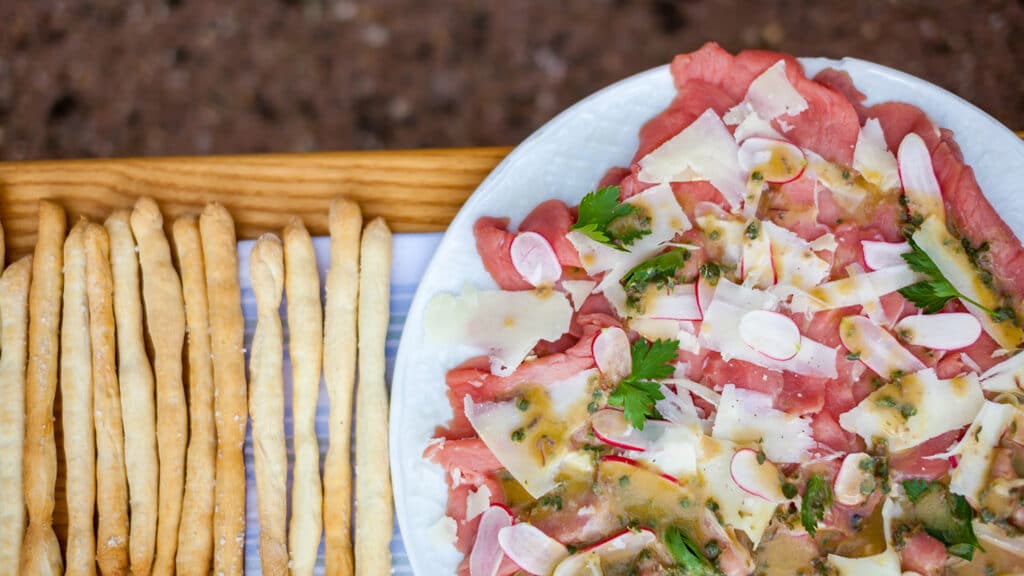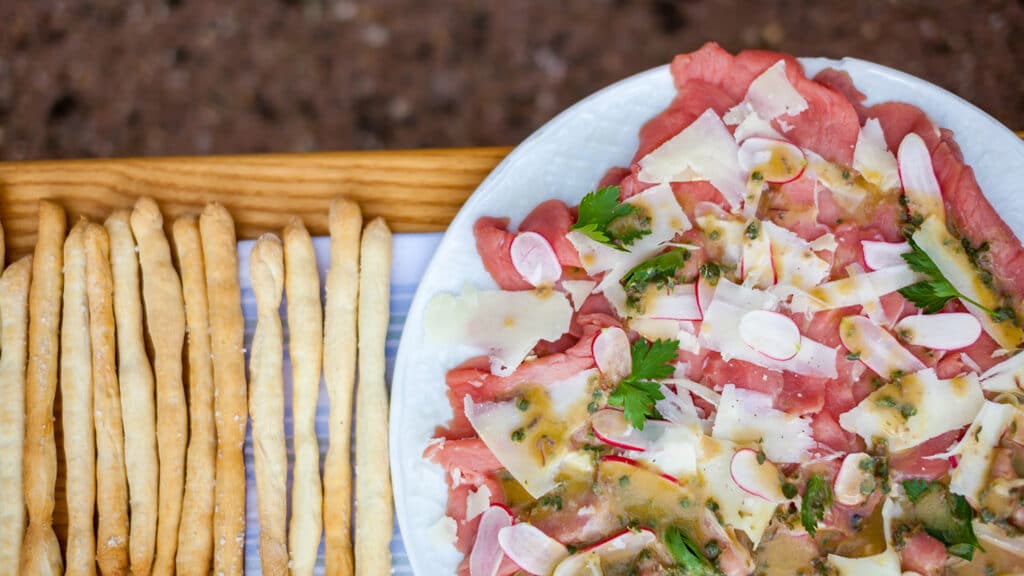 Ingredients
400g rose veal fillet, trimmed
Handful of flat leaf parsley
3 radishes, thinly sliced on a mandolin
30g pecorino, shaved with a vegetable peeler
For the salted grissini
125ml water, body temperature
6g fresh yeast
150g '00' flour
1 tbsp olive oil
3 tsp salt flakes
For the lemon and anchovy dressing
6 anchovy fillets in olive oil, chopped into little pieces
100ml lightly flavoured extra virgin olive oil
80ml lemon juice
Zest of 1 unwaxed lemon
1 tbsp lemon thyme leaves
Method
Start with the grissini. Preheat the oven to 180C. Combine the yeast with 25ml water at body temperature.
In a medium sized bowl, mix the flour and 1 tsp salt. Make a rabbit hole in the flour and add the yeast mixture and olive oil. Add the rest of the water little by little until you have a tacky dough, not too wet and not too dry.
Knead for 5 mins on a lightly floured table. Return to a clean bowl and allow to rise for 20 mins.
Divide the dough into 20 equal pieces. Using the palms of your hand, turn each lump of dough into a thin cylinder by stretching and rolling it on a flour-free work surface (they stretch more easily without flour, as they adhere better to the surface). When around 25cm in length, place onto parchment-lined trays, sprinkle with the remaining salt flakes and bake for 10-12 mins until golden brown. Place on wire racks to cool completely.
Wrap the veal in clingfilm, rolling the ends to form a cylinder. Freeze for around 30 mins, until firm.
In a small bowl, whisk together all the dressing ingredients and season to taste.
Remove the clingfilm and thinly slice the veal with a very sharp knife. Arrange the veal on a serving platter, then scatter with radish slices and parsley leaves. Drizzle with the dressing, grind over a little salt and pepper, scatter with pecorino shavings and serve with the grissini.
Images: John Holdship
Where to buy these ingredients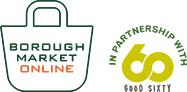 Shop online
If you can't make it to the Market, Borough Market Online offers a wide selection of our traders' produce, delivered direct to your door.