Pigsty pie
Ed Smith
A pie packed with juicy pork mince and root vegetables, flavoured with spices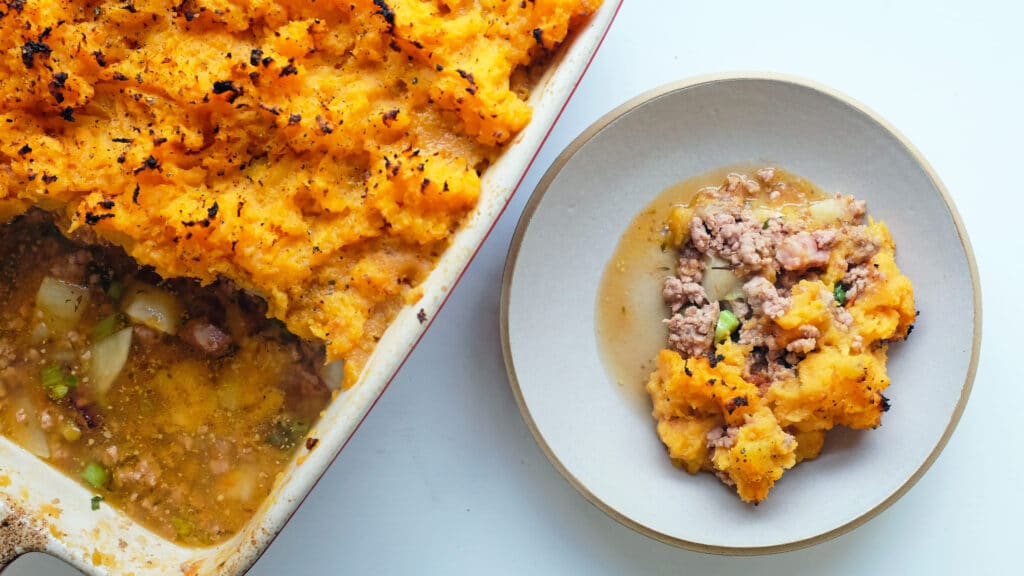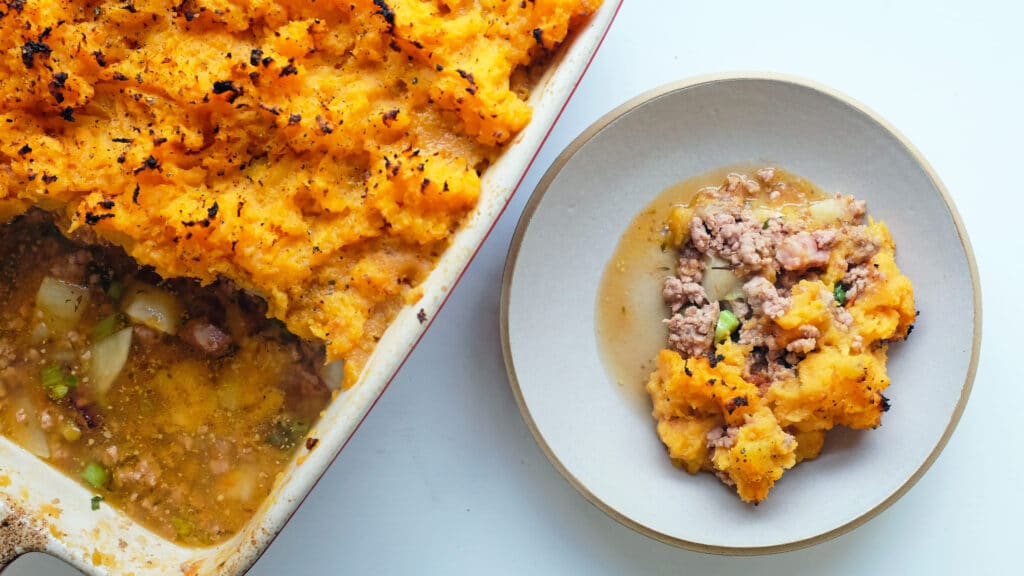 Recipe Meta
Cook
3½ hours (including stock)
Ingredients
For 800ml pork trotter stock (you could use other pork or chicken stock if you prefer)
2 trotters
1 onion, peeled and halved
8 allspice berries
1 star anise
For the pie filling
200g smoked lardons
1 tbsp vegetable oil
2 onions, finely diced
1.2kg pork mince
300g tomatoes, roughly chopped
2 tbsp dried thyme
2 tbsp soy sauce
2 tbsp Worcestershire sauce
1 tsp ground allspice
400g turnip in 2-3cm dice
Handful of turnip tops (if you have them)
For the topping
1.2kg swede
800g sweet potato
2 mace blades
50g butter
Nutmeg
Method
Wipe any dirt from the trotters. Place in a large saucepan, add the remaining stock ingredients and cover with 2.5 litres cold water. Bring to the boil then turn down to a simmer. After 10 mins or so, remove any scum from the top and repeat again if necessary. Cook gently for 2½-3 hours until the trotter flesh falls away at the touch of a spoon. Leave to cool for 1 hour, then remove the trotters and pick any meat off them. Strain the water through a sieve and into a clean pan, then reduce until you've 800ml remaining (probably by a half). You could do all of this in advance.
To make the pie filling, put 1 tbsp vegetable oil in a large frying pan or heavy-bottomed saucepan. Add the lardons and place over a medium-high heat. Cook for 5-8 mins until their fat is rendered and the meat golden brown. Add the onions and cook for 2 mins, before tipping in the ground pork. Cook for about 8 mins until browned; you'll need to turn the meat occasionally, but don't stir it all the time.
When the pork is looking reasonably cooked, add the tomatoes, spices, stock and any trotter meat. Cook gently for 20 mins, before adding the diced turnip (and chopped stems and leaves if you have them) and warming that through for 5 mins. Decant into a large ovenproof dish. The meat mix should be quite sloppy.
Meanwhile, peel, roughly chop and boil the swede and sweet potato until soft enough to mash. You should do this in separate pans, with one mace blade in each, unless you're confident that the two are of a size that'll cook at similar speed (swede will need to be much smaller than the sweet potato). When soft, remove the mace and discard. Drain the vegetables thoroughly. Then mash together with the butter, plenty of salt and pepper, and 7-8 grates of nutmeg. Spoon over the pork mix, then use a fork to ensure the mash is well distributed and also textured.
Heat the oven to 200C. Put the pie on a baking tray (in case sauce bubbles over), and bake for 20-25 mins until the top is nicely crusted.
Image: Ed Smith
Where to buy these ingredients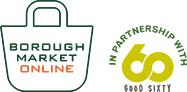 Shop online
If you can't make it to the Market, Borough Market Online offers a wide selection of our traders' produce, delivered direct to London addresses and, where available, by post to the rest of the UK. The service also includes a range of Best of Borough Market hampers and meal boxes.