Rabbit with smoked bacon, tarragon, cider & cream
Gill Meller
Chef and author Gill Meller shows off the versatility and simplicity of wild rabbit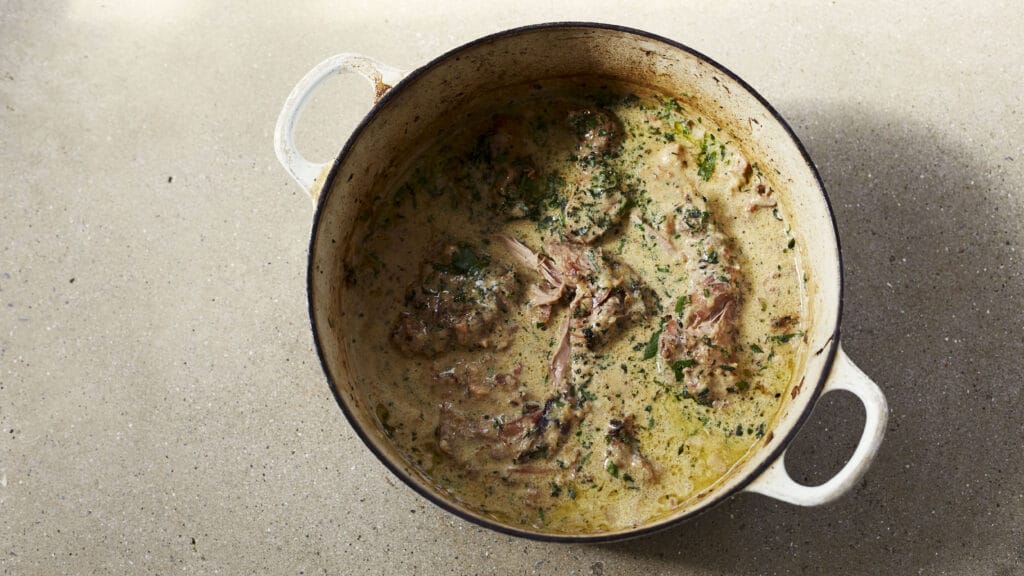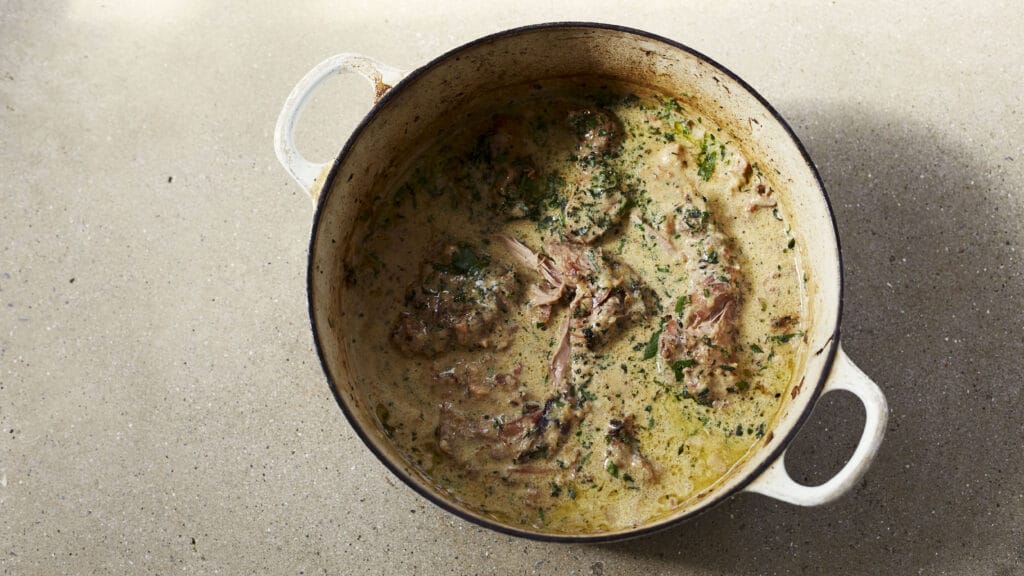 Recipe Meta
Cook
2¾ hours (plus 10-15 mins resting)
Ingredients
200g smoked streaky bacon lardons
50g plain flour
1 wild rabbit, jointed
1 large or 2 smaller onions, thinly sliced
3 garlic cloves, thinly sliced or grated
2 fresh bay leaves, torn
500ml medium cider
350ml double cream
4-6 sprigs of fresh tarragon
A handful of parsley leaves
Method
Heat a large, heavy-based casserole dish over a medium heat, add a dash of oil followed by the bacon pieces. Cook them gently on all sides until they are lovely and golden. Lift the bacon out onto a plate. Season the flour with salt and pepper, toss the rabbit pieces through it to coat, then add them to the hot pan.
Fry the rabbit in the bacon fat until it's taken on a golden colour, then lift it out and set aside with the bacon. Add the sliced onion, garlic and bay leaves to the pan and cook, stirring occasionally for 8-10 mins or until the onions are soft. Return the bacon and rabbit to the pan. Pour in the cider and bring to a simmer.
Set a lid on the pan but leave it just ajar to allow some steam to escape, turn the heat right down and cook for 1½ hours or until the rabbit is beginning to feel tender.
Remove the lid and stir in the cream, bring back to a simmer and cook for a further 30-45 mins or until the cream has thickened and reduced by at least half. When you're happy with the consistency of the sauce and the rabbit is fork-tender, remove the pan from the heat, season to taste with plenty of salt and pepper. Allow the dish to rest for 10-15 mins.
Pick the tarragon and parsley leaves from their stalks and roughly chop them before stirring into the rabbit. Serve with sautéed potatoes, good bread and a green salad.
ALTERNATIVE: If you can't find tarragon, use rosemary. Sometimes I drop in a few salted anchovy fillets, too – they give the stew a real warmth and depth.
Images: Kim Lightbody
Where to buy these ingredients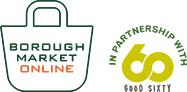 Shop online
If you can't make it to the Market, Borough Market Online offers a wide selection of our traders' produce, delivered direct to London addresses and, where available, by post to the rest of the UK. The service also includes a range of Best of Borough Market hampers and meal boxes.