Roasted aubergine with feta & freekeh salad
Jenny Chandler
A superb summer salad, at its best served warm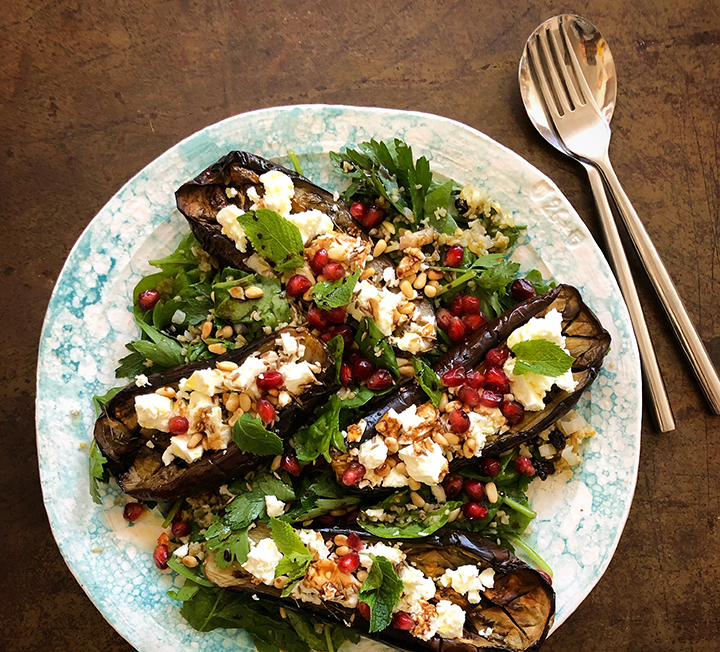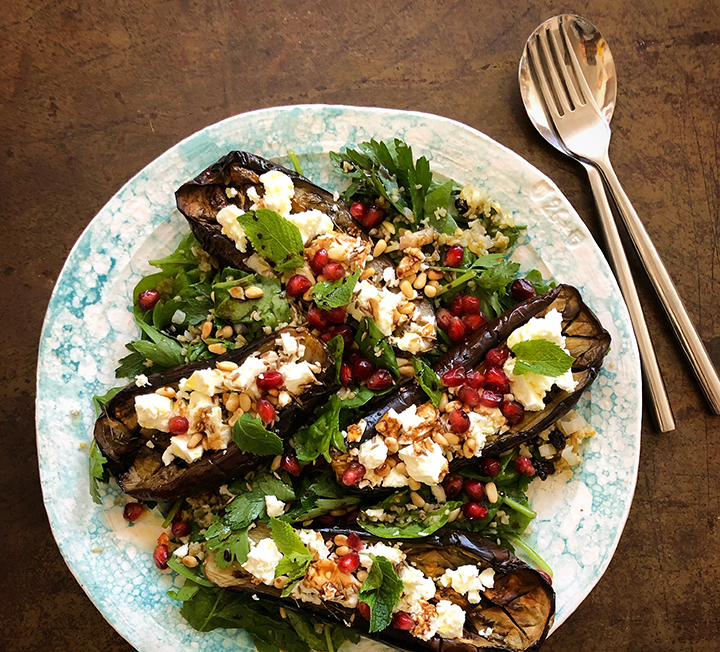 Ingredients
2 aubergines
3 tbsp olive oil
For the freekeh salad
100g cracked freekeh
1 banana shallot, diced
1 garlic clove, crushed
100g baby spinach leaves, washed
A large bunch of parsley, stalks removed, leaves roughly chopped
2 tbsp sultanas
Juice of 1 lemon
75ml extra virgin olive oil
To serve
50g pine nuts
2 tsp cumin seeds
150g feta cheese, crumbled
20 mint leaves (or there about)
Seeds from ½ pomegranate
2 tbsp pomegranate molasses
2 tbsp extra virgin olive oil
Method
Preheat the oven to 200C. Slice the aubergines in half lengthwise and then crosshatch the flesh with a sharp knife, leaving the skin intact. Place on a roasting tray, drizzle with plenty of extra virgin olive oil and sprinkle with a little salt. Roast for 30-40 mins, until the surface begins to brown and the flesh becomes silky and soft. (If you have cooked your aubergine in advance, just place in a hot oven for 10 mins to warm through.)
Rinse the freekeh, place in a saucepan, cover with plenty of salted cold water and then bring up to the boil and cook for about 5-10 mins, until softened but still a little chewy. Drain off any excess moisture.
Stir in the shallot, garlic, spinach, parsley, sultanas, lemon juice and olive oil while the freekeh is still warm. Add salt and pepper to taste.
Toast the pine nuts in a dry frying pan until they smell wonderfully nutty and then tip them onto a plate. Use the same pan to roast the cumin seeds until fragrant and then add to the pine nuts.
Place a pile of the freekeh salad on each plate with an aubergine half. Top with the feta, cumin, pine nuts, mint and pomegranate seeds. Splash with the pomegranate molasses and olive oil and serve.
Where to buy these ingredients