Strawberry gatlova
Juliet Sear
A light and summery take on pavlova, with yoghurt instead of cream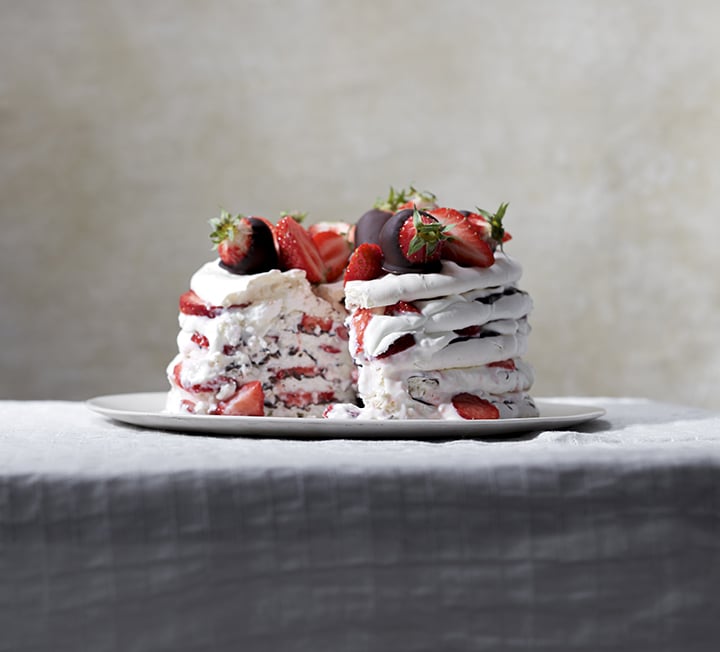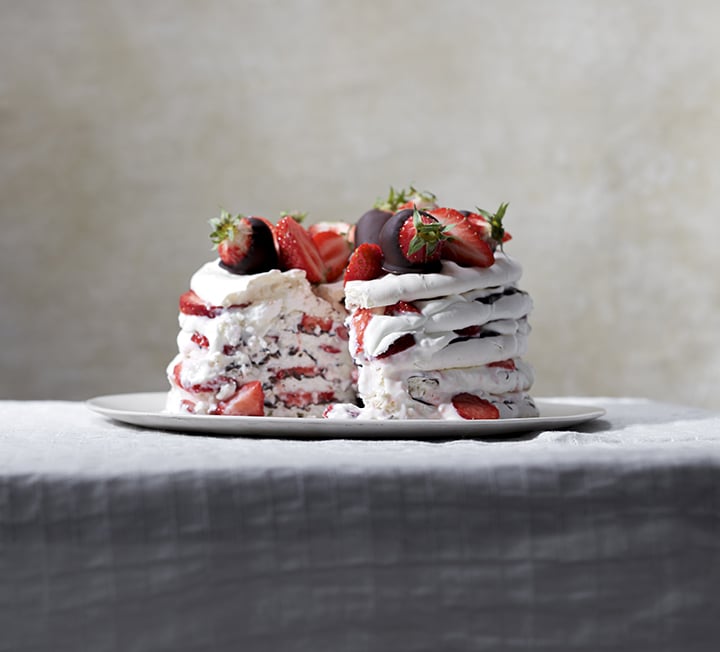 Ingredients
5 medium egg whites at room temperature
A pinch of sea salt
250g white caster sugar
1 tsp vanilla extract
300g dark chocolate, melted and cooled
600g thick, Greek-style yoghurt
2 tbsp of honey
2 tbsp icing sugar
500g gariguette strawberries – 10-12 left whole for dipping, the rest sliced evenly in pieces about the thickness of a pound coin
Equipment
Large baking sheets, lined with baking parchment. I used three baking sheets, each of which accommodated two 18cm round circles with a little room in between
Electric hand whisk (a balloon whisk will work, but will take much longer)
Bain marie or microwave
Method
To prepare the baking sheets, draw around an 18cm (7 inch) round cake board or similar to create five circles. Turn the paper over to prevent any pen being transferred onto the meringue rounds.
To make the meringue, heat the oven to 120C. Whisk the egg whites and sea salt to stiff peaks, then add the sugar 1 tbsp at a time, whisking well between each addition. Whisk the vanilla in at the end. You should have a stiff and glossy mixture.
Spoon the meringue onto your prepared trays with your circles already drawn. Carefully spread the meringue with a palette knife until the circle is filled and you have an even thin layer of meringue.
Place in the oven for 20 mins then reduce to 100C and cook for another 30-40 mins. Turn off the heat and leave in the oven to cool completely – you can do this two or three days in advance if you wish as long as you keep the meringues wrapped and airtight.
When ready to assemble, gently melt the chocolate in a bain marie or a microwave until smooth and glossy, then leave to cool a little. If you wish to dip a few whole strawberries in chocolate to add to the top, do this now – place them onto a piece of parchment while the chocolate sets. Paint four of the cooked meringue discs with a layer of melted chocolate.
To make the yoghurt cream filling, whisk together the yoghurt, honey and icing sugar.
To assemble, place a chocolate-covered disc on a cake plate or stand and add some of the yoghurt filling to thickly cover the meringue. Add a layer of sliced strawberries to cover, then add the next meringue disc. Repeat for all the meringues, leave the bare one for the top. Decorate with the reserved strawberries, sliced in half, and some of the chocolate-coated whole strawberries, if using. Best served as soon as possible, and within a couple of hours.
Image: Kim Lightbody
Where to buy these ingredients