Turmeric chicken with white kimchi & chilli green beans
Nicole Pisani
A golden-coloured roast chicken, equally good served hot or cold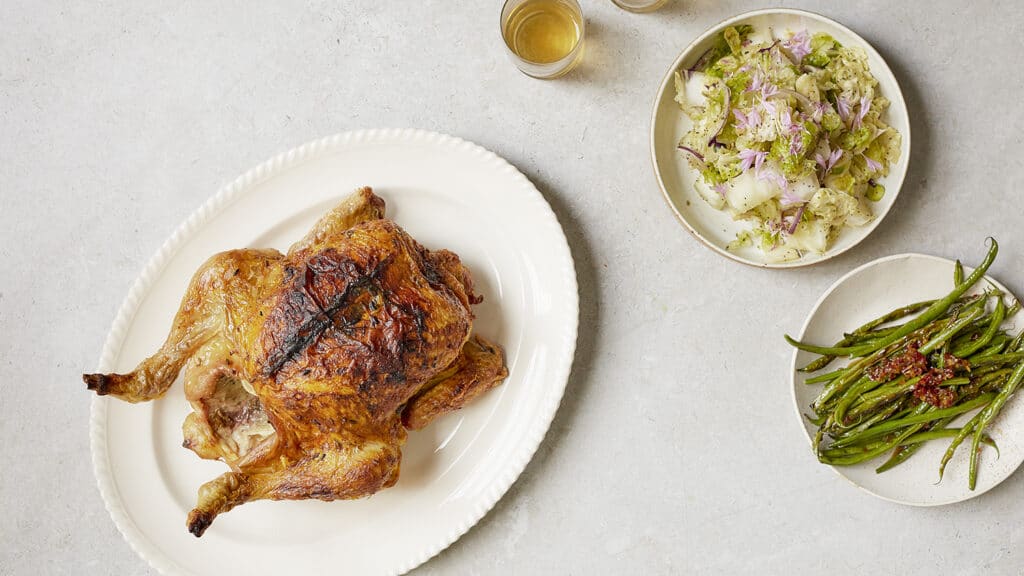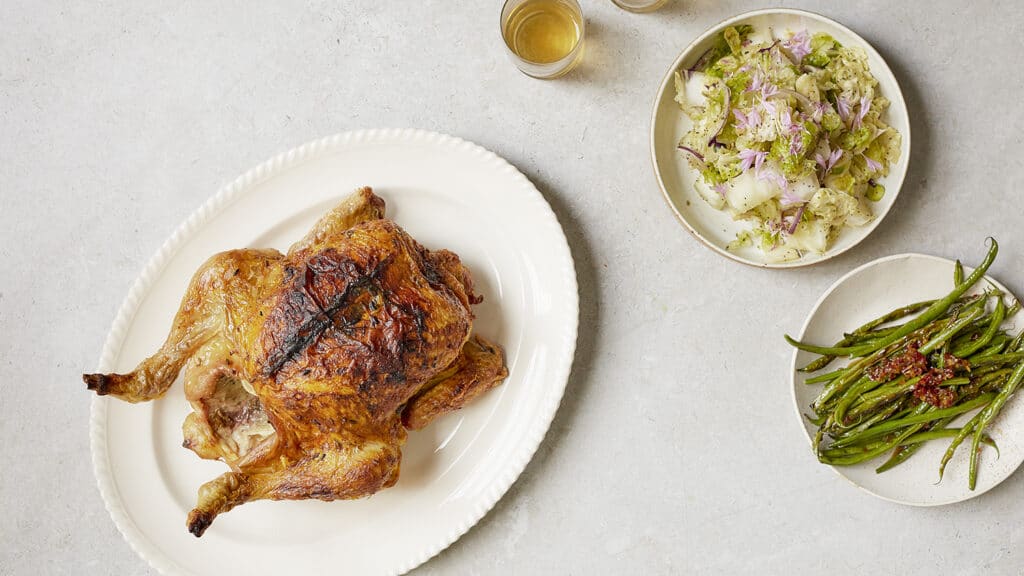 Recipe Meta
Prep
30 mins (plus fermentation)
Ingredients
For the white kimchee
1 Chinese leaf cabbage
1 tbsp sea salt
1 daikon radish (optional)
1 fennel bulb
1 red onion
3 tbsp fish sauce
1 tbsp grated root ginger
1 garlic clove, crushed
Cornflowers, to garnish (optional)
For the chicken
2 tbsp coconut oil
½ tsp ground ginger
1 tsp ground cumin
1 tsp garam masala
½ tsp chilli powder
½ tsp ground coriander
1 tsp ground turmeric
½ tsp black pepper
3 garlic cloves, crushed
1 lemon
1 large whole chicken (approx 1½kg)
For the chilli green beans
½ onion, finely chopped
1 tbsp olive oil
1 chilli, finely chopped
1 thumb-sized piece of root ginger, peeled and finely chopped
1 garlic clove, finely chopped
2 tbsp mirin
2 tbsp brown rice vinegar (or apple cider vinegar)
1 tbsp brown sugar
200g green beans
Method
To make the kimchi, shred the Chinese leaf cabbage and separate out the leaves. Toss with the sea salt, making sure all the shredded leaves are evenly covered, then leave to sit for 2 hours. Rinse and drain.
Slice the radish, fennel and onion and mix with the cabbage. Mix together the fish sauce, grated ginger and crushed garlic, then thoroughly mix all of this into the vegetables with your hands.
Press the kimchi into a sterilised jar. You need about 3cm space between the liquid and the top of the jar, and it's important that the cabbage is submerged, so top up with a little water if needed. Cover with the lid – but don't fasten it, leave it loose – and keep at room temperature for a day to kickstart the fermentation process. After that, store in the fridge (keeping the lid loose) for up to a month.
For the chicken, preheat the oven to 190C. Pound or blend all the turmeric rub ingredients together so you have a thick-ish paste.
Quarter the lemon and rub the pieces all over the chicken, inside and out. Rub the paste all over the chicken, making sure you don't neglect the legs, thighs and wings.
Put the lemon quarters into the cavity, place the chicken in a roasting tray and roast in the oven for 1 hour 30 mins. Remove from the oven, cover with foil and allow to rest for at least 10 mins.
To make the chilli sauce for the green beans, saute the chopped onion in a little olive oil for about 3 mins before adding the chilli, ginger and garlic. Continue to cook for another 2-3 mins, then add the mirin, brown rice vinegar and brown sugar. Cook for a few minutes, until the sauce is slightly sticky, then set aside.
Steam your green beans for a few minutes – the fresher they are, the quicker they will cook – and then toss in the chilli sauce. Carve and serve the chicken, along with some white kimchee and chilli green beans.
Image: Kim Lightbody
Where to buy these ingredients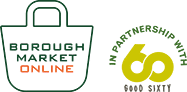 Borough Market Online
If you can't make it to the Market, Borough Market Online offers a wide selection of traders' produce, delivered direct to your door.