Ultimate baked beetroot & its greens
Celia Brooks
Savagely colourful baked beets cooked with their own leaves and topped with crunchy pistachios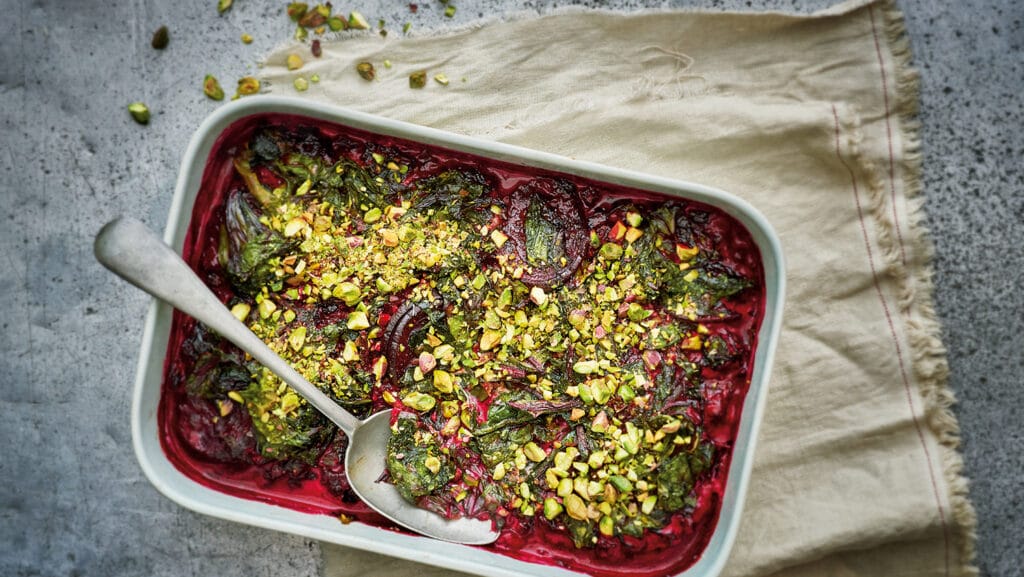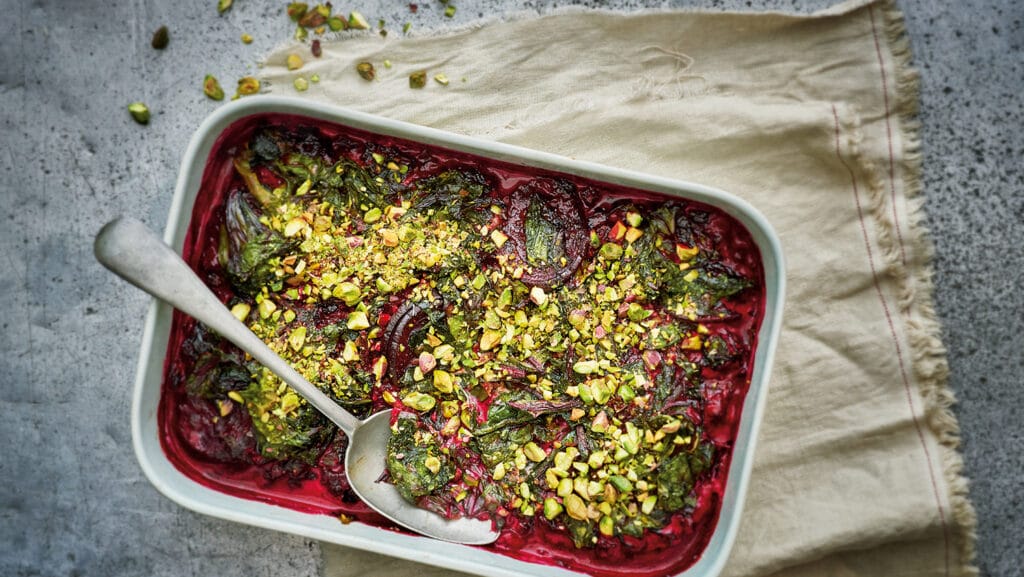 Ingredients
6 fresh beetroots (500g untrimmed weight, minus weight of greens)
300g beetroot greens (or chard or spinach)
2 tsp good balsamic vinegar
300ml coconut milk
60g pistachio kernels (no shells), pounded or chopped with a large pinch of salt
Method
Preheat the oven to 180C and brush a casserole dish generously with extra virgin olive oil. Bring the dish near your chopping board.
Scrub the beetroots and drain. (You may wish to put on some gloves to stop your hands getting stained.) Do not peel the beets, but cut off the root and any scraggles. Pare the rough bits at the top. Slice quite thinly and toss in the dish as you go.
Add the 1 tbsp oil and the balsamic to the beet slices along with salt and pepper. Toss with your hands to coat evenly and spread out to cover the bottom of the dish. Cover with foil, place in the oven and bake for 30 mins.
Meanwhile, prepare the greens. They tend to harbour a lot of dirt. Rinse both leaves and stems first under cold running water and drain the sink thoroughly. Discard any limp or yellowing leaves. Fill the sink to submerge the greens and jostle them about. Leave them while the remaining grit settles. After about 5-10 mins, lift them out into a colander.
Grab a lidded pan that will accommodate the greens. Chop leaves and stems roughly and place in the pan as you go. Place the pan over a medium heat with just a pinch of salt (no need to add water unless they have dried off completely).
Stir, then cover and cook for about 5-7 mins, stirring occasionally, until the leaves have collapsed. Drain and set aside.
When 30 mins is up on the roots, remove the dish from the oven and distribute the cooked greens over the top. Pour over the coconut milk. Return to the oven for 20 mins, by which time the roots and greens should be gently bubbling in a thick magenta emulsion.
Scatter the crushed pistachios over the top. Return to the oven for 5-7 mins, until the nuts are lightly golden. Serve right away, or at room temperature.
NOTE: Canned coconut milk is prone to separating and solidifying, especially in cool temperatures. If you open a can and find lumps and watery juice, empty it into a microwave-safe bowl and nuke for about 30 seconds to a minute, then whisk with a fork until smooth.
Image: Jean Cazals
Recipe from SuperVeg by Celia Brooks (Murdoch Books)
Where to buy these ingredients