Batch of the day: bread
Jenny Chandler expounds on the benefits of batch cooking as a way of saving time and money, through cooking one ingredient in bulk and using it for myriad recipes. This time: bread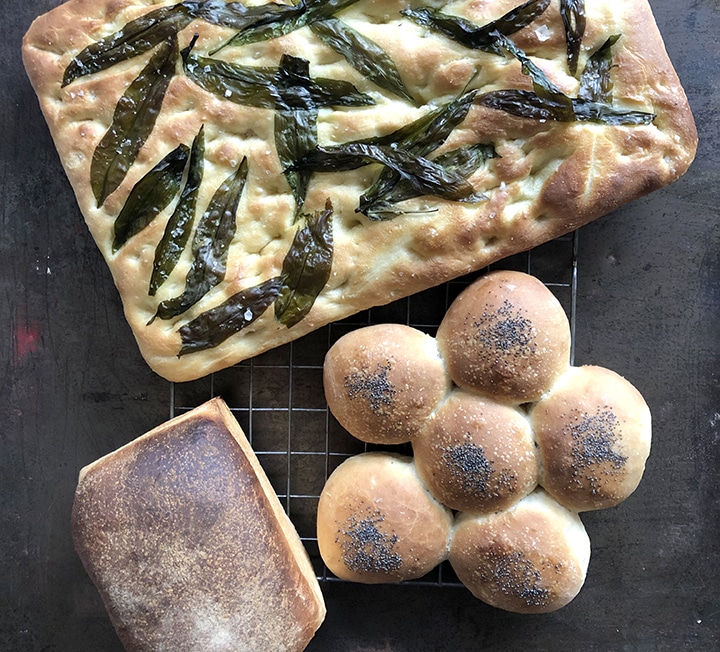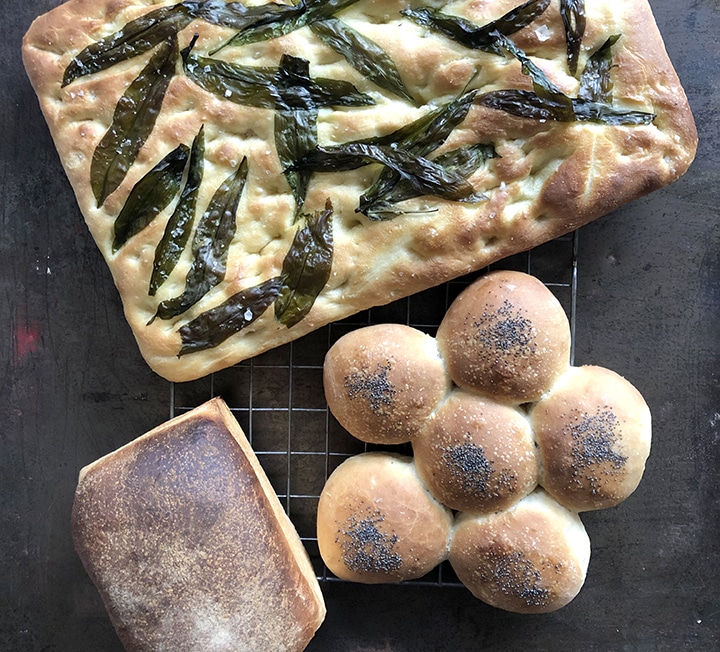 "THERE ARE MOMENTS WHEN BREAD JUST HAS TO BE WHITE: A BACON SANDWICH, A ROSEMARY FOCACCIA OOZING WITH OIL"
Batch cooking is a great habit to get into. There are certain ingredients and recipes that just make sense to cook in large quantities and then stow away as building blocks for quick after-work suppers, packed lunches or just adding the special touch to a simple weekday meal. It often takes no longer to cook a double batch, so you'll be economising on time, effort and energy too.
If you're not a regular baker, then making a couple of loaves from scratch can seem quite a faff – doubling your dough mixture with twice the rewards really makes sense. There's no need to create a production line of identical tin loaves, either: it wasn't until I began working with French baker extraordinaire Richard Bertinet that I started considering a dough as a blank canvas that could evolve into any number of different breads, rather than each loaf requiring its own recipe.
Olive oil dough is the starting point for almost all my desert-island home bakes (along with sourdough, but that requires an entirely different level of dedication. Or perhaps just a trip to the Market to snap up a loaf). I know that both nutritionists, and good sense, point us in the direction of all the brown varieties – the wholemeals and granaries – but there are moments when bread just has to be white: a bacon sandwich, a rosemary focaccia oozing with oil, and there's quite simply no discussion when it comes to a pizza base.
It's important to create a really loose, wet dough if you're after light bread, so I'm afraid that old school recipe that you bounced around the kitchen surface is out. A stickier mix may be more difficult to handle, but the proof of the (bread and butter) pudding is in the eating, so do take the plunge and have a go at this master bread recipe. I usually make a double batch, giving me plenty of options. Once the dough has risen to about twice its size, you can turn it out onto a very lightly flour-dusted surface and divide it using your scraper as a cutter. Making a variety of different breads will mean that you don't require a huge oven: some dough can be frozen, some slowed by proving in a cooler space while the first batch bakes.
Raw dough does freeze but never seems to have quite such an effective second rise once thawed, making it ideal for crisp, thin pizza bases. I always keep half a dozen balls of dough in the freezer, ready for individual pizzas. Shape 250g pieces of dough into balls and freeze in individual sandwich bags. Once required, you can pop these in the fridge to thaw while you're at work for the day or, if pressed for time, just dunk them into warm water in their sealed bags while you're busying yourself with the tomato sauce. Flatten (rolling pin, or more dramatic flinging and slinging, that's your shout), top, and bake in your hottest oven.
Tin loaves are great for sandwiches and then perfect for toast as the bread ages. You'll want a 450-500g quantity of the dough for a small greased tin (often still sold as a 1lb tin – about 20cm long). Flatten the dough into a rough square, roll up like a swiss roll and place in the greased tin. Cover with a tea towel and leave to prove (the second rise) until doubled in size and then bake at 220C for about 25-30 mins, until it slips out of its tin and has formed a good crusty bottom.
Bread rolls shaped into balls from about 75g dough each are great for packed lunches and once proved, will bake in about 10 mins at 230C. Focaccia, the dimpled Italian flat bread with herbs, salt and lashings of extra virgin olive oil, is perfect for using any random quantities of dough. You'll find the recipe here. So, the question is, why would you ever want to make one loaf when you could create a feast or stock up the freezer?