Batch of the day: peppers
Jenny Chandler expounds on the benefits of batch cooking as a way of saving time and money, through cooking one ingredient in bulk and using it for myriad recipes. This time: peppers.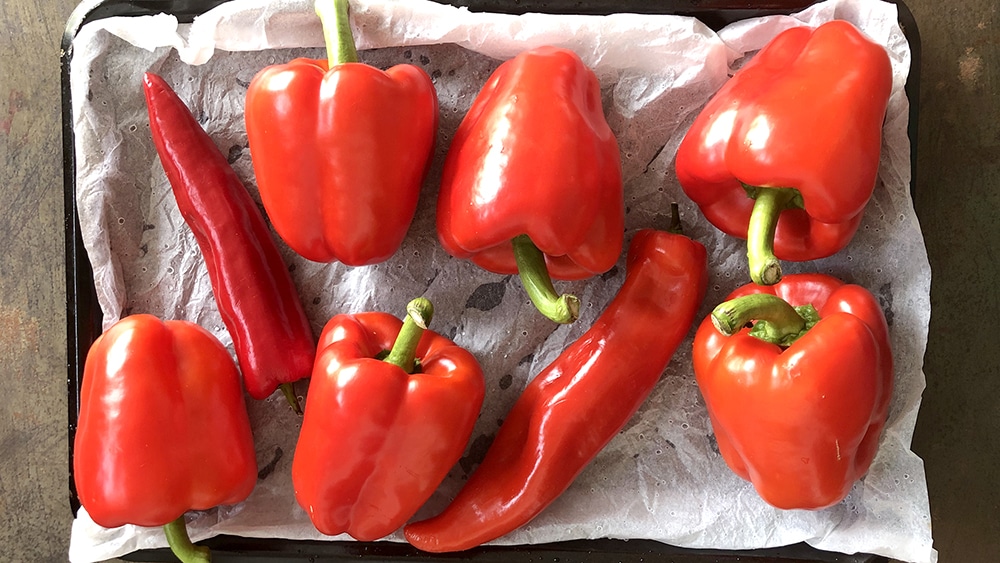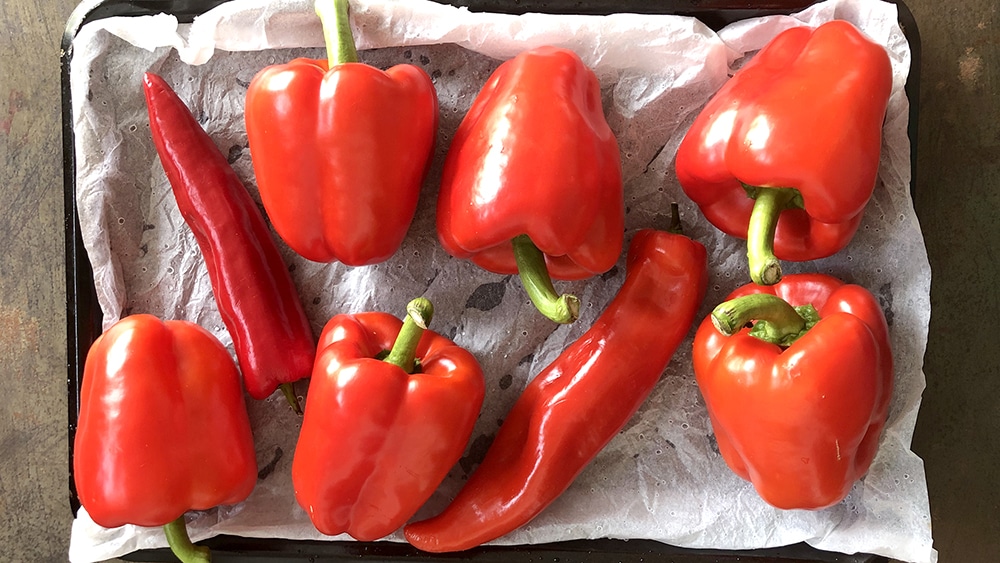 "I ALWAYS AVOID THOSE TRAFFIC-LIGHT TRIO PACKS BECAUSE THE RED PEPPER IS USUALLY THE ONLY ONE I'M AFTER"
Peppers shout of summer. Although dedicated British growers will be crossing fingers for sweltering sunshine and won't begin harvesting until late August, markets are awash with southern Mediterranean peppers by June.
I'm talking about the ubiquitous bell peppers, or perhaps the sweet and slender romanos, rather than any of the more bijoux, mini varieties, Mexican specialities or feisty chilis. Bell peppers do, of course, come in plenty of colours, but I always avoid those traffic-light trio packs because the red pepper is usually the only one I'm after. Green peppers are, in fact, just immature peppers and that lack of ripening results in a rather bitter, grassy taste that only really gets to shine alongside rich ingredients such as lamb or pork and has disastrously indigestible consequences when blitzed raw in a gazpacho. Yellow, orange and purple peppers seem to be little more than a gimmick to me as they have neither the acidic punch of the green nor the natural sweetness of the red.
Raw peppers may offer welcome crunch to a salad or colour to a platter of crudités, but it's not until they're roasted that peppers really deliver their magic – at once velvety, smoky and sweet. And, if you're preparing a couple, why not make it half a dozen?
It's vital to char the skins for that depth of flavour, whichever way you decide to roast the peppers. If you've been cooking over coals in the garden you could make use of the barbecue's dying heat by throwing on half a dozen peppers to blacken and blister while you eat your meal. The naked flame of the gas hob is often suggested as a means of charring the skin, but frankly my life's too short to be turning individual peppers over the heat (and cleaning up the sticky juices afterwards) when an oven does the job just as well.
Get the oven really hot, at least 200C, and roast the peppers on a baking tray lined with greaseproof paper. Your kitchen will smell glorious after about 20 minutes, when it's probably time to turn the peppers, but do remember you want the skin to blacken. Once the peppers are thoroughly blistered and charred, remove the tray from the oven and pile the peppers up in a heap that you can cover with an upturned bowl or pan – you need to create a steamy environment in which the pepper flesh sweats away from the skin, so there's really no need for plastic bags or cling film. Once cool enough to handle, but not completely cold, slip the skins off the pepper flesh and remove the stalks and seeds. I strain the remains left in the tray, catching all those pepper juices that I'll add to a soup or stew later.
---
How to use your roasted peppers
— As is, in a large sliver, on top of bruschetta with goat's cheese or piled up Spanish-style on bread with a slice of fried pork loin as a 'montadito' (serve with sherry and you're essentially in Seville). Added to any number of sandwiches for a layer of juicy sweetness, in place of (or as well as) more calorific mayo.
— Chopped into ribbons, bathed in extra virgin olive oil and served in salads, with deeply savoury or piquant ingredients, highlighting their sweetness, such as anchovies, seaweed, olives or capers. A prerequisite for salade Niçoise and superb stirred into cooked haricot beans with fresh tomatoes, basil and a good slosh of vinegar. With ribbons of roasted, skinned aubergine and generous quantities of garlic for a traditional Catalan escalivada.
— Sliced and thrown in with fried onions and garlic for a quick and especially delicious starting point for all those pepper stews such as peperonata, pipérade or chakchuka (the pre-roasting is an absolute game changer when it comes to the depth of flavour) or simply to throw in to a pasta sauce.
— Blitzed in the blender (and if you're feeling lazy you don't even need to remove the skin) with garlic, chilli, breadcrumbs and olive oil for a classic Provençale rouille, perfect with fish soup or just served as a dip. Whizzed up with harissa to tame its heat or blended into hummus for a welcome change. Or quite possibly in, my all-time favourite roasted pepper dip from the Middle East, muhumarra, where the subtle smokiness sings alongside walnuts, garlic and sweet-sour pomegranate molasses.
See Jenny's recipe for muhumarra.