Batch of the day: aubergines
Jenny Chandler expounds on the benefits of batch cooking as a way of saving time and money, through cooking one ingredient in bulk and using it for myriad recipes. This time: aubergines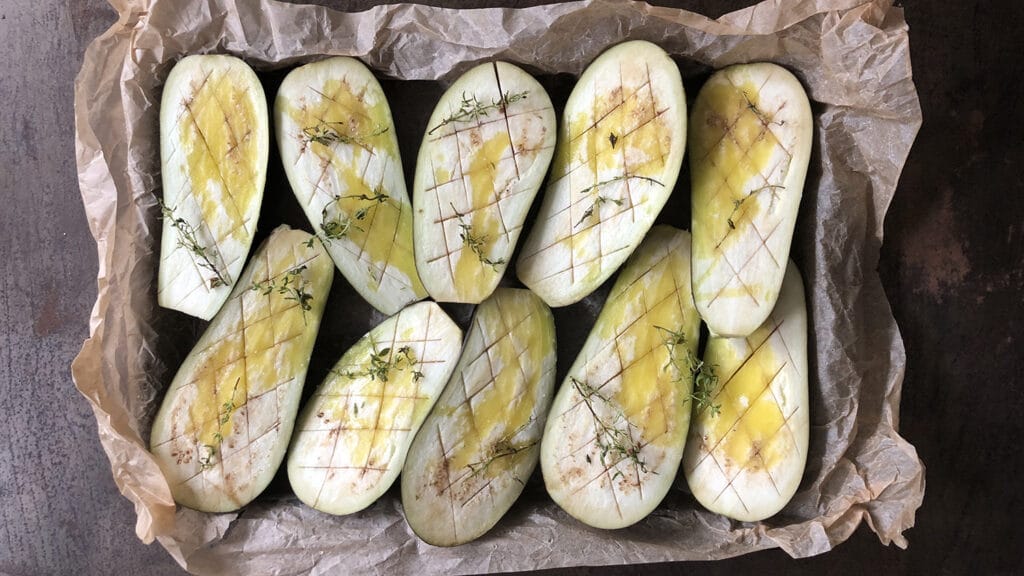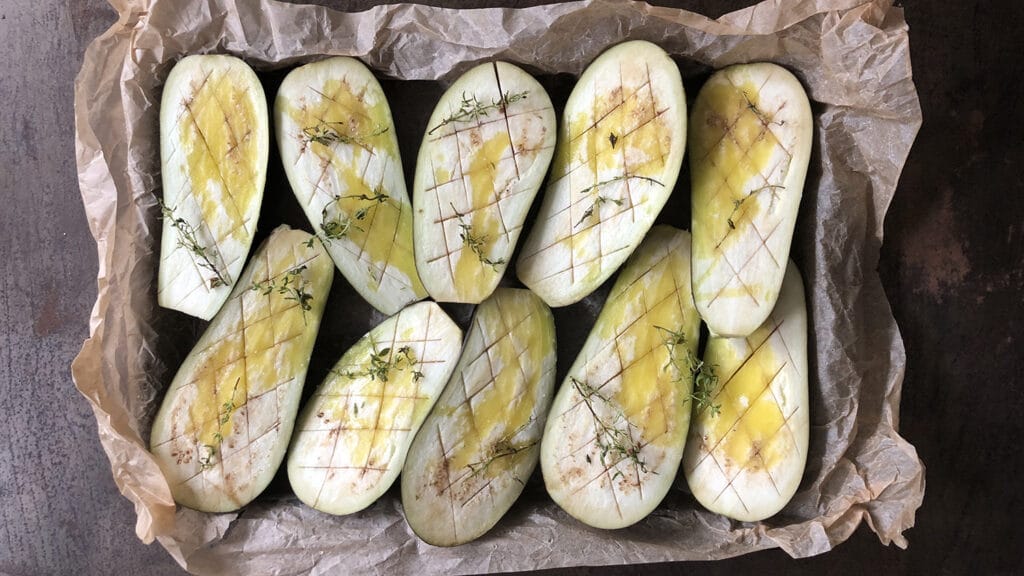 "AUBERGINE MUST BE COOKED UNTIL IT BREAKS DOWN INTO A SILKY, ALMOST SLIPPERY TEXTURE – AND THEN IT'S HEAVEN"
Standing over a hot stove in the sweltering summer heat is surely nobody's idea of fun, so roasting a tray of aubergines, with all the quick and delicious options they offer, makes perfect sense.
As a child I loathed the cardboardy, almost squeaky, chunks of aubergine that mum used to serve up in the ratatouille. Undercooked aubergine really is appalling. Still today you get the odd chunk of rather watery, chewy flesh in a pasta sauce or badly cooked moussaka. There really is no excuse – aubergine must be cooked until it breaks down into a silky, almost slippery texture and then it's heaven.
There are dozens of aubergine varieties, their lustrous skin can be anything from ivory to green; magenta-striped to a deep, purply-black. They vary in shape and size from the tiny green pea and slender finger aubergines of southeast Asia, to the egg-shaped (hence their other name, eggplant) so popular in India and then to the larger more ubiquitous types we tend to find in Europe. My batch roasting requires the latter and the only golden rule that applies to each and every aubergine is that it should look shiny and tight in its skin and feel firm, otherwise it's past its best.
Salting aubergines before cooking draws out any bitter juices and also collapses the structure of the sponge-like flesh so that it absorbs less oil. I'll admit it now, I'm far too impatient a cook to bother and nowadays the hybrid strains on offer have next to no bitterness at all. Roasting rather than frying allows you to control the amount of oil you use in any case, but don't be too stingy – aubergines and oil, particularly olive oil, are the best of friends.
I tend to cook aubergines by the half dozen in a hot oven at about 200C. Just slice the aubergines in half lengthways and then crosshatch the flesh with a sharp knife, leaving the skin intact. Drizzle with plenty of extra virgin olive oil and sprinkle with a little salt. Herbs are up to you: I often throw over a few sprigs of thyme or push thin slices of garlic down into the cuts but hold back on the spicing so that you can take the cooked aubergines in any number directions.
Roast the aubergines for 30-45 mins, until they have browned at the edges and become really soft and squashy – no squeaky cardboard, thank you. What happens next is your call: straight from the oven with a squeeze of lemon and a pinch of chilli is pretty unbeatable. Then you can use the rest of the tray over the next three or four days.
---
How to use your roasted aubergines
Reheat the aubergine halves for 10 mins in a hot oven, topped with:
— A few slices of tomato, garlic, mozzarella and a sprinkling of grated parmesan.
— A mixture of breadcrumbs, capers, anchovies, green olives, lemon zest, lemon juice and extra virgin olive oil.
— Miso, tamari, maple syrup, mirin, sake (or dry sherry) and a tiny splash of sesame oil shaken together in a jar. Check the balance and then pour over the aubergine. Top with toasted sesame seeds and spring onions.
Scrape out the flesh of the aubergine and re-stuff the skins with:
— A fried onion and Italian sausage mixture, plenty of herbs, sultanas, the aubergine flesh.
— Cooked rice, fried onion, sun dried tomatoes, the aubergine flesh and even a little leftover ragú or cooked lamb mince.
Chop up into cubes, skin and all, and fry with:
— Diced onions, garlic, courgette, red peppers, tomatoes and basil for a ratatouille of sorts ( the pre-cooking of the aubergine will guarantee a perfect texture).
— Diced onion, garlic, celery, tomatoes, capers, green olives, sugar and white wine vinegar for a Sicilian, sweet and sour caponata.
— Diced shallot, tomato purée, garlic, cumin, fresh coriander, chilli and lemon juice for a Moroccan zaalook.
Spoon out the flesh and blitz to a purée with:
— Tahini, smoked paprika, lemon juice and seasoning for a quick baba ghanoush.
— Yoghurt, cooked lentils, toasted cumin, garlic and pomegranate molasses.
See Jenny's recipe for roasted aubergine with feta & freekeh salad.