Borough Market platters: asparagus & smoked salmon
Ed Smith shares his tips on food to feed friends, family and self with minimal effort, using little but the best of Borough's carefully grown and procured produce. This time: asparagus and smoked salmon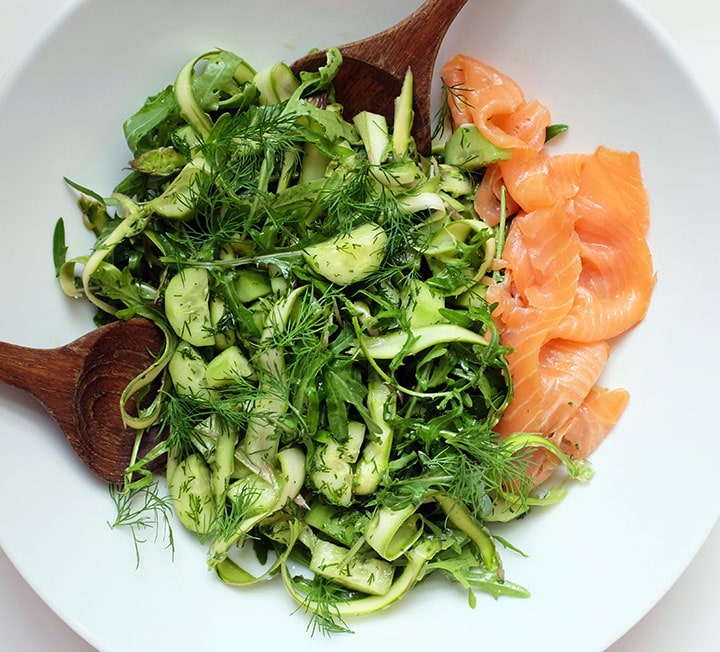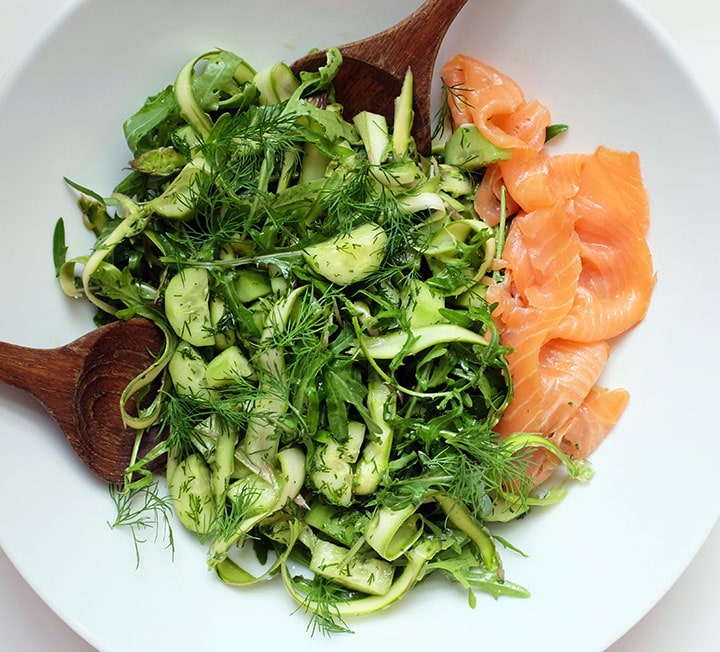 "THE ASPARAGUS AND GREENS ARE THE STARS, BUT THE ADDITION OF FISH TURNS THE DISH FROM A SIDE SALAD TO A LIGHT LUNCH"
Image: Ed Smith
Many of us head to the Market with a list and a purpose. Maybe we've friends or family coming over and are up for cooking something grand at the weekend – a rib of beef, a shoulder of lamb, a monkfish tail or cheese souffle. Or perhaps there's a specialist ingredient we need to grab: Calabrian nduja, Spanish olive oil, Kentish feta cheese. I have to say, though, that I quite like spontaneous, low-key shops (and indeed lower-effort cooks once home).
A few years ago, I wrote a series for this website in which I had the task of grabbing the equivalent of a weekday packed lunch from the Market. It wasn't a tough gig and was exactly the kind of 'low-key' Market experience I'm talking about. Ten minutes of shopping, a rip of a baguette here, a slice of pork pie, a spoonful of rillettes or chutney there. Beats a shop-bought sandwich any day. For this series, I'm fortunate to be doing something similar. Except now it's to feed more than just me: I want to show how easy it is to turn a handful of Market produce into a plentiful platter.
Each platter will centre on one ingredient that catches my eye when I start walking round, coffee in hand. It might be a recently arrived, hyper-seasonal fruit or vegetable; an artisan product that's been crafted for our easy enjoyment; maybe even just something 'staple' that I know is really good (and once I see it can't think of much else). From there, it's a case of: what other ingredients can I gather and combine so that the ultimate assembly will be more than the sum of its parts?
The dish will involve minimal effort once home – a little slicing or peeling, a blanch or a simmer at most (but often not). I've a £15 budget, and the produce will always come from more than one stall. You'll be able to follow the ideas to the letter, or just use something from it as your own starting point next time you visit.
British asparagus had just arrived at the Market when I visited to gather ingredients for this first post. As a result, I couldn't start the platter planning with anything else.
My favourite way to prepare asparagus is to show it a large pan of boiling water for barely three minutes, so it's tender but not yet floppy, then roll it in melting butter and a little salt and black pepper and eat it with my fingers. However, you can't fill a platter with the five or six spears that make up a bunch, so I thought on this occasion of spreading the spears further by using my least rusty speed peeler to shave them into a salad.
I picked up the 'extra select' graded asparagus from Elsey & Bent, which are chunky enough to be peeled. From there it was a relatively quick decision to also grab some baby cucumbers – which are at the intersection of the cucumber Venn diagram of 'crunch', 'juiciness', and 'flavour' – a big bunch of dill and a lemon. A bag of Ted's Veg rocket would pad out the assembly and also bring nasal-bracing pepperiness, something that layers well with the freshness of the asparagus and sharp citrus.
The dill made me think of the Severn and Wye smoked salmon at Shellseekers Fish & Game, which would provide a necessary dash of pink and a contrasting flavour and texture. The asparagus and greens still star, but the addition of this fish turns the dish from a side salad to a light lunch that'll feed at least two – possibly more if you add some fresh sourdough and maybe some other cold cuts or platters, picked up at the same time. In terms of assembly, you can pretty much do what you want, though I suggest peeling and then chunking the cucumbers and letting them sit in a little olive oil, half the lemon juice, sugar, salt, white pepper and chopped dill while you prepare the rest of the salad. Let the shaved asparagus (and any chunky bits that can't be shaved) sit in the remaining lemon juice and more olive oil, and mix the rocket through that at the last minute. Transfer to a platter, scatter over the marinated cucumbers, then more dill fronds over the top.