Five: clams
A quick guide to some of the clams available from Borough Market's stalls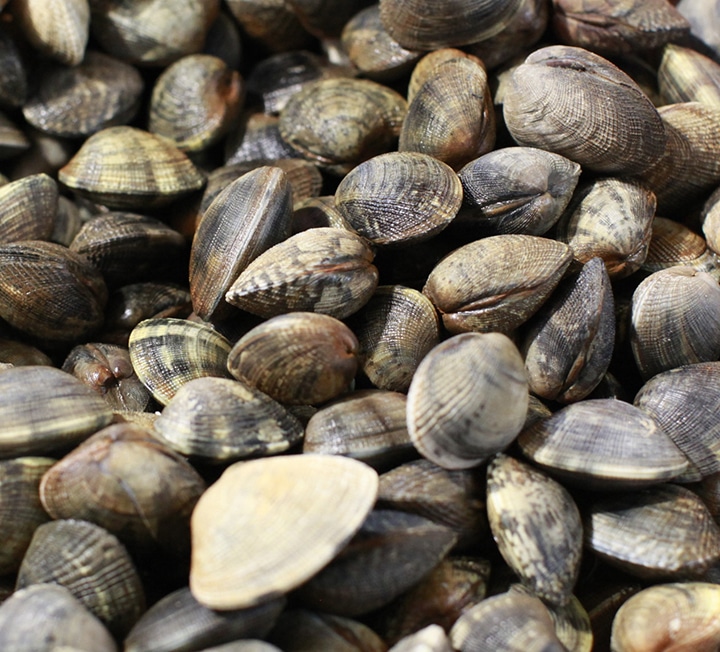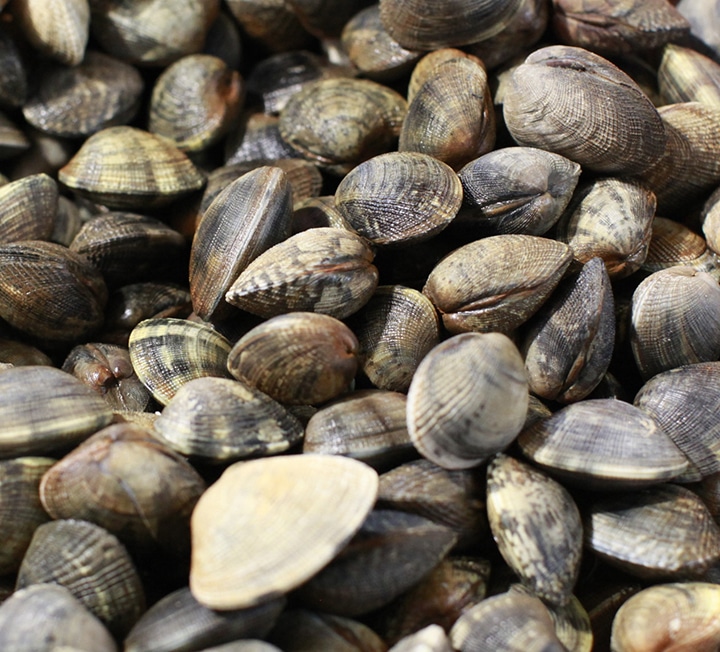 "THE LONG, TUBULAR, INKY-BLACK RAZOR CLAMS ARE KNOWN IN SCOTLAND AS 'SPOOTS' DUE TO THEIR SPOUT-LIKE APPEARANCE."
Palourde
These pretty, marble-shelled clams at Furness Fish Markets come to the Market fresh from Cornwall. They're the perfect all-rounder, being medium in size and somewhere between meaty cherrystones and sweet littlenecks in flavour. Given their propensity for quick-cooking, they're great for spaghetti vongole, cooked simply with, garlic, white wine, black pepper and a glug of good olive oil.
---
Vernis
These smooth shelled, polished-looking bivalves ('vernis' being French for 'varnish') are among the largest clams available at the Market. At Furness Fish Markets, they are sourced from the south of France, and they're said to be a favourite among customers. On the pricier side, but well worth it for their superlative taste and texture. Four between two people should be plenty.
---
Cherrystone
Cherrystone clams – named after the Virginian town where they were first found – are often the stars of east coast America's most famous dish, clam chowder. At Richard Haward's Oysters they hail from Essex, and are available to take away or simply slurp raw on the spot, dressed with naught but a squeeze of fresh lemon – the best way to appreciate their texture and sweet-salty, caramel-like flavour.
---
Razor
The long, tubular, inky-black clams at Furness Fish Markets – known in Scotland as 'spoots' due to their spout-like appearance – are as fresh as you can get, short of plucking them from the Shetland shore yourself. And while terrifying in both name and appearance, they're delicious and incredibly simple to cook. Try steaming them whole and serving with saffron mayo and crusty bread.
---
Quahog
Part of the hard shell family along with cherrystones and teeny-tiny littleneck clams, these bivalve molluscs are mildly sweet in flavour. Hand-picked by the fishermen at Poole Harbour in Dorset and brought to Shellseekers Fish & Game, strict regulations in terms of minimum size and acceptable fishing methods make these tasty shellfish a good sustainable option.