The generation game
Two decades into its evolution as a retail market, Borough now abounds with businesses in which the original pioneers are handing the reins to the next generation, who bring with them fresh ideas and boundless energy. These are their stories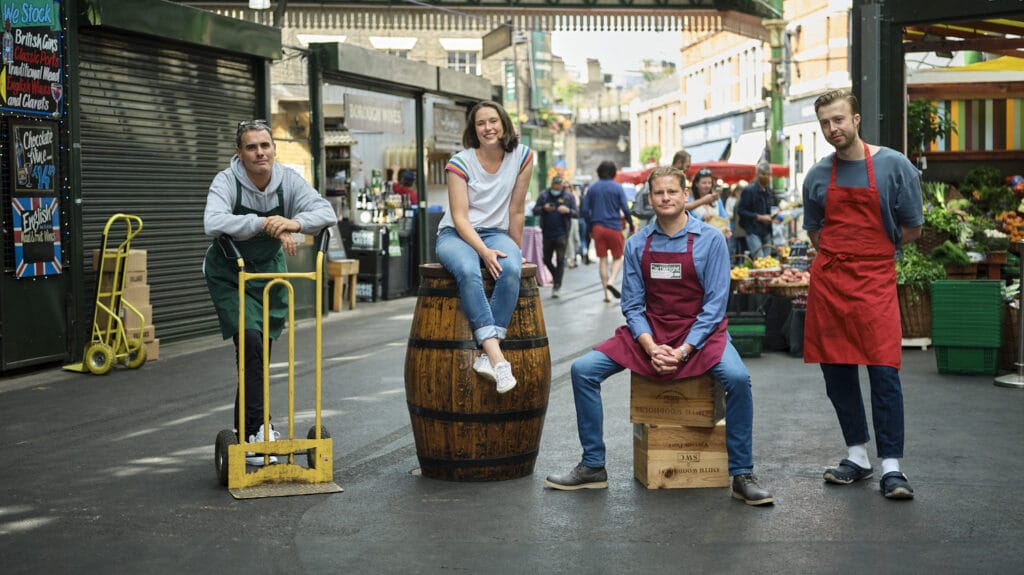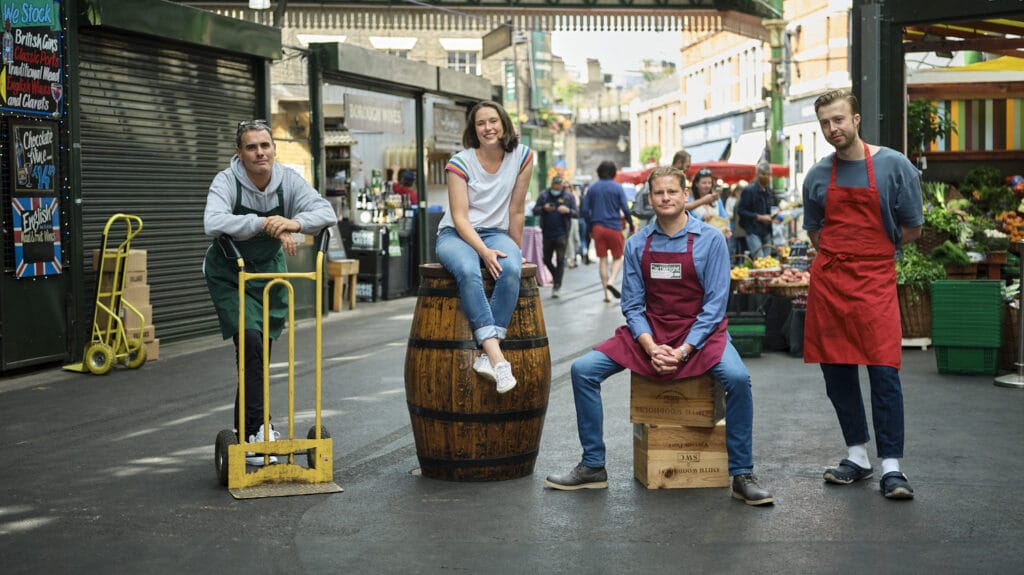 "THESE ARE THE PEOPLE FOR WHOM BEING AT THE MARKET IS NOT ABOUT MAKING A LIVING, IT'S ABOUT LIVING"
Words: Clare Finney / Images: Orlando Gili
Maybe it's the conviviality of it. Maybe it's the camaraderie forged by long hours and hard work. Maybe it's the fundamental sense of connection that comes with nourishing one's fellow human beings. But there's undoubtedly something about food and drink that lends itself to family businesses, be they husband and wife teams, parent and child teams, or teams that span the whole family.
Borough Market is a place that abounds with family ventures. But as with anything at Borough – anything in food, come to that – there are as many differences between these businesses as there are similarities. Some children, like Leo McCourt at Northfield Farm, always knew they were going to follow their folks into food. Others, like Mary Topp at The Cider House, have almost fallen into it. "I wasn't at school thinking one day I'll take on the family business – but when the time came it seemed a natural thing to go into," she explains. Some have found rubbing along with their parents comes easily; others have had to work harder at it by drawing clear lines between their professional and personal lives, leaving shop talk on the shop floor.
Yet all of them have, one way or another, got on – and thank goodness they have. As Esther Crouch of The Parma Ham & Mozzarella Stand notes, Borough Market itself "feels like a family" – and at least some of that feeling is born of the actual families who work there. These are the people for whom being at the Market is not about making a living, it's about living. Inevitably these businesses have evolved as the new generation has got involved. Social media, once dismissed as a frippery, is now a must-have for any food and drink business, rendering the experience and insight of younger people invaluable. The young are, often, more in tune with trends. They have the energy and enthusiasm to try new ideas, and have different education and experiences to bring to the business. Yet the real strength of family businesses comes from what is passed down through the generations. All of the new breed, to a man and a woman, credit their parents with instilling in them and their teammates the core values of honesty, quality and sustainability that make their businesses – and by extension, Borough Market – what it is.
---
Dom McCourt, Northfield Farm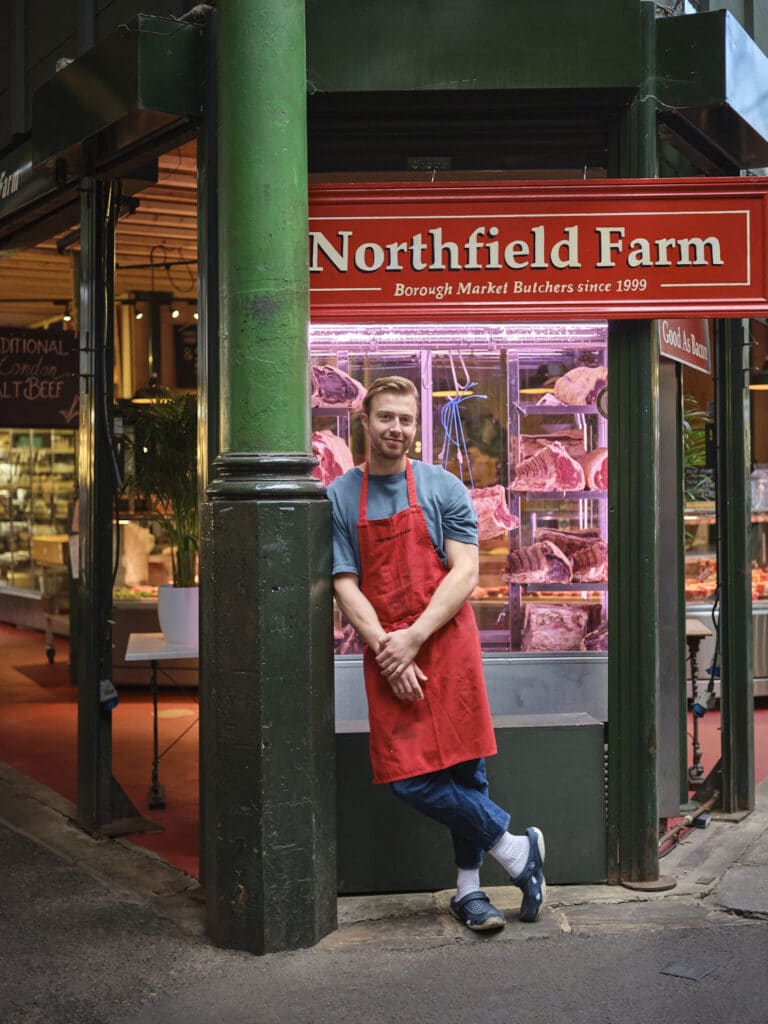 While his brother Leo "practically came out the womb saying the word tractor," it was 20 years until Dom McCourt expressed any interest in the family business. "I was into eating, but never into cooking," he smiles. "Then I finished university and was drifting along, not knowing what to do, and dad suggested I go to London and have a go working at the stall."
Dom's dad is, of course, Jan McCourt: one of the 'original' traders, who had a table here back when Borough Market in its current incarnation first started, in 1998. His stand and the McCourt's farm up in Leicestershire have evolved a great deal since then; yet the family's ethos and vision are as they've always been: "Rare and traditional breeds, grown slowly: that is the heartbeat of the business that dad set in motion," says Dom. Though he and Leo are steering the business now – Dom in the Market, his brother on the farm with his tractors – Jan is never far away. "We look to him for advice when we need it – mostly when we're doing something new, like the restaurant pop-up we've just launched, or on financial matters. He's far more financially minded than we are," Dom continues. Meanwhile, Dom has worked hard to inherit his mother's culinary talents. "Our mum Tessa is an amazing cook and I've always loved food, but it's only in working with her that it has gone from the mystery of mum's food to understanding what it is she does."
Tessa too can often be found at the stand – and her fingerprints are all over their recipe cards, most of which are her creations. "When I give a customer one, I can say, my mum makes that. Trust me, it's delicious." Now the pair feed off each other with ideas and inspiration: "There's a synergy there." Dom's determination and vision are palpable. He talks passionately about the role regenerative farming has to play in sustainable food production, and about the changes he and Leo have made and will continue to make regarding things like branding.
"We wanted the brand to be red – which seems obvious, but actually not many meat businesses lay claim to that colour." It stands out, he continues – much like the truly family nature of the McCourts' business. "There are a lot of family business out there in the world that aren't really family – they just use it as a marketing tool. We are, and people like that authenticity."
---
Esther Crouch, The Parma Ham & Mozzarella Company
"Esther, Clare is doing an article about parents and children who work at the Market. Can she speak to you around 4pm? And be nice about me – pretend?" writes Philip Crouch, introducing me to his daughter. The message is followed by a 'winking face' – but it's not until I come to interview Esther that I realise just how firmly in his cheek Philip's tongue really is.
Esther, who joined her brother Jonathan last year at the family's business, is full of genuine praise for her dad, another of the Market's true stalwarts. He is, she says, "someone many traders still come to for advice and support". That's not to say it's all been plain sailing: "When I first started working for him part time as a teenager, I just treated him like my dad. I'd be snappy, and mean and unprofessional." A typical teenager, it sounds like – yet age, the experience of working for another boss, and the demands of the pandemic have conspired to create a more harmonious dynamic between the pair. "I've learned to be more professional… to find a more balanced way of working. We definitely have a good working relationship now," she smiles. What gripes she and her brother have are born less of irritation, more out of concern at her father's absolute refusal to slow down to even three quarters of the pace and scale at which he's been operating throughout his career.
"It comes from a place of love. He just loves coming into the Market every day, having a chat to everyone. It is not a long journey, but it's still a journey," she shrugs, with the smile of someone who knows she's probably lost that battle. Yet it's clear, from Esther's ease behind the stand, her comfortable relationship with her customers and the vision she has for the coming years that when it comes to manning the stand she's happy playing a more senior role. "I've known how to slice ham since I was 15," she says. "Then when I first left university, I helped manage one of dad's places in Soho before working at a bar in Tooting." It was there she learned what she brings to a business. "My old boss told me that no matter what happened I remained positive, which was great, and I've since brought that to The Parma Ham & Mozzarella Stand." That and an enthusiasm and aptitude for social media. Meanwhile Jonathan works "behind the scenes, on the bookkeeping side".
That a family business strengthens the bonds between family members is a virtue born of necessity: "You have to get on," says Esther. "You have to be professional to be successful." Yet being a family business in Borough Market exposes Esther and Jonathan to "the way in which other people see my dad – because I hear how the traders talk about him, with such respect." It's this, and the way in which everyone has pulled together to get through the past 18 months. that has highlighted to her the extent to which Borough Market is in itself a family, regardless of blood connections. "It's a really lovely, familiar place to work."
---
Mary Topp, The Cider House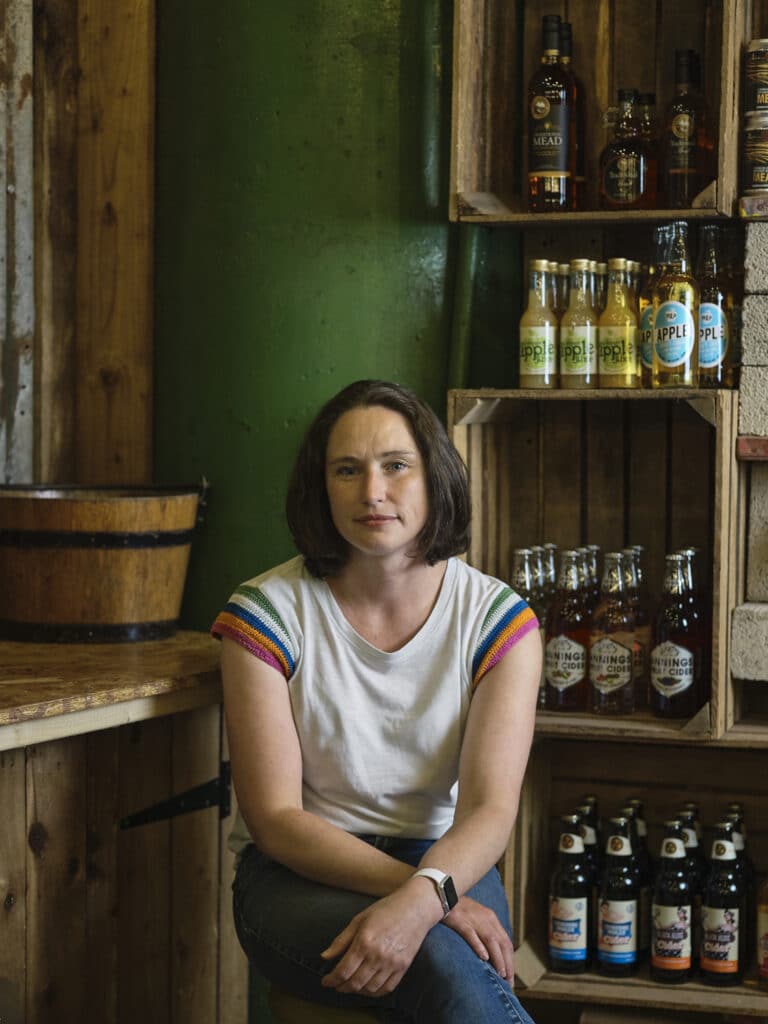 There aren't many families who can happily work in the same business. There are even fewer families who can happily live in the same place once the children hit adulthood. As for families who could work in the same business and live in the same place – well, it's a wonder they even exist. And yet that is exactly the setup of the Topp family, who run New Forest Cider Company and its Borough Market stall, The Cider House.
The business's founder is Barry Topp, who together with his wife Sue set up a cider press on the farm Sue's family had owned for four generations. His son John took over the production side of things a few years ago, and his daughter Mary handles the marketing, the market stall and pop ups around the country. "My sister Sally does the accounts and finances – and we all live here in each other's pockets," she laughs. Though not, she stresses, in the same house. "I think that would be a bit much!
"The important thing is, we have the same goal," she continues – that is, producing unpasteurised, real cider from their orchard fruit and that of neighbouring farms, and bringing it to customers around the country. "We are all really passionate about the product because we know exactly what goes into making it, and we're prepared to put the time and effort in." At busy periods – Christmas at Borough Market, harvest time at the orchard – the Topps are ready to pull out all the stops.
There are many advantages to their being a family business, says Mary. There's the spectrum of strengths which invariably exist across different siblings – "I'm more creative, my sister is more logical, and my brother more manual" – and across different generations: "When I first joined the business I came in like a ball of energy and enthusiasm – and while dad was a bit reluctant at first to take on new ideas, he did allow me to try stuff out." Mary took them to new festivals, expanded the Borough Market stall to include ciders from other likeminded producers, and developed it into one of the first dedicated cider venues in London. "When we first started, it was just selling our New Forest Cider; now it's known as a really good cider venue," she continues – something she's keen to build on in future, with apple-based spirits and cocktails in the pipeline as well as workshops and producer talks.
One area in which family businesses do tend to vary is in their tolerance for 'talking shop' at social occasions. The Topps' rules on this are clear: "we have regular, proper meetings, which professionalises the business, as we have a number of other employees. At the dinner table and at family events we have bans in place to make sure we don't talk about work." As a result, they rarely fall out – and if they do, "none of us hold a grudge. That's the best thing about our family: we've always just got on with it and made it work."
---
Richard Cartwright, Cartwright Brothers Vintners
When Richard Cartwright first joined his dad Martin and uncle David in their wine business, the only thing he knew about wine was that he enjoyed drinking it. While the eponymous Cartwright brothers imported wine from France and chatted their customers through the merits of various vintages, Richard listened in, gleaning information as he processed transactions, and restocked the stall from the cellars beneath the Market.
Having been behind the phones in a recruitment firm prior to joining Cartwright Brothers, Richard found that the experience of manning the stall was a real confidence boost. "I just did what I was told to start with and deferred to my uncle, but my confidence grew as I did wine courses and read more." Now he decides what to stock – where his dad and uncle concentrated on French and then South African wines, Richard has expanded into Italy, England and more of the New World – and talks animatedly about the next 20 years: the Sunday opening, the return of tourists, the online trade which "really kept us going through lockdown" – even the possibility of making their own Cartwright Brothers gin or rum. "I introduced spirits a few years ago, and they sell pretty well," he says. "So maybe we'll set up a small bespoke distillery one day."
Where most of the family businesses in the Market are parent-child affairs, the 'brothers' nature of the Cartwright Brothers means it's not just one side of the family that has a stake in the firm. The close relationship between Martin and David laid the groundwork for the close relationship between their children: "My cousin Hannah and her husband Stuart both worked here when we started out – and Hannah was pregnant at the time so all three of them were involved," Richard laughs. "Stuart, who's a firefighter, still helps out when his shifts at the fire station allow. Now we're in the process of developing the website, my cousin James' wife Natalie is going to be responsible for our social media – because I'm terrible at all that, and Natalie really knows her stuff."
Of course, all families who have businesses in Borough Market are close – but there's close, and there's the Cartwrights, who have lunch together every Sunday, without fail. "It used to be on one large table, but now there's loads of children, we need a few tables. There's loads of lovely food – and of course, lovely wine." He credits the fact that they've never really fallen out with their being so close, and so respectful of each other's decisions. "There's no rivalry. There are no challenges. It's all support."
---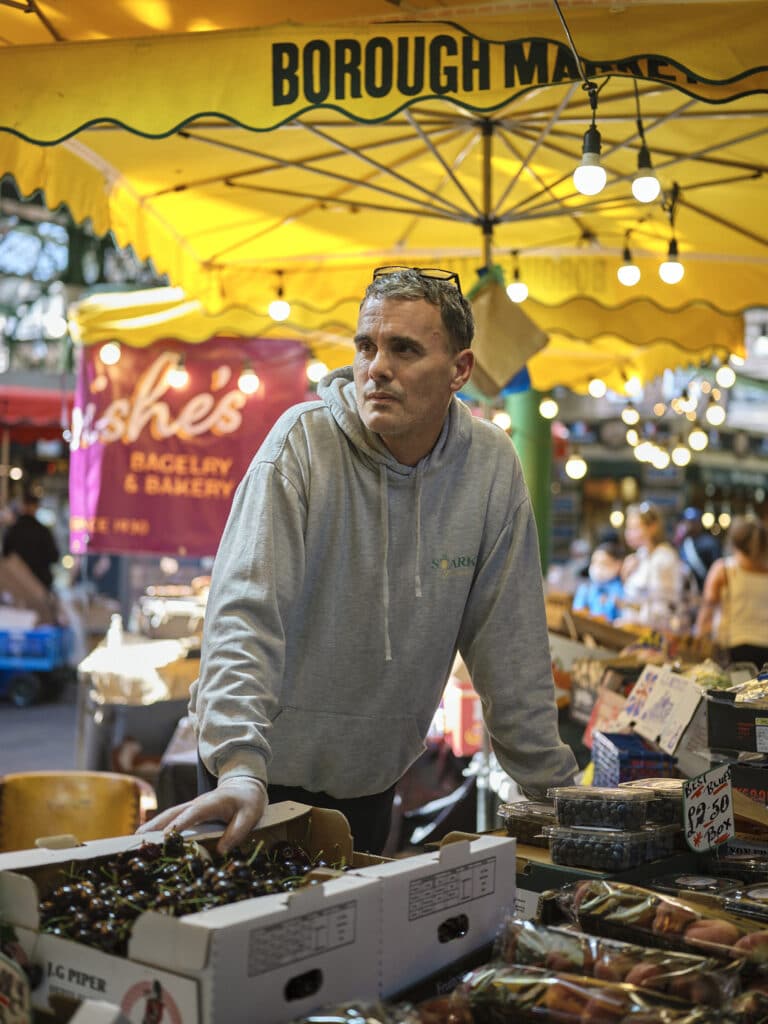 Richard Stark, Stark's Fruiterers
The twinkle in his eye might be familiar, his friendly salesman patter sounds much the same, but if you do happen to note a similarity between Richard Stark and his dad Jock, mind not to mention it – because if there is one thing that does irk the otherwise eminently affable Richard it is people commenting: "You're just like your dad."
"That really annoys me," he exclaims, with only a half-smile to suggest he's not entirely serious. Afterall, Jock Stark was and is one of the most popular traders in the Market. No one in the history of his decades-long long tenure at the Market could visit Jock's stall and not walk away with at least one piece of fruit they were not intending to buy. "I've learned a lot from him. I've taken lots of leaves out of his book," says Richard: "The way he talks about produce – not in order to sell, not to force it on you, but because it's great produce and he wants you to enjoy it." The way Richard sells is slightly different, he continues – as is the way he buys. One of the most obvious changes at Stark's Fruiterers since Richard took the reins is the improvement in the range of the produce on the stall – not that Jock bought anything of poor quality, but he "bought cheaper than I did. I buy a better class of produce, but still sell it at a competitive price."
Sicilian lemons, smoked garlic, wild mushrooms and courgette flowers abound. "I know people love a quality Sicilian lemon and are happy to pay for it. I've also introduced more vegetables, and did home deliveries during lockdowns," he continues. "Dad was worried I wouldn't be able to pull through this last year, but I've just about managed to do it." It's a significant achievement – for Richard, but also for the family business, which has been running for as long as he can remember. Jock Stark established his first grocer's shop in South London over 40 years ago, and Richard has "known the game since I was a kid, when I worked on Saturdays at school."
After 15 years in the building trade, Richard joined the family firm full time, and they worked "under each other's feet" for the next four years. "Sometimes we couldn't stand each other. I'd drive home and think, I can't do this anymore – but we were always absolutely fine the following morning," Richard smiles. "That's family. And since he has left, and only comes in occasionally – we have got on really well."