A Borough Market toastie
Ed Smith
A celebration of freshly baked bread from The Borough Market Cookbook
Ingredients
2 x 1-2cm-thick slices of sourdough
Butter
60g cheese, ideally a 50/50 combination of melting and strong, both coarsely grated
20g sliced cured meat or 40g sliced cooked meat (optional)
15g onions, spring onions or leeks, finely sliced (optional)
Condiment of choice
Method
Butter what will become the external sides of each piece of bread. Build the sandwich, with a sprinkle of cheese on the base first, then the meat or alliums, followed by the remaining cheese, then add pickles or spread the condiment onto the inside of the top slice, finally pressing that on top.
Place a heavy-based frying pan over a low-medium heat and allow it to warm up for 1 min. Transfer the sandwich to the frying pan and cook very gently, regularly pushing down on the sandwich with a fish slice or palette knife. After 2 mins, some but not all of the cheese will have melted and the base of the bread will be browning.
Carefully flip the toastie over and repeat the gentle frying and pressing for 2 mins more. Repeat, frying both sides for another 2 mins each, so that the cheese and fats are oozing out of the sandwich and the bread is golden and crisp.
Remove from the heat and leave to cool for 1-2 mins before eating – the centre will be hotter than the sun.
Possible combinations:
— Stilton (or other strong blue), fontina and kimchi
— Nduja, honey and mozzarella
— Cooked ham, raclette, comté and mustard
— Cheddar, Ogleshield, leeks and chutney
— Soft-rind white cheese, turkey and cranberry sauce
— Bresaola, tapenade and emmental on rye bread
— Fennel salami, umbrico (drunken cheese) and dill pickles
— Taleggio, roast peppers, spring onions and chives
Recipe from The Borough Market Cookbook (Hodder and Stoughton)
Image: Issy Croker
Where to buy these ingredients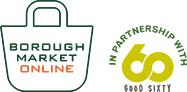 Shop online
If you can't make it to the Market, Borough Market Online offers a wide selection of our traders' produce, delivered direct to your door.