Chilli cornbread with tomato salsa
Kathy Slack
A Deep South-inspired side dish or starter with a gentle kick of chilli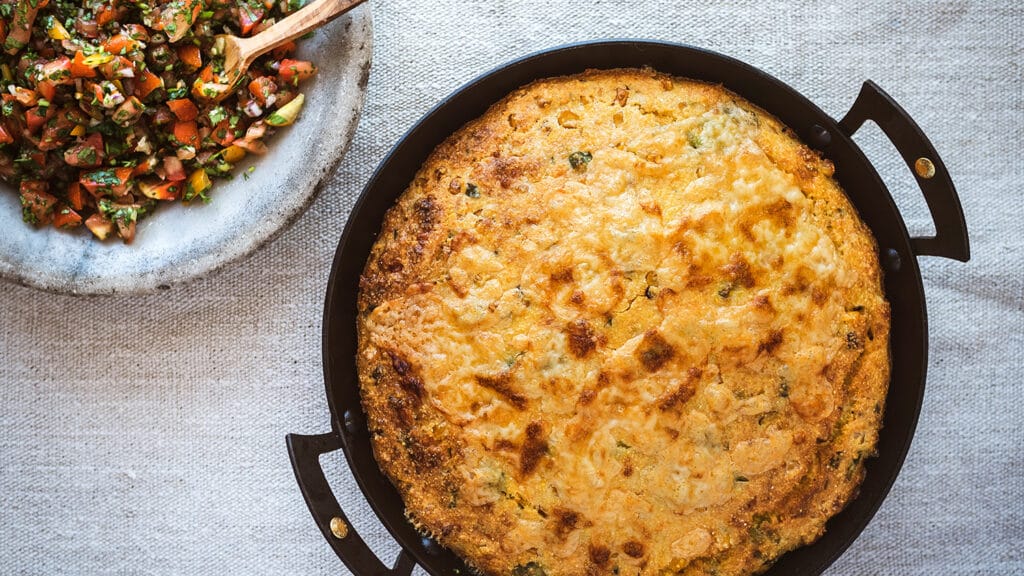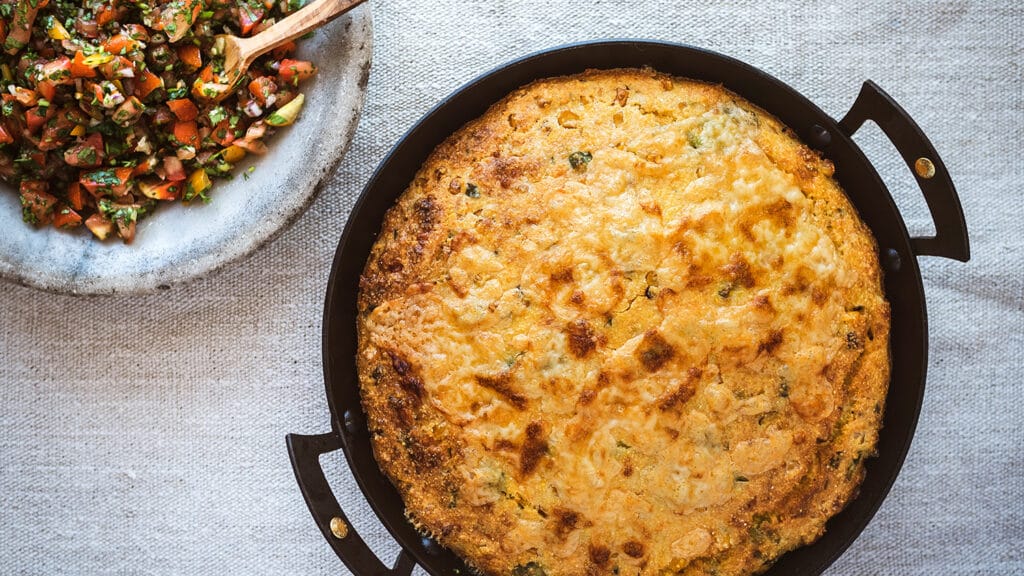 Recipe Meta
Serves
8 (as a side or snack)
Ingredients
Olive oil, for greasing
15g butter
8 spring onions, chopped
200g sweetcorn kernels
325g quick cook polenta
250ml full fat milk
4 eggs, beaten
100g plain flour
1 tsp baking powder
175g cheddar cheese, grated, plus extra for topping
1 green chilli, finely chopped
¼ tsp chipotle chilli flakes
For the salsa
500g tomatoes, a mix of varieties if possible
1 tsp finely chopped green chilli
½ tsp finely chopped red chilli
½ red onion, finely chopped
3 tbsp finely chopped coriander
1 garlic clove, crushed
1 tbsp olive oil
½ lime, juiced
A dash of Tabasco
Method
Heat the oven to 200C. Grease a 22cm cake tin or skillet with olive oil and line the base with a circle of greaseproof paper.
Melt the butter in a frying pan over a medium heat. Once the butter is foaming, add the spring onions and sweat them in the butter for 2 mins. Add the sweetcorn and a pinch of salt and cook for another 2 mins. Remove from the heat and set aside to cool.
In a large bowl, mix together the polenta, milk, eggs, flour and baking powder. Add the grated cheese, green chilli, chilli flakes, the onion and sweetcorn mixture, a big pinch of salt and stir again.
Spoon the mix into the tin and bake for 20 mins. Sprinkle a handful more grated cheese on top, then return to the oven for another 10 mins or until the bread is spongy to touch.
While the cornbread bakes, make the salsa. De-seed and chop the tomatoes. Tip them into a bowl then mix in the other ingredients and a pinch of salt. Leave for a few mins to allow the flavours to mingle, then check the seasoning and serve.
Image: Kathy Slack
Where to buy these ingredients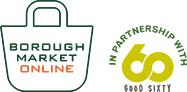 Shop online
If you can't make it to the Market, Borough Market Online offers a wide selection of our traders' produce, delivered direct to London addresses and, where available, by post to the rest of the UK. The service also includes a range of Best of Borough Market hampers and meal boxes.