Chocolate olive oil cake with figs & hazelnuts
Angela Clutton
A light chocolate cake with a topping of tangy yoghurt and crunchy nuts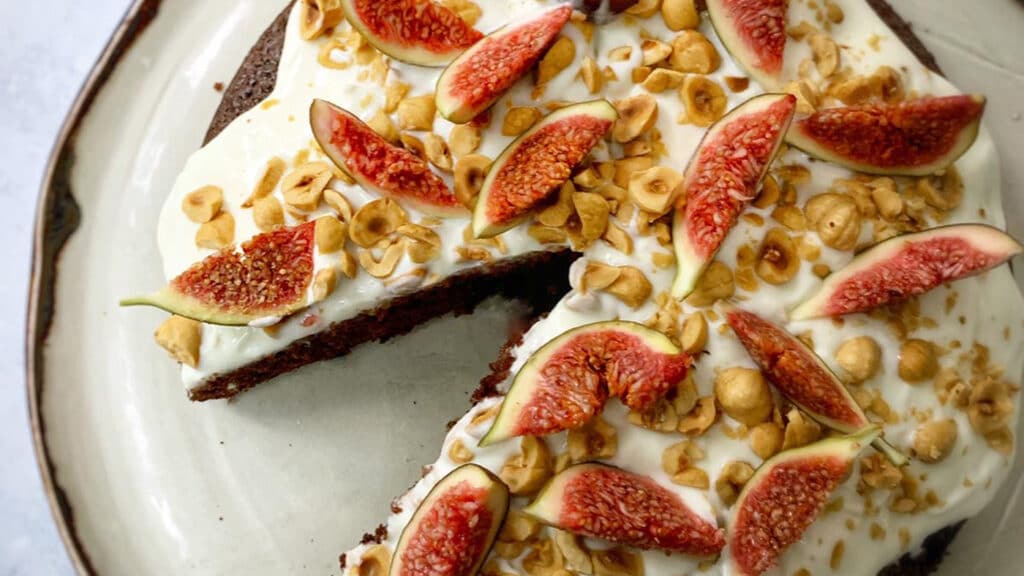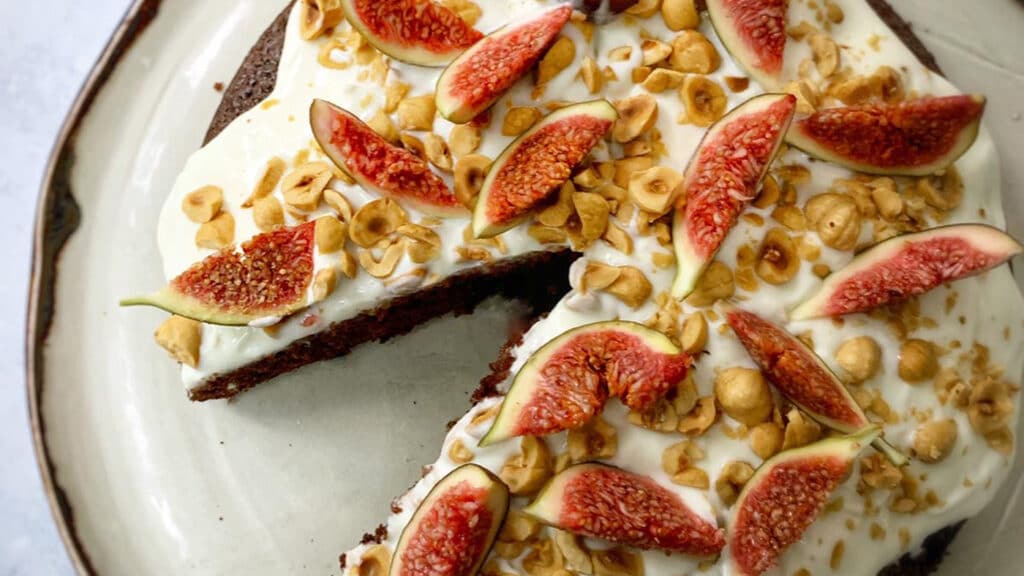 Ingredients
150ml mild olive oil
50g cocoa powder
2 tsp vanilla extract
125g plain flour
½ tsp bicarbonate of soda
200g golden caster sugar
3 large eggs
200g thick Greek yoghurt
2 ripe figs
100g skinned hazelnuts, toasted
Equipment
Method
Preheat the oven to 180C. Grease the sides of the tin with a little of the oil and line its base with baking paper. Sift the cocoa powder into a bowl, then whisk in 125ml boiling water and the vanilla extract. Set aside.
Put the sugar, olive oil and eggs into a different bowl, then use an electric whisk to beat all that together until thickened. You are trying to get lots of air into the mix. Beat in the cocoa powder mix then sift in the flour, bicarbonate of soda and a pinch of salt. Gently but thoroughly mix the flour in – you don't want to lose all the air you've beaten in. Pour into your prepared cake tin.
Bake for 40-45 mins until just about set. Cool on a wire rack for 10 mins, then remove from the tin. If not eating straight away, store the plain cake in an airtight tin before finishing the cake with the yoghurt, figs and nuts. It will keep well like that for a up to three days. Otherwise, once it is totally cool, spoon the thick yoghurt on top. Slice the figs and arrange on top too. Chop the hazelnuts and scatter over.
Where to buy these ingredients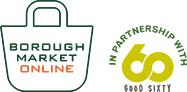 Shop online
If you can't make it to the Market, Borough Market Online offers a wide selection of our traders' produce, delivered direct to London addresses and, where available, by post to the rest of the UK. The service also includes a range of Best of Borough Market hampers and meal boxes.