Courgettini, pistachio & wheat berry salad
Jenny Chandler
A summer barbecue salad that works equally well with halloumi, fish, meat or grilled veg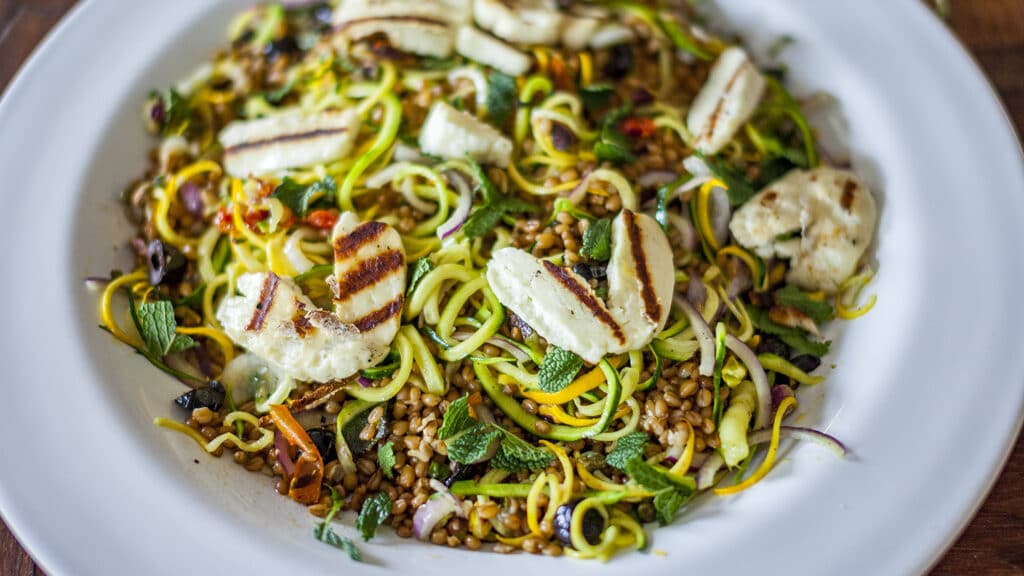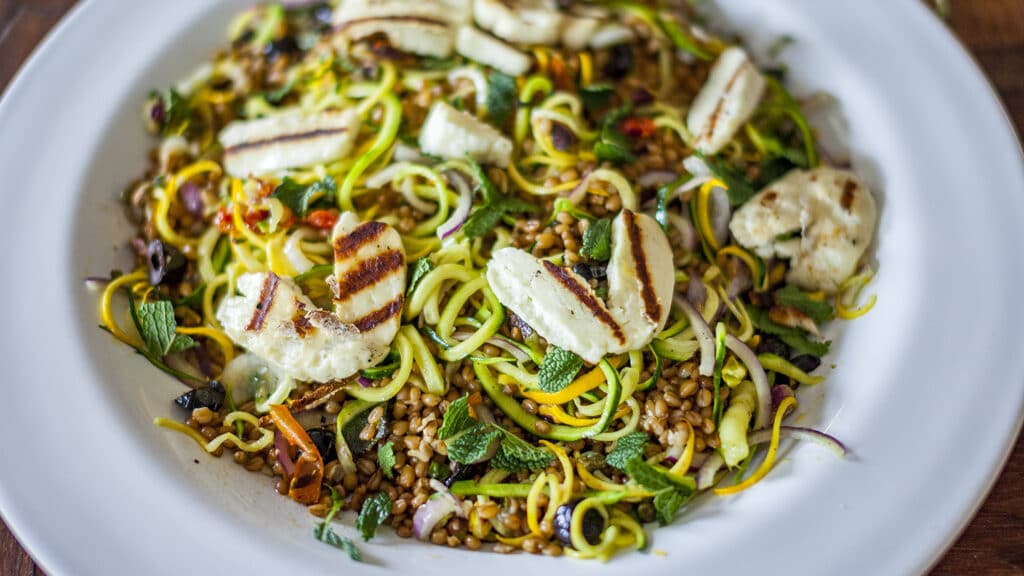 Ingredients
200g wheat berries (whole wheat grains)
100g sun dried tomatoes, roughly chopped
1 tbsp capers
50g green olives, roughly chopped
1 lemon, zest and juice
100ml extra virgin olive oil
2 courgettes, preferably 1 yellow, 1 green
1 garlic clove, whole but crushed
½ red onion, finely sliced
50g pistachios
A good handful of mint leaves, ripped
Method
Simmer the wheat berries in plenty of lightly salted water for about 45 mins, or until they are tender (soaking for a couple of hours beforehand will speed up the process and is said to aid digestion too).
Drain the wheat berries and pour them into a large bowl. Add the tomatoes, capers, olives, ½ of the lemon zest and juice and about ½ of the oil. Give everything a good stir and leave the flavours to marry while you prepare the courgettes.
Spiralise the courgettes or slice into ribbons using a vegetable peeler.
Warm the remaining oil in a large frying pan and throw in the garlic and red onion. Once the garlic gilds and smells divine, remove it from the pan (it will have infused the oil – you can always use it in another dish). Add the courgettes and toss them in the hot oil over the heat for a matter of secs until they are covered in the oil.
Add the courgettes, onions and oil to the wheat berry salad, sprinkle over the pistachios, mint and season carefully (keeping in mind that the tomatoes, capers and olives are quite salty) with salt, pepper and the remaining lemon juice and zest. Serve while warm, if possible.
ALTERNATIVE: Substitute the wheat berries with pearled barley, freekeh, bulghur wheat or couscous.
Image: John Holdship
Where to buy these ingredients