Spring salad
Jenny Chandler
A light, healthy and highly seasonal lunch dish or starter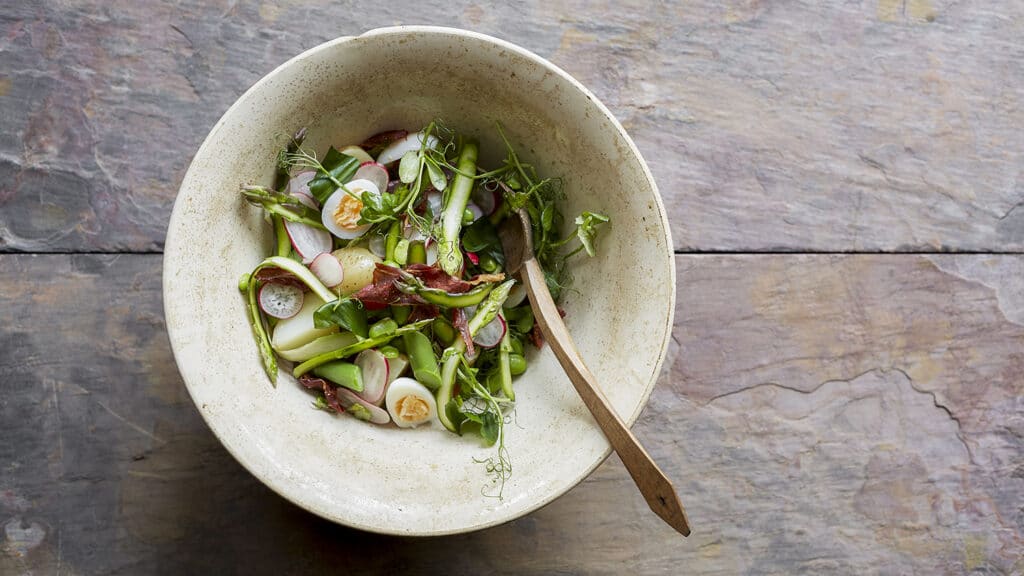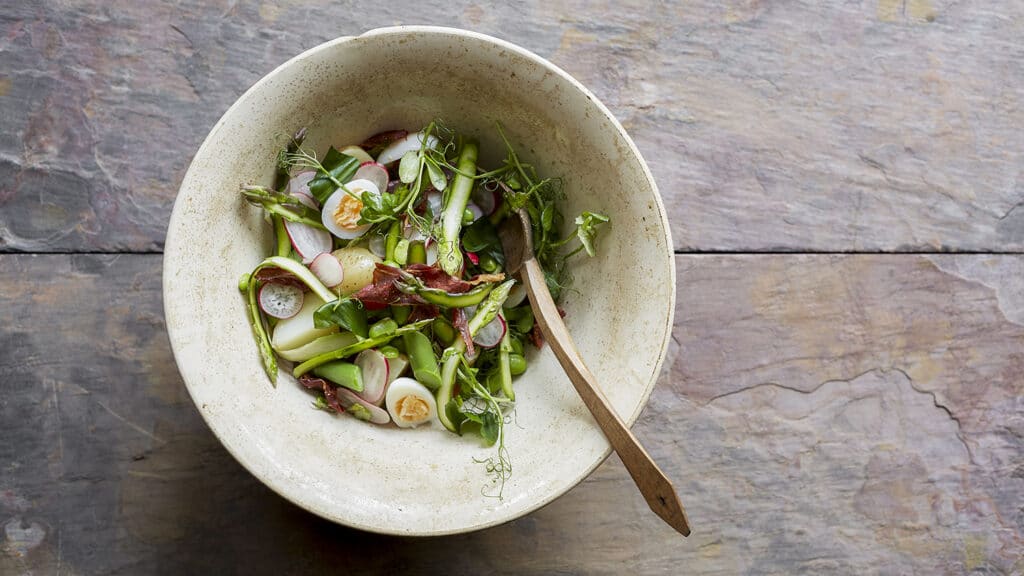 Ingredients
100g finely sliced prosciutto
100ml extra virgin olive oil
500g new potatoes, halved if larger than bite-sized
A sprig of mint
300g purple asparagus
200g baby broad beans
8 quail's eggs
75g pea shoots
A small handful of wild garlic
12 radishes, finely sliced
Juice of 1 lemon
Method
Heat the oven to 170C. Place the prosciutto on a lightly oiled baking tray and cook in the oven for 10 mins, then leave to cool and crisp up. The ham should become really brittle as it cools – if not, just return to the oven for a few mins. Break into shards (if making ahead, store in an airtight container).
Boil the potatoes in salted water with the sprig of mint until tender, then drain. Toss with the extra virgin olive oil. Meanwhile, prepare the asparagus. Remove any woody tips, chop off about 5cm of the stalk ready for steaming or boiling and sliver the top of the spears into ribbons using a potato peeler.
If you have a steamer basket, you can steam the asparagus stalks over the potatoes for about 5 mins until tender, otherwise you can cook them in boiling water for about 3 mins. Drain and plunge into cold water to refresh and keep their colour.
Steam or blanch the broad beans until just tender and pop them from their skins. Cook the quail's eggs in boiling water for 2½ mins, tip them into cold water, then peel. Wash and spin the pea shoots and garlic leaves and place in a large salad bowl, keeping back a few leaves to top the dish.
Add the sliced radishes, the cooked asparagus, asparagus ribbons, the broad beans, the warm potatoes and the lemon juice. Turn everything together, taking care not to break up the potatoes. Season with a little salt (don't forget that the ham will be salty) and plenty of black pepper.
Slice the eggs in half and scatter over the salad along with the shards of crispy prosciutto and the last few leaves to garnish.
Image: Kim Lightbody
Where to buy these ingredients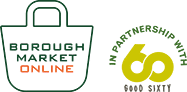 Borough Market Online
If you can't make it to the Market, Borough Market Online offers a wide selection of traders' produce, delivered direct to your door.