Crab, asparagus & Jersey royal salad
Rosie Birkett
Three of the defining ingredients of spring and early summer brought together in a salad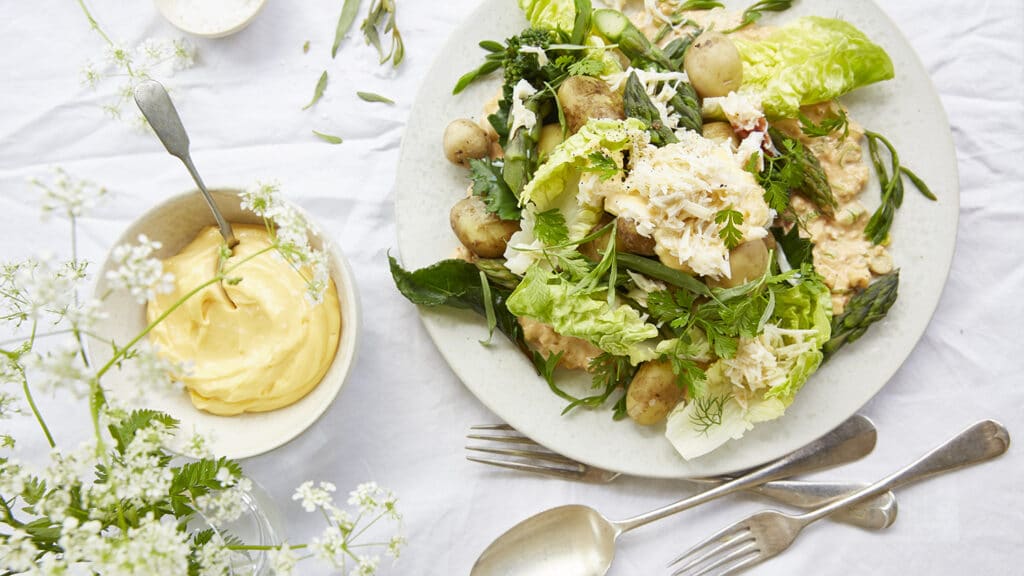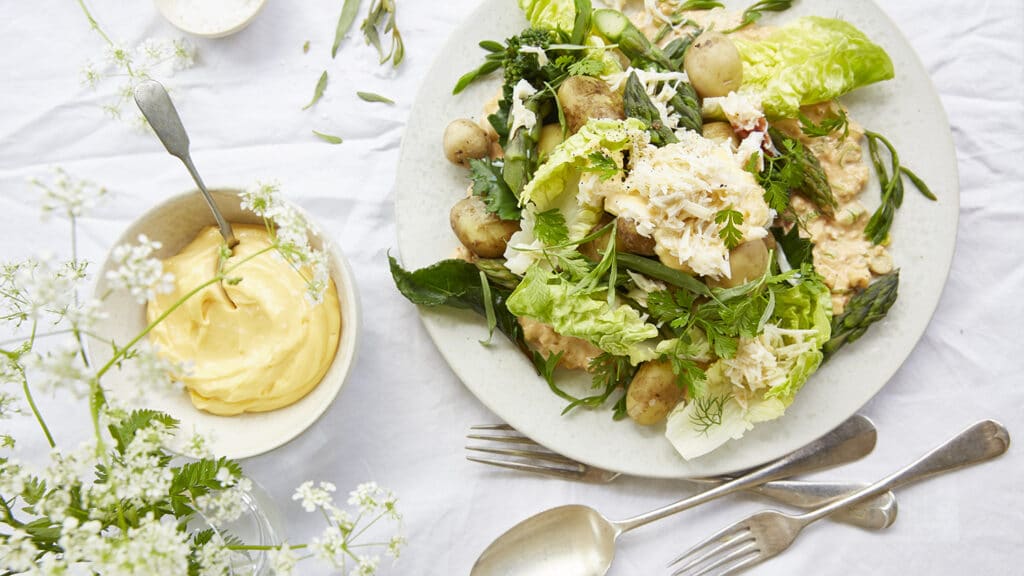 Ingredients
300g Jersey royal potatoes, scrubbed
1 sprig of mint
300g crab meat, split into white and brown
1 green apple, cored and finely chopped
3 spring onions, finely sliced
200g asparagus, woody stalks removed and saved
1 baby gem, leaves picked and washed and dried, heart split in two
10g chervil leaves, washed and picked
10g tarragon leaves, washed and picked
10g parsley leaves, washed and picked
20g seaweed or sea purslane
Juice of 1 lemon
For the mayonnaise
2 egg yolks
½ tsp sea salt
Juice of ½ lemon
200ml vegetable oil
100ml extra virgin rapeseed oil
Pinch of cayenne pepper
Pinch of white pepper
Method
First cook the potatoes. Bring a large pan of salted water to boil, add the mint and the Jersey royals and simmer for 15 mins, until tender – do not be afraid of overcooking them, as they are far better soft than chalky.
While the potatoes cook, make the mayonnaise. In a large bowl, whisk the egg yolks, salt and lemon juice and then, still whisking, gradually add the vegetable oil in a steady stream. Continue to whisk until a mayonnaise consistency emerges. If it splits, don't panic – just add a squeeze more lemon and keep whisking vigorously until it comes together. Add the rapeseed oil, whisking, to finish the mayo, then add the pepper. Check for seasoning, adding more salt or lemon as required.
In another bowl, mix half of the mayo with the brown crab meat, a squeeze more lemon and cayenne pepper. Fold the apple and spring onion through this. Taste for seasoning.
Boil the asparagus stalks hard in a pan of water for 10 mins to make a quick stock, then chop the spears into three on the diagonal and boil in the stock for 3-5 mins, until just tender. For the last minute, drop in the seaweed to blanch. Drain immediately and refresh in cold water.
Spread the brown crab meat and apple mayo out on a platter. Top with the potatoes, lettuce, seaweed and asparagus, building up layers and seasoning as you go with salt, pepper and lemon. Top with the remaining mayo, followed by the white crab meat and soft herbs. Squeeze over a touch more lemon and dust with cayenne pepper.
Image: Helen Cathcart
Where to buy these ingredients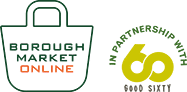 Borough Market Online
If you can't make it to the Market, Borough Market Online offers a wide selection of traders' produce, delivered direct to your door.