Polenta, creamed leeks, purple sprouting broccoli & Corleggy
Paula McIntyre
A satisfying vegetarian dish inspired by polenta's surprising role in Irish culinary history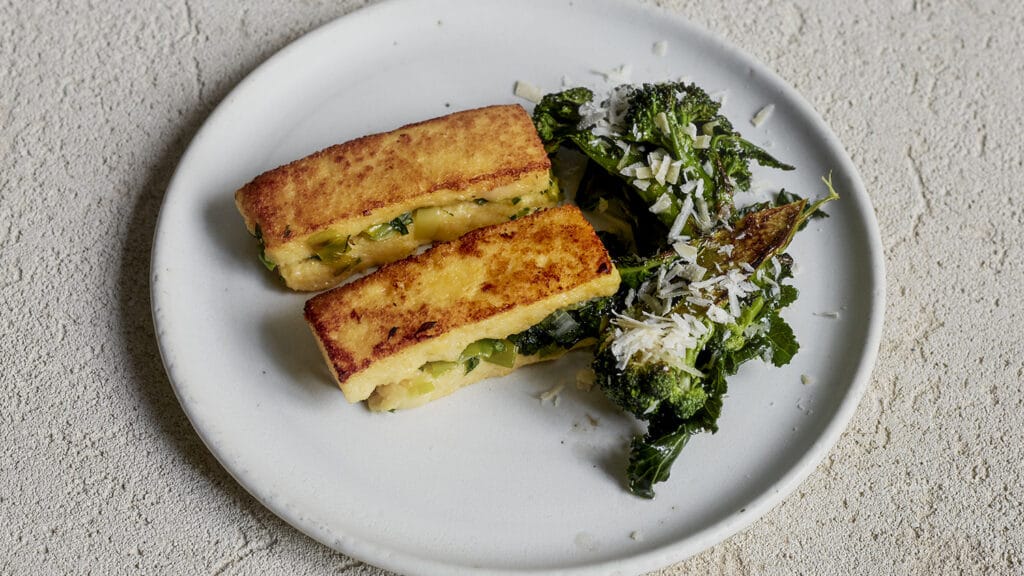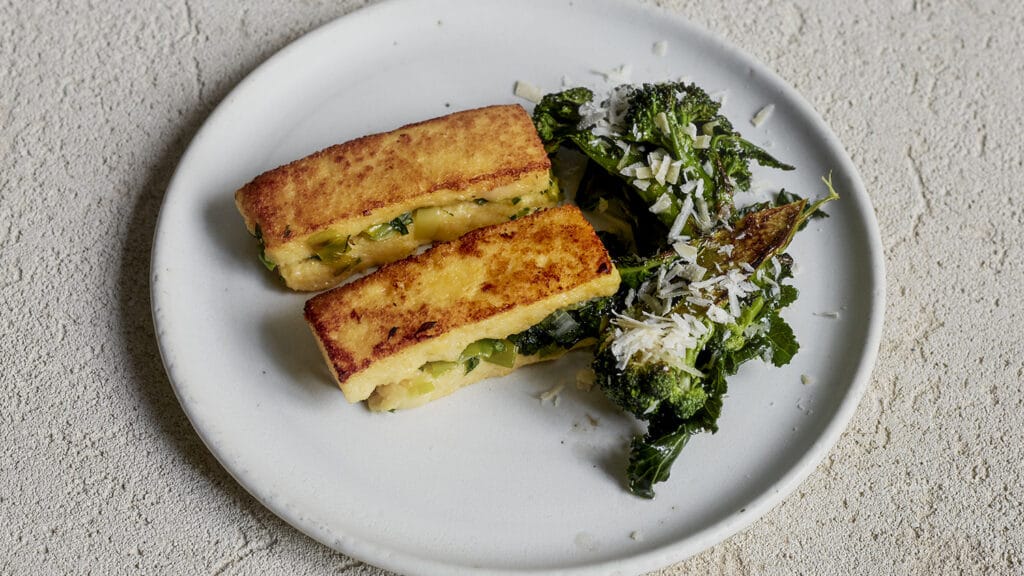 Recipe Meta
Prep
15 mins (plus cooling)
Ingredients
For the polenta and creamed leeks
250g polenta
100g grated parmesan
25g butter
1 large leek, split in half, washed and chopped
25ml double cream
A handful of chopped parsley
For the purple sprouting broccoli
1kg purple sprouting broccoli, woody bottoms trimmed
75ml olive oil
2 shallots, peeled and finely sliced
1 clove of garlic, minced
25ml balsamic vinegar
½ tsp Dijon mustard
50g Corleggy cheese
Method
Bring 1 litre of water to the boil. Add ½ tsp salt, then slowly add the polenta, whisking all the time. Lower the heat and cook for about 40 mins or until smooth and coming away from the side of the pan. Mix in the parmesan well.
Heat the butter in a pan and add the leek. Season with salt and cook until soft. Add the cream and cook for a further 2 mins. Add the parsley and check the seasoning.
Brush a 1Ib loaf tin with oil. Place half the polenta in the bottom of the loaf tin. Add the leeks and then top with the remaining polenta. Smooth off the top and chill for 2 hours. Remove from the tin. Cut into eight slices. Heat 2 tbsp olive oil in a non-stick pan until very hot and add half the polenta slices. Cook until golden and crisp on all sides. Keep warm in the oven while you repeat with the remaining polenta.
Blanch the broccoli in boiling salted water for 3 mins then drain well and toss in 2 tbsp of the olive oil. Heat a grill pan until smoking hot and add the broccoli. Cook for 1 min, add the shallots, turn the broccoli and cook for 1 min more. Whisk the garlic, vinegar and mustard together. Whisk in the rest of the oil and then check the seasoning. Place the broccoli on a platter and spoon over the dressing. Grate the cheese and scatter on top. Serve alongside the polenta slices.
ALTERNATIVE: A good parmesan could be used instead of the Corleggy, as could Bermondsey Hard Pressed from Kappacasein. When purple sprouting broccoli is out of season, cavalo nero would work – just blanch for a minute, dry, toss in oil and grill. Grilled treviso or radicchio would also work.
Image: Kim Lightbody
Where to buy these ingredients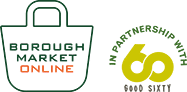 Borough Market Online
If you can't make it to the Market, Borough Market Online offers a wide selection of traders' produce, delivered direct to your door.