Wild garlic & purple sprouting broccoli pesto pasta
Ed Smith
A twist on a classic basil-based pesto that takes just a few minutes to put together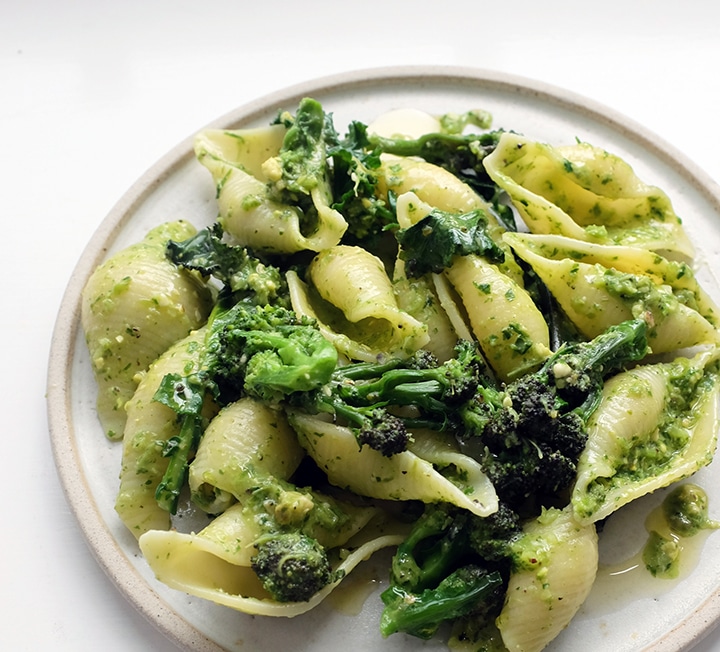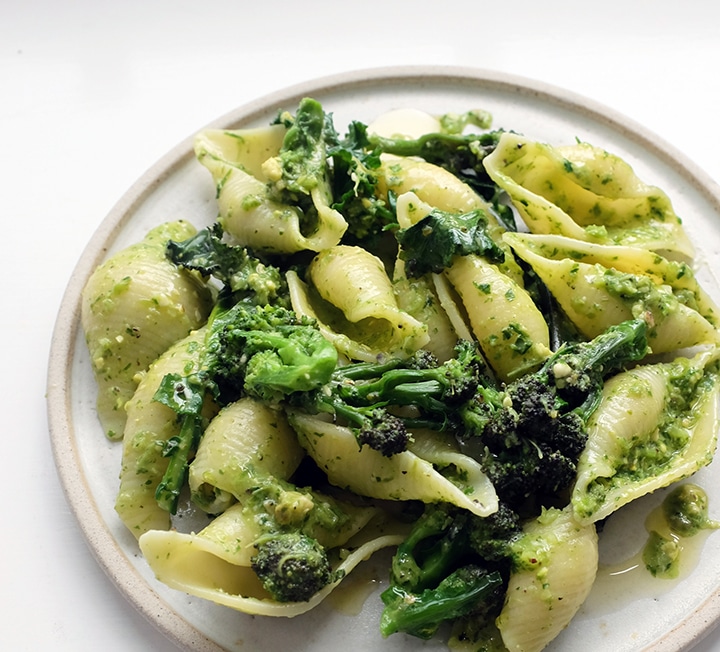 Ingredients
300g purple sprouting broccoli
25g tarragon
40-50g wild garlic
40g parmesan, finely grated (plus extra to serve)
50g pistachio kernels (unsalted and shelled)
Finely grated zest and juice of ½ lemon
120g extra virgin olive oil (plus extra if storing the pesto)
500g dried pasta (conchiglie, orecchiette, rigatoni or other)
Method
Put a kettle on to boil. Cut the woody ends from the base of each broccoli stem and discard. Trim the leaves and the florets from the stems and set to one side. Weigh 100g of stems and place in a heatproof bowl. Add any remaining stems to the leaves and florets. Pour the just-boiled water over the stems and leave for 3 mins, before draining through a colander and refreshing under cold water until cool.
Strip the leaves from the tarragon, discard the stalks unless soft, then roughly chop the wild garlic and place both in a blender or food processor. Add the parmesan, pistachios, lemon zest and juice and olive oil, then the cold purple sprouting broccoli stems. Pulse then blend until relatively smooth. Add flaked sea salt and black pepper to taste, pulse once more, then decant into a tupperware or other sealable container. Store until required, topping with additional extra virgin olive oil if you don't plan on using it within a few hours.
When ready to eat, bring a large pan of heavily salted water to the boil, dropping in the pasta only when the water is fully rolling and bubbling. Cook to the time suggested on the packet, adding the purple sprouting broccoli florets and leaves (and additional stems if you have them) with 90 secs to go. Drain through a colander, saving 2 tbsp cooking water.
Put half the pesto in the base of the now drained saucepan (or a separate mixing bowl). Decant the pasta and broccoli from the colander to the saucepan (or bowl), add the remaining pesto and cooking water. Gently toss and stir until the pesto is well mixed, then leave for 1-2 mins for the residual heat of the pasta to temper the garlic a little. Serve, with extra parmesan on top if you wish.
Image: Ed Smith
Where to buy these ingredients